I have totally been holding out on my last Stitch Fix.  I received it about a month ago, but with moving and unpacking it kind of took second place.
When I finally had a moment to delve into the box, I was not left disappointed!  Yet another bunch of great pieces were added to my wardrobe – and the person that chose them for me has never met me in person or spoken to me over the phone!  Here's what I received:
ARK N CO CATTIE BELTED DOT PRINT MINIDRESS – I wore this super flattering dress to work the other day with a pair of black peep toe heels (my fave Enzo pair).  This dress has the perfect mix of "fit and flare".  I think I could also wear this out on date night with hubby – I'd add a cool statement necklace and my CL heels that I adore!
HOURGLASS LILLY – MARLOWE IKAT PRINT WRAP DRESS – Comfort and cuteness are the two words I would use to describe this dress.  Worn to work with a black cardi and my new Steven by Steve Madden suede heels (on a not-rainy day), I was so comfortable and got a few compliments in the process!
CHRIS & CAROL – JORDAINE STRIPED MAXI SKIRT – I am a big fan of maxi skirts – the comfort factor alone is so attractive to me.  I have one – the usual black maxi.  The royal blue and grey striped one that I received in my Stitch Fix box is by far my new go-to.  This past Saturday was like any other Saturday in Florida in the summertime – filled with errands and a birthday party LOL.  I wore this maxi with a simple white tank from J.Crew (and a white cardi when I was inside and the A/C was pumping).  Comfort and style – the best way to go!  (Sorry for the lack of actual pic…I meant to take one and next thing I knew it was bedtime.  It was the usual crazy Saturday…)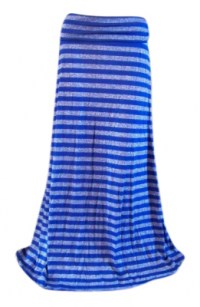 TEA N ROSE – TAYLOR IKAT PRINT SHORT SLEEVE TOP – I chose to wear this super cute top with a pair of black jeggings and flats  I love the knit collar combined with the silky body; and the little peephole and button closure in the back gives it some charm!
I highly recommend trying Stitch Fix…if you see something of color or not "classic", you know it came from Stitch Fix!!  That's what I love 🙂  Click HERE to learn more!
Here are some links to my past Stitch Fix reveals!
May Stitch Fix
April Stitch Fix
November Stitch Fix