Last weekend we celebrated my XXth birthday and what an amazing weekend it was!  I spent the entire weekend with my husband and boys at a beautiful resort – playing in the pool, hanging out on the beach, taking a 2 HOUR nap, not worrying about what time it was…it was heaven!  All weekend R and I were told by the hotel staff how polite the boys were – at breakfast, lunch, by the pool, N holding the door for people entering or exiting the hotel.  I was so proud!!  The weekend was topped off by a delicious dinner with my parents at one of my favorite restaurants.
During the weekend, my oldest son told me that he wanted to take me to dinner for my birthday.  This is an 8 year old boy – Pokemon-obsessed, karate-loving, and  more important than anything at all…the most thoughtful little man I know.  Just the fact that he thought of something that sweet touched my heart.  I graciously thanked him and told him it wasn't necessary, but he insisted.  After he told me that he wanted to take me to my favorite steak house, I glanced over to my husband and mouthed, "This kid's got taste!" (and we are in trouble when he gets older!!)
Well, tonight N took me to dinner.  I arrived at the restaurant a bit early since it was close to my office.  My husband dropped N off at the front of the restaurant and zoomed off for a night of Shake Shack and Boomers with our little one.  Walking outside to meet N, I couldn't help but think of how big he has gotten.  My little man isn't so little anymore.  Standing there with his super cute outfit (that he told me Dad helped him pick out), and a gift card to my favorite steak house and three dollar bills peeking out of his front pocket, made me want to cry – a bit from sadness that he isn't that little baby boy anymore but mainly from happiness.  I am so proud of him.
We walked back into the restaurant together and the manager greeted us both.  N told him that it was my birthday and that he was paying for my dinner (awwwww) and next thing you know the manager takes N to the side and walks him back to me with a rose in his hands.  Yes, I had to hold back the tears.  Once we got to the table, N asked me to hold the gift card and explained that the dollar bills are for the valet.  He thought of everything.
The waiter asked for our drink order, of which N opted for cranberry juice.  He never forgot to say "please" and "thank you".  (Tears again…).  After ordering our meal, N told me about his day at camp and how he went on this huge water slide and hurt his back but made sure he was ok in time for our dinner.  Dinner came, then dessert, then he stated, "I want to pay the bill, Mom."  I gave him the gift card.  He expertly placed it in the check holder and handed it back to the waiter.  He's an old pro!  We calculated the gratuity together and were ready to go, when he reminded me that he needed the money for the valet.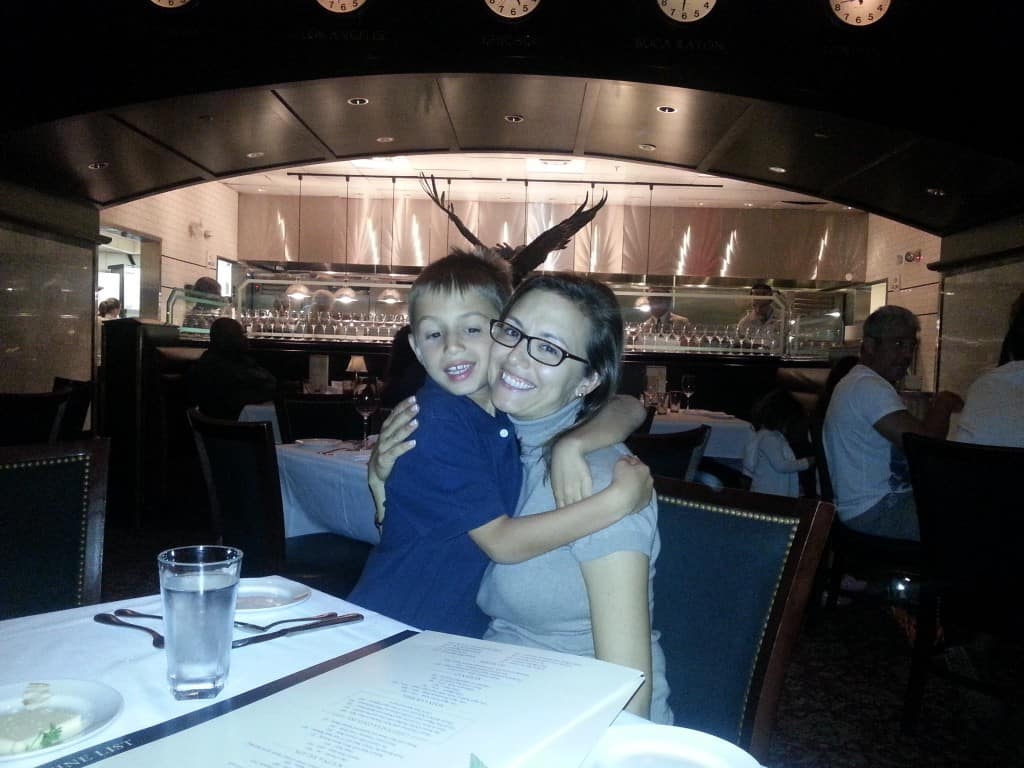 When the valet pulled our car around, N gave him the tip and then held my door open until I was inside the car.  I'm telling you – I never verbally taught this to him.  His manners and politeness blow me away.  The ride home was filled with conversation and some of his favorite songs.  We talked about how excited we were to get home and hang out with Dad and G, wondering if their night was as nice as ours (which it was).  Pulling into the driveway, I couldn't help but think about how thankful I am to have two wonderfully amazing sons – the best birthday gifts ever.