Seriously…think back.  When was the last time you set time aside for yourself?  The last time you took an hour or so just for you to be pampered?  Here are the most common reasons why you don't
I don't have time
My kids need me
I have so many more important things to do
We all get caught up in the day-to-day happenings, that it becomes all too easy for us to just make an excuse for not taking proper care of ourselves.  This could then lead to feeling burned out!  I know I'm preaching to the choir, but now is the time to debunk these "reasons" and explain the importance of "me time".
I DON'T HAVE TIME
I completely understand why one would says this.  There's so much going on and I agree.  BUT you have time to make appointments for doctor or for your kid's soccer practice.  I challenge you to look at your calendar for the next week or month and schedule some "me time".  Why not?  It's just the same as scheduling your dentist appointment and so much more gratifying.
MY KIDS NEED ME
Your kids will always need you.  As my mom says, our children will always be our children.  Just think though, how much more responsive a clearheaded, relaxed mom would be!
I HAVE SO MANY MORE IMPORTANT THINGS TO DO
I have to agree and disagree with this one.  I am in no way discounting that there are many important things that need to be done.  As a business owner I manage my clients' accounts, book appointments with potential clients and partners, complete any reporting and more.  As a mom, I am the co-CEO of my household.  Together my husband and I schedule the doctor appointments, do the food shopping, make the meals, clean the house, etc.
My argument is that there has to be some time for you – your health is of utmost importance.  I know that when I am sick, a lot of things go by the wayside unintentionally.  It is my responsibility to make sure that I'm on top of my game, which largely includes taking care of MYSELF.
BUT WHAT CAN I DO?
There are many ways you can spend your "me time".  Some people love to find a quiet spot, maybe at the beach, and read a book.  Others like to hit the golf course – spending it outside on a gorgeous day surrounded by nature. Then there are others that immediately think of the spa.  I am one of those "others".
I know that when I am relaxed and clear-headed so much more gets accomplished.  My personal favorite ways to relax are
Massage
Facial
Contouring
Mani/pedi
I have my one favorite spot for all of the above, and if you are in the Wellington area, you need to visit here.  It's a hidden gem, nestled west of 441.
Sanda Gane European Day Spa was first introduced to me by a coworker.  She had mentioned that this spa she goes to has some of the most talented massage therapists; that her boyfriend is so picky when it comes to massages but always asks her to go for massages at Sanda Gane.
HERE'S WHAT I DO TO GET PAMPERED!
I love my massages with Maxine and my facials with Patricia.  I know that when I go there I am in great hands.  When I go for facials Patricia's expertise in her field is apparent, both in the way my face feels afterward, and our conversations.  Her knowledge of skin and the products used makes me feel so at ease.  I wouldn't trust my face with just anyone…
Maxine, owner of the spa, takes such pride in her treatments.  She is my "go to" for massages.  Yes, I could go to the numerous massage places near the mall but I feel that those therapists don't have the experience and give the care that you'd get with Maxine (or Josephine – I heard she is fabulous too!).  You can tell the difference. Did you know that the effectiveness of massages have been shown to:
Boost the body's immune system
Lower blood pressure
Lower back pain
and so many other benefits as mentioned here.
A NEW TREATMENT PERFECT FOR SUMMER!
I opted for the Smooth Sculpt the past two times I visited.  It's summer and I am always by the pool with the family and wouldn't mind looking a little better in my bathing suit, without having to undergo any surgery.  The procedure itself takes less than an hour and is quite relaxing within itself.
You lay down and the therapist applies lotion and essential oils to the area you'd like worked on.  In my case it was my stomach area, but people are known to do their butt and/or upper legs too.  The wand, outfitted with a suction cup-like is moved in particular directions across the area.  There is absolutely NO pain, it just feels like a suction cup moving up and down.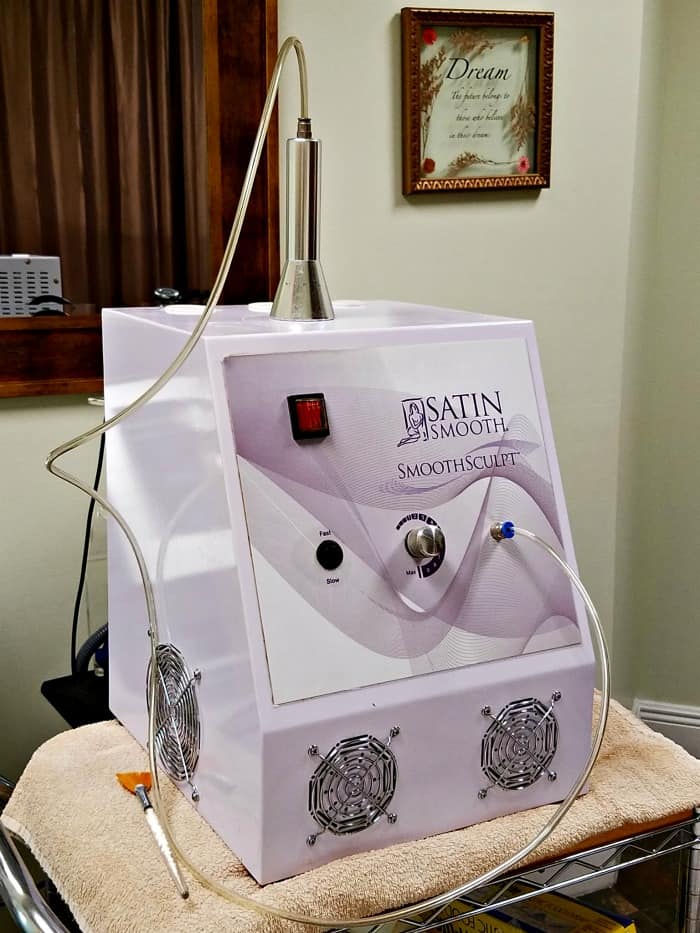 The first time I tried this treatment, I lost an inch around my waist and you could totally see the difference!  Maxine told me to stay away from caffeine and alcohol and that I probably wouldn't see the full effects until 48 hours after.  The second time I went in, a week later, I lost another inch.  Now mind you I was diligent to cut back on my coffee intake and drank a lot of water.
I asked Maxine how long it would last (as that is probably the first thing that came to your mind as well) and it depends on your particular body.  My results lasted for about 2 weeks.  This procedure is perfect for right before you're going away on vacation or trying to get into that perfect dress for an event.  You can opt for one treatment or go for the full recommended treatments of 4.
WHY ARE YOU NOT CALLING FOR AN APPOINTMENT?
I can understand why you may not be calling if you don't live nearby or if you don't know the number (which I will share in a moment).  If you don't live nearby, ask some friends or use the power of Facebook to ask for a reputable spa in the area and book your appointment.  Ask about their seasonally inspired specials. This month you can get a massage and facial infused with coconut for $99 (regularly over $300!)  Call today – 561.792.9696.
Tell them that Pellerini sent you and receive 50% off any one full-priced service!
You won't be disappointed.  Rather you'll be relaxed and ready to take on the world!
*Please note I received complimentary treatments in exchange for my honest opinion.  I am a huge fan of Sanda Gane Day Spa and all opinions in this post are my own.