I know this is so random, but did you know that the kitchen sponge is one of the biggest germ magnets? (Insert "ewwwwwwwww" here.) 
It makes sense though if you really think about it.  A kitchen sponge is used to clean food and maybe dirt off of plates, pots, and pans, etc., and then sits in the sink or a sponge holder all wet.
There are dozens of articles on "the best way to effectively rid your kitchen sponge of bacteria".  After reviewing more than enough of them, I've culminated a list of the most popularly known ways.
The Most Effective Ways to Clean a Kitchen Sponge
Microwave the kitchen sponge for 1 minute (be careful as the sponge may get hot!).  This kills 99.9% of bacteria and 99% of yeasts and molds.

Run the sponge through the dishwasher with a heated drying cycle.  This also is known to kill 99.9% of bacteria and 99% of yeasts and molds.

You should always be using a disposable towel, such as a paper towel when cleaning areas soiled with raw meat.  No sponges here!
Kitchen Sponge Alternatives
There are quite a few alternatives to the traditional kitchen sponge.  I've noted a few below and would love any other recommendations you know of (please feel free to comment below!).
Microfiber Cloths  – I personally love microfiber cloths for cleaning my countertops after prepping and cooking, as well as for my stainless steel appliances.  After I'm done, I toss it in the washer.  Don't use dryer sheets or fabric softeners though.
Reusable Cloths – You don't necessarily have to opt for microfiber cloths to clean.  These will do the trick as well, although they are a smidge more costly.  Toss them in the wash after each use and they are good as new!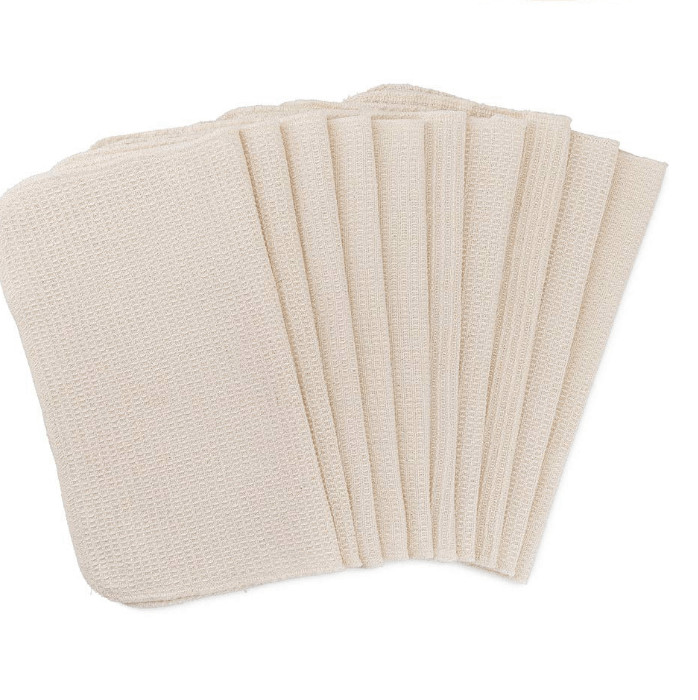 Cleaning Brushes – There are SO many different cleaning brushes to choose from.  The brushes are great for getting the baked-on grit and grime off of plates, pots, and pans.  I like the one below because it houses soap and you can replace the brush head (which I do weekly, if not more frequently).
Silicone Sponges – I love these sponges.  Look for the BPA-free variety – they are heat resistant up to 500 degrees (although you'll really never use them in that high of a temperature-setting).  They are dishwasher-safe and scratch-free!
What do you use to clean your pots, pans, and dishes?