There's something about reading that relaxes me.  Whether I am at home on a lounge chair out back, upstairs cuddled in bed, or on a plane, I crave a book's companionship.  I enjoy reading a variety of genres – from historical fiction like The White Queen by Phillipa Gregory to what I like to call "pink lipstick" fiction like the Shopaholic series by Sophie Kinsella.  I usually switch between genres so as to not get bored with one.
Reading was ingrained into me since I was very little.  I used to love to go to our little local library, going to the children's book section downstairs and getting lost in the rows and rows of excitement.  When I would visit my grandparents in Florida over the summers, I would join their library's reading club.  I would sit in the family room for hours, just reading.  It wouldn't be foreign for us to go to the library more than one time each week.
I started reading to my oldest son shortly after he was born.  I bought Charlie and the Chocolate Factory and Charlie and the Great Glass Elevator by Roald Dahl, and each afternoon I would sit on the couch with N in my lap, and would read him a few chapters aloud.  We started his book collection with some of my favorites, including The Giving Tree by Shel Silverstein, Goodnight Moon by Margaret Wise Brown and Five Little Monkeys by Eileen Cristlelow.  As he got older, we created a nightly ritual of bath time then book time.  The same routines were repeated with my younger son, adding more and more books to their collection.  At the ripe old ages of 10 and almost 8, they LOVE to read – and I embrace it.
Now take my love for reading and my love for subscription services, combine the two and you get Bookroo.  I had the privilege of interviewing Jane Tanner, co-founder of Bookroo, an awesome children's book subscription service.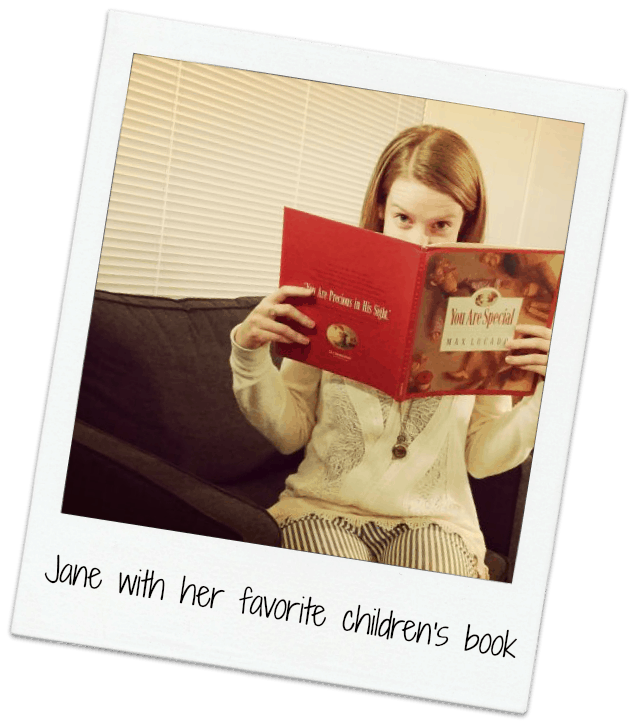 A LITTLE BIT ABOUT JANE:
Favorite beverage?
I drink my fair share of Simply Orange Mango juice and root beer—my two beverages of choice! Much to my husband's chagrin I also like carbonated water.
Favorite place to visit?
My favorite place I've ever visited was Provence in the south of France, but on a regular basis my favorite place to visit is a local restaurant that makes the best Chicken and Waffles I've ever had.
Flower of choice?
Definitely Peonies. Since their growing season is so short I often have to have a runner up though, so ranunculus get that spot.
What does your ideal day look like?
On my ideal day, I'd wake up early without an alarm clock, have orange rolls, fresh fruit, and orange juice for breakfast, and then head to the beach for some morning surfing. I'd get a couple hours of good work done in the afternoon, and work on a craft project before heading out to get some Chicken and Waffles for dinner with my husband. In an ideal world, we'd probably meet up with friends later for a game night and ice cream sundaes!
NOW, LET'S TALK ABOUT BOOKROO!
Where did the concept for Bookroo come about?
It all started when Tayler (my brother-in-law) realized that he wanted a better way to find new, excellent books for himself to read. As he searched, he couldn't find a book subscription service he was happy with, and in one of their frequent conversations, told Kesler (my husband) about his futile search. Kesler was intrigued by the idea too, but his search came up dry as well. Kesler and Tayler love doing projects together, and so this became their next project. They decided they would create a book subscription service, and the more they talked about it, the greater their conviction grew that they should create a children's book subscription service. It was the version of the service they were most excited and passionate about! A week or so later, they were joined by their brother Chandler, then me, and then Tiffany and Rebecca (Chandler and Tayler's wives). While I've been supportive of Kesler and Tayler's projects in the past, nothing caught my interest as well as this idea has. My mother was certainly a big part of why I chose to join in the effort and get so involved! Reading was a huge part of my childhood, and I really believe it's empowered my progress to this point.
What is your favorite children's book?
You Are Special by Max Lucado. My favorite genre of children's books is fractured fairy tales, however.
What is your favorite adult genre and book/author?
This may completely cliche, but my favorite adult genre is historical fiction with my favorite book being Pride and Prejudice (by Jane Austen). I seem to read it at least once a year, and if I'm ever bored or need a pick-me-up, it's my go to book.
What inspires you most?
Personally, I'm inspired by powerful quotes (C.S. Lewis is my favorite), heroes and heroines in literature and movies, and the incredible natural beauty that's all around us! As a Bookroo team, we're inspired and motivated by the powerful impact reading can have in the life of a child, both from our own anecdotal experience as well as from the extensive research that's been done on the subject.
What does a typical work day look like?
Up until a week or so ago, I was a full-time student at Stanford, so there wasn't really a typical work day for Bookroo, since I was doing it part-time in the evenings, whenever I could squeeze in a minute. As I work on it full-time this summer, I'm sure a routine will develop, but as of now most days as pretty different. I do a lot of outreach through different outlets, write blog posts, read children books to pick out books for our next shipment (my favorite!), do graphic design for our site and social media posts and spend TONS of time brainstorming all the things we could do to help Bookroo grow.
What is your best bit of advice to give women when it comes to balancing work and home life?
My husband and I strive to achieve a good work/family balance. One of the things we do is set aside specific times as needed that we aren't going to work on Bookroo, just to give ourselves a little break.
Where do you see yourself in 5 years?
In my perfect world, in 5 years Kesler and I will have a couple of adorable kids and have moved out of student housing (woot woot!) to wherever Kesler's first real job takes us! I'll be a work at home mom with Bookroo and loving every minute of it!
How can my readers learn even more about Bookroo?
By checking out www.bookroo.com! We recently added a bunch of customer testimonial quotes which give a great varied perspective of what moms & grandmas think about Bookroo.
There you have it – the marrying of two of my favorite worlds – reading and subscription services!  You pick the plan you'd like, whether it's month-to-month or purchasing a few months at a time (less expensive), and also either board books or picture books.
Know someone that is expecting a baby, or have a baby's birthday coming up soon?  I think this would make a really thoughtful gift!
Jane has also be super kind as to offer you, my readers, a $4 discount on your first order!!!  
All you have to do is CLICK HERE and the discount will automatically be applied at checkout.