General Mills sponsored this post, all the opinions are my own.
The holiday break has flown by.  Our break was filled with family, fun, gifts, lots of delicious food, and no set schedule.  As the days passed bringing us closer to the return to school, I always start to stress on how the transition will be.  Here are some great tips I have enforced to help my family get back into the groove for the second half of the school year!
CORRALLING THE CALENDAR
Vacation time means not having the usually scheduled events that occur during a typical school week.  N usually has basketball practice sprinkled between weekly games.  G has the same situation just insert "baseball" in lieu of "basketball".
A few days before we're back to school, I sit down and map out the week's calendar of events.  When we're together at mealtime, I go through all of the upcoming events just so that everyone is aware of what the week will hold.
NIGHTTIME ROUTINE
It is super important to start reeling the kids in with regard to bedtime once school is on the horizon.  Bedtime on school nights is 8:30 pm.  That means they need to be showered/bathed, pajamas on, teeth brushed, books read, and ready to be tucked in.  Vacations totally throw this routine out the window!  3 days before we are due back at school, we start to bring their bedtimes back into a more realistic time.  Each night we chop a half hour off the "vacation bedtime", and this drastically helps down the road.
MORNING ROUTINE
One thing that keeps us organized during the school year is our morning routine.  That routine goes right out the window when vacation rolls around.  A few days before the start of school, we ease the kids back into their morning schedule.  No more lounging in pjs until 11 am – it's time to get up and get dressed, make their beds and then have breakfast at a normal hour.
Breakfast is the most important meal of the day.  I feel that it molds what the rest of our day will look like.  My little one is a huge but picky cereal lover so when he finds one that he likes, I am so happy!  I love to take him to Walmart so we can go up and down the aisle seeing what's new and sparks interest.
I recently took him to Walmart as school is starting up again, and he requested a new cereal.  He went straight for the Cinnamon Toast Crunch Shreds.  He's already a fan of Cinnamon Toast Crunch, so this looked like a home run of a choice!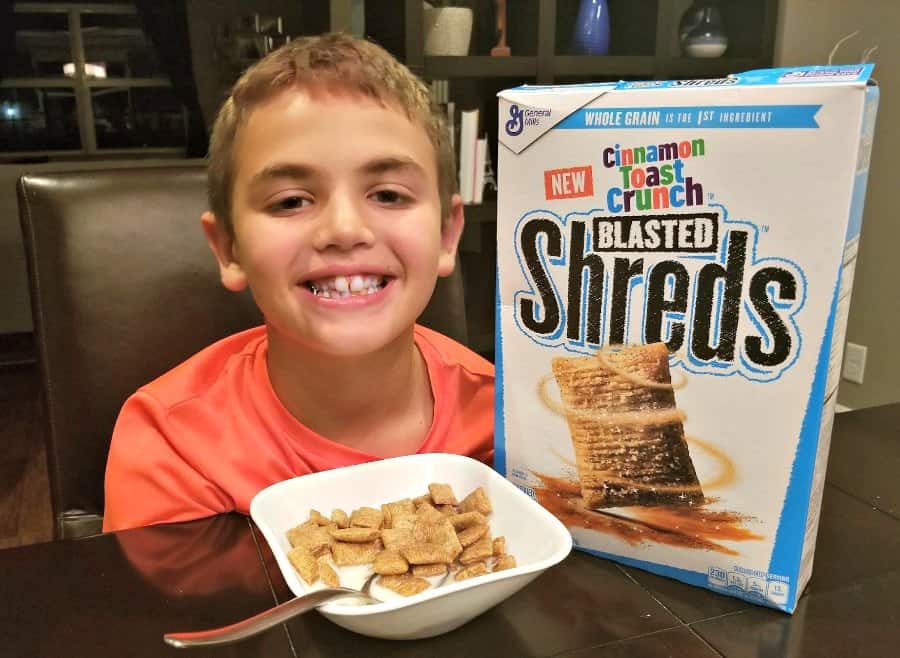 A great advantage to shopping at Walmart is that, aside from shopping in-store, you can shop online and pick up at the store!
Next time you are buying a General Mills cereal at Walmart, be sure to check out the new merchandise offer! Buy 5 items, scan your receipt with the Box Tops Bonus App and earn 50 Bonus Box Tops! Help earn cash for your kid's school!