SPOILER ALERT – this article reveals what I received in my FabFitFun Spring 2020 box.
I love my subscription boxes.  FabFitFun is by far my favorite when it comes to discovering a variety of new products.  The FabFitFun Spring 2020 box that landed at my doorstep last week did not disappoint.
When you opt to become a Select Member and prepay for the year, you have the ability to customize your box a lot more so than if you paid seasonally.  I opted for Select Membership because I like to be able to pick from the available options, and then leave the rest as a surprise.
ALL MEMBERS
All members have the chance to customize certain options in their box.  Of those options for the FabFitFun Spring 2020 box, I chose:
Revive Light Therapy® Glo Wrinkle & Anti-aging Light Device – This FDA-cleared Red light reaches deep layers of the skin, where it stimulates cellular repair and increases circulation to promote a more vibrant, youthful complexion.  It minimizes the appearance of puffy eyes, dark circles under eyes, smile lines, crows feet, and brow lines.  I can't wait to check this out! (Retail pricing begins at $68.00)
Murad® Rapid Collagen Infusion – I've used Murad products in the past, so when I saw that they created a product that contained collagen amino acids, I had to check it out.  Collagen is what keeps your skin's elasticity and smoothness.  As we get older, we slowly lose collagen, which equates to the fine lines and wrinkles popping up.  (Retail price $78.00)
Amber Sceats Double Coin Necklace – I'm all about delicate necklaces, especially coin-adorned ones especially over the past few months.  I like that this particular necklace is double-layered and lightweight.  (Retail price $50.00)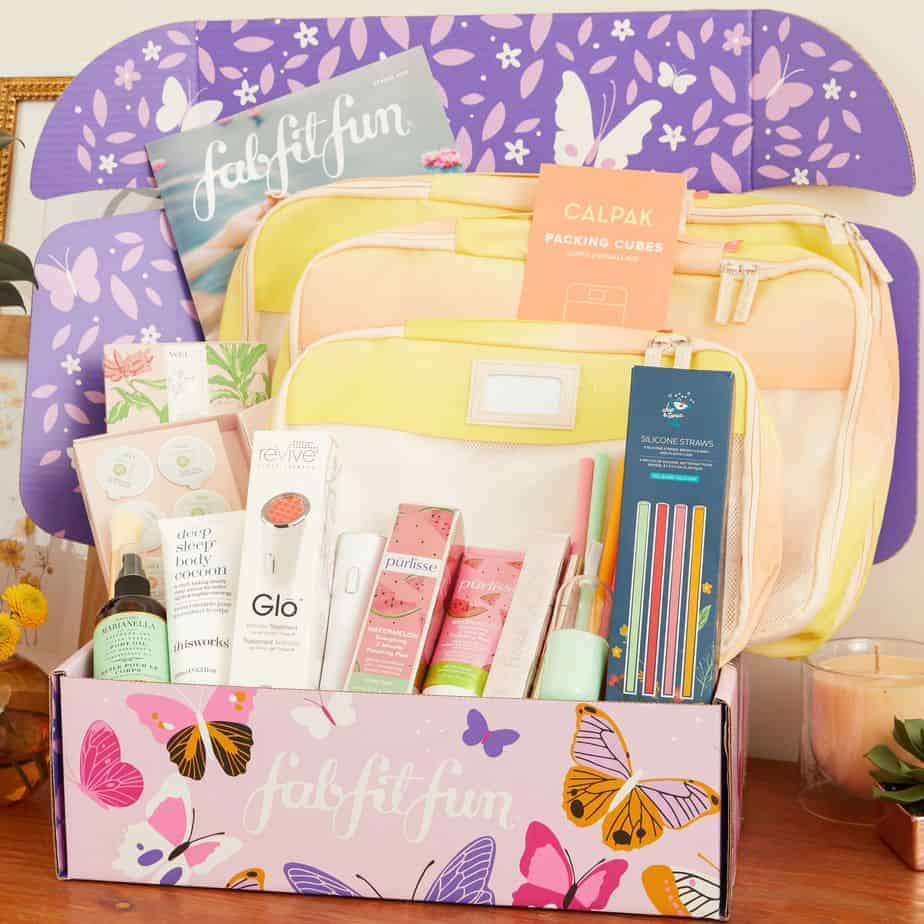 SELECT MEMBERS
The items below were ones I chose as a select member.  FabFitFun chooses for you if you chose not to upgrade.  Either way, all products seemed amazing!
Aria Beauty Luxe Detangling Electroplated Brush – I've been using this brush for the past week and like that it doesn't snag on my fine hair.  I also love all things shiny, but of course that isn't a reason to buy a brush, right?  LOL.  Aria's brush retails at $35.00 but the brush linked above is very similar and only $15.95 with free shipping via Prime!
FFF PICKS
FabFitFun surprises everyone with some products.  Here are the ones I received!
Ciate London Fierce Flicks Precision Tip Liquid Liner – I am a huge Ciate liner fan, so when I saw that this was an option in this season's FabFitFun box, I had to grab it!  The tip is super fine and allows for simple application.  I love it! (Retail price $19.00)
Chic and Tonic Silicone Straws – I'm all about eco-friendly products – reusable grocery bags, food containers, and of course straws!  These silicone straws come with a brush for cleaning and a super cute travel capsule to drink sustainably on-the-go! (Retail price $15.00)
This Works® Deep Sleep™ Body Cocoon – Dry skin is not fun.  I have been using the Body Cocoon cream and along with loving the scent, it has become a mainstay as part of my nighttime routine! (Retail price $40.00)
Purlisse Watermelon Energizing 2 Minute Polishing Peel – If I'm not wearing a paper face mask, I'm trying out a new peel.  The watermelon and lychee infused in this polishing peel made my skin feel super smooth (and smelled delish)! (Retail price $35.00)
Get Your Own Box!
I highly recommend ordering a FabFitFun box – even just for one season to see what it's all about.  Get $10.00 off your first box (regularly $49.99) by signing up online now.
If you sign up for the Annual membership you'll pay $179.99* upfront (that's $20* in yearly membership savings compared to a Seasonal subscription), for four (4) boxes and you will get automatic Select status.  That's what I have and I love it!
Do you subscribe to any health and beauty subscription boxes?  If so, comment below with which ones and tell me what you think about FabFitFun!