*I was gifted a Venture Kit, (one of the best concepts I've heard of in a LONG time) in exchange for my honest opinion of the product.  All opinions are 100% my own.
There are many things I love about my kids, one of them being their entrepreneurial spirit.
It started one Saturday morning when my little one came over to me and asked if he could sell lemonade.  Thankfully we had lemonade, so we helped him set up shop at the end of the driveway.  We put out a small folding table, two chairs, and had him and his friends make a few signs to grab the passerby's attention.
They banked that day.  I'd like to say that he got his dad's "sales genes" or my "marketing genes" but I think it was due to the fact that it is super hard to pass by a bunch of adorable kids jumping up and down, screaming "LEMMOOONNAAADDDEEEEEE".  Some patrons basically donated money to them, declining the cold beverage yet handing over a five dollar bill.  (Why has that never happened to me?!)
At the end of the day, I tried to explain to G that although he had a super successful day, there were some things he needed to learn about selling.  Telling that to a 9 year old is like watching your words fly right over their head – especially when there are visions of all of the Pokemon cards he can get with his earnings running through his head.
ONE OF THE BEST CONCEPTS!
When I was introduced to Venture Kits, I was immediately attracted to the concept – teach your kids in a super fun way how to become an entrepreneur.  Teach them, in their terms and on a small scale, how to run a business.  Venture Kits are designed by real entrepreneurs and Harvard MBAs, reviewed by real grade and high school teachers, and tested by real kids.  They arm kids with tomorrow's must-have skills: initiative, grit, creativity, and problem solving.  The Venture Plan is a totally unique approach to learning entrepreneurship. Its combination of "steps" and "tips" strikes the perfect balance between strict instructions and total freedom, and provides a manageable guide that kids can follow through to the end.
We received our first kit, "Treats To-Go" and got down to work.  G was super excited to, and I quote, "make money" but I told him that this time he was going to learn the in's and out's of his new-found business.  Included in the kit was a guidebook, blank menus, sample recipes, plastic bags, stickers, a marker, order forms and more.
The guide offered step-by-step instructions in a way that G would understand.  We went to the supermarket and purchased all of the ingredients for his product – chocolate covered pretzels; and once we got home we entered on the back of the recipe card the cost of each item.
TIME FOR PRODUCT PREPARATION
My little one asks every now and then to help out in the kitchen, so this part was super fun.  We went through the recipe, step by step, eating some pretzels and chocolate chips along the way.
Of course we did some (OK, a lot) quality assurance – we wanted to make sure that the product was perfect for our customers!
Then we packaged the pretzels nicely in the bags provided and sealed each one with a sticker.  We were ready to sell!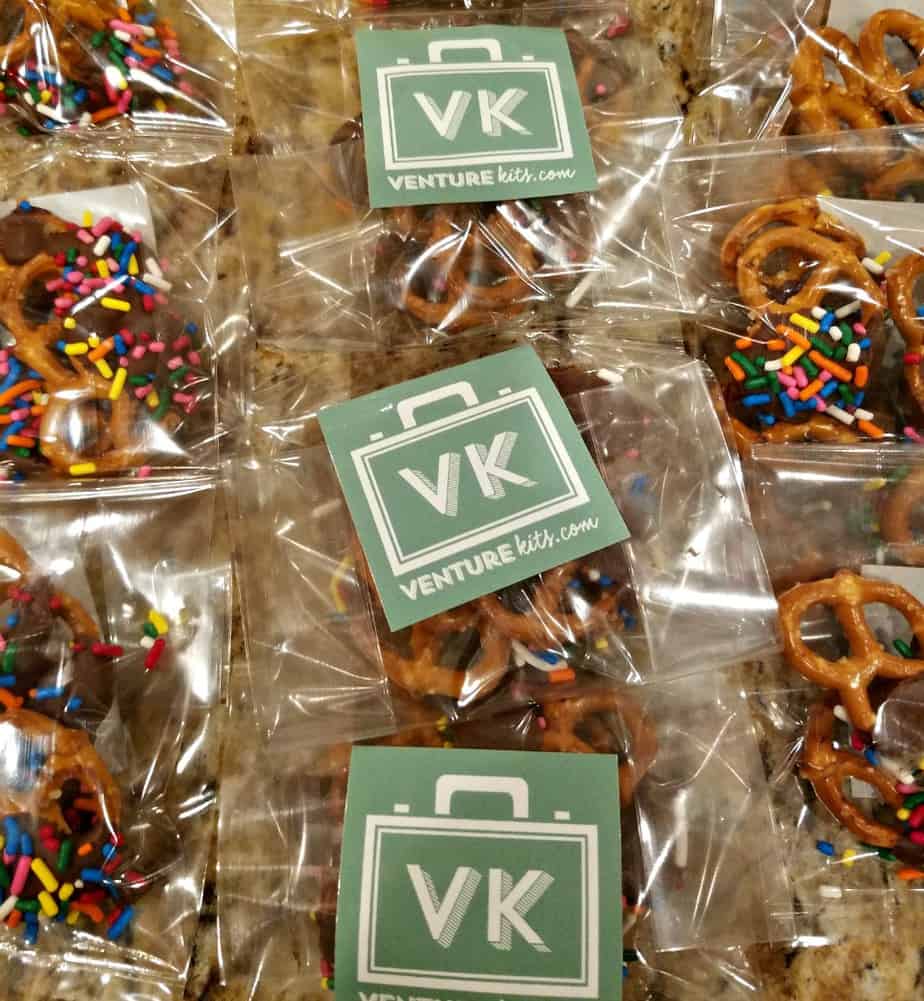 OFF TO FIND THE CUSTOMERS
Our next task was to find out what the public would pay for our pretzels.  We asked around and, based on the answers, came to a fair price of $1.00 per bag – G was going to pocket 50 cents per bag…not to shabby!
We sold all of the bags and he has been asking me ever since if we could make and sell more pretzels.  He now understands and appreciates what goes into creating, pricing, marketing and selling a product and loves the benefit of having extra pocket money for Pokemon cards.
GIVEAWAY TIME!
I am super excited that I get to giveaway a kit to one very lucky reader!
*Please note that the winner must live in the United States.
Good Luck!