*There are affiliate links in this post.  If you purchase a product via one of these links (there is NO cost to you), I may receive compensation.  I thank you in advance, as this helps me to continue bringing you great content!
I love to read my fellow bloggers' posts about what beauty products they are using and love/hate.  Between the blog posts and magazine articles I have purchased and tried my share of products…from make-up to moisturizers, shampoos to nail polish.  In my recent reader survey, you mentioned that you'd like to see some more product reviews.  I'm going to start with what is on my bathroom counter!
Let's start with my favorite perfumes, hair products and face moisturizers.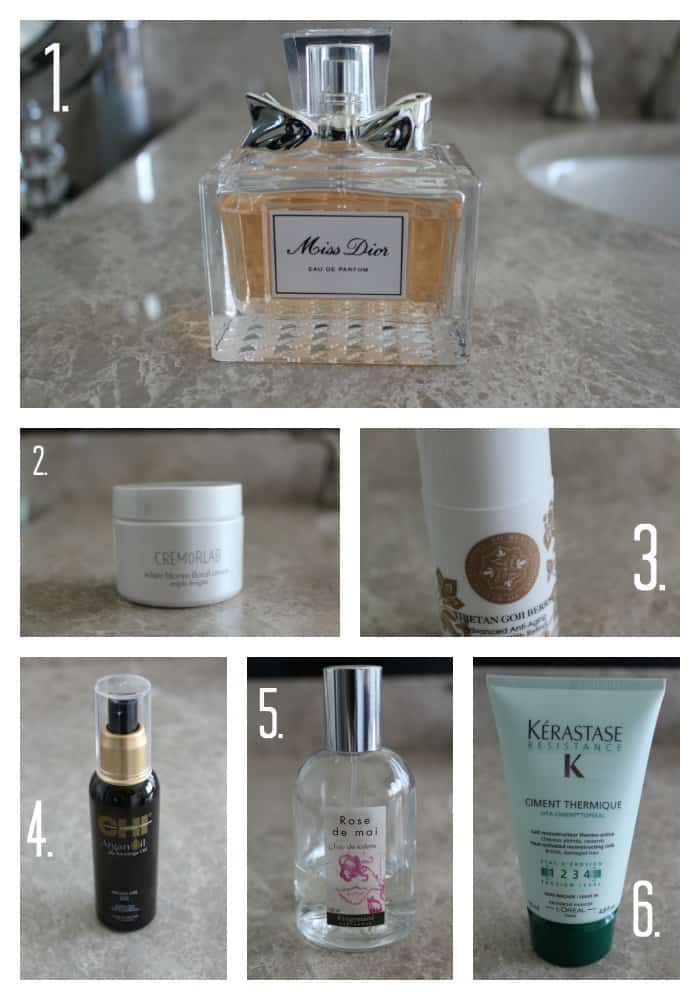 1. Dior 'Miss Dior' Eau de Parfum Spray

: I wear this on weekdays when I'd go to the office or weekend nights out with friends.  I love the floral scent!
2. Cremorlab Whitening Moisturizer: I received this moisturizer in my Peach and Lily box.  I've been using it on and off for about 4 weeks.  It is very smooth, not heavy at all and hopefully will help me with some hyper pigmentation issues I have!
3. Tibetan Goji Berry Eye Cream: I received this eye cream in my last BeautyTube and really like it!  It is very light weight and not oily at all.
4. CHI Argan Oil
: Beside the fact that this smells wonderful, it works wonders!  It is not heavy at all, and I feel that it has drastically helped to repair my dry and brittle ends.  
5. Fragonard Rose de Mai:I purchased this perfume while I was visiting Anouk in France.  Every time I spray it, it brings back wonderful memories.  I am rationing it as you can see…I went to France a while ago! 
6. Kerastase Paris Resistance Ciment Thermique : I apply this to the bottom section of my towel dried hair after every shower.  Between the coloring and straightening and heat tools, I need to give my hair a little love and this serum does the trick.
Now let's move on to my ridiculously minimal make up: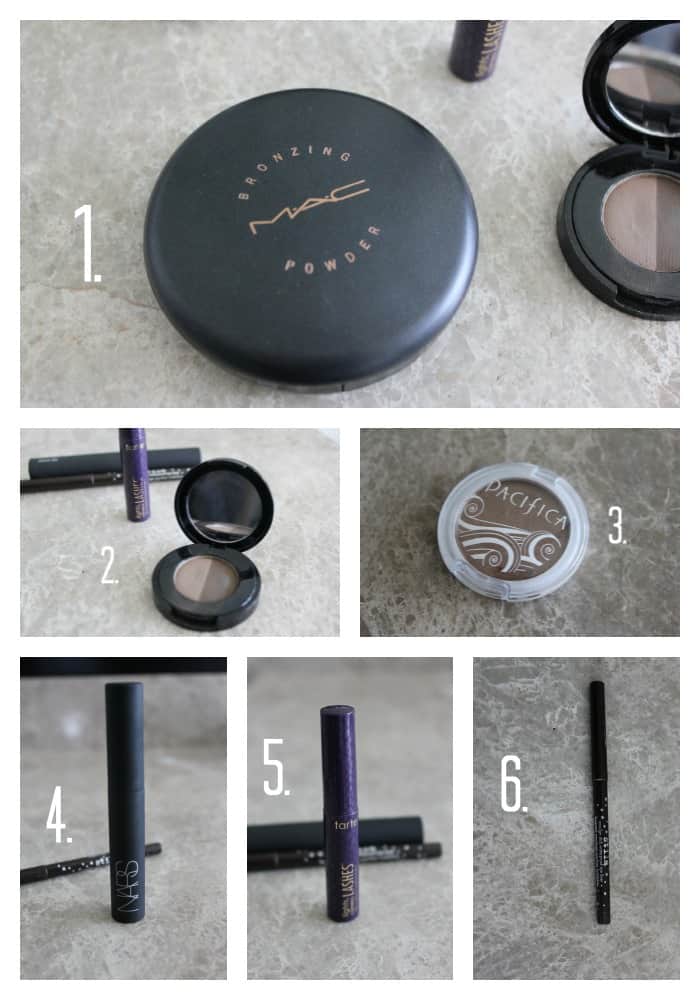 1.Women's MAC Bronzing Powder – Bronze

: MAC's bronzing powder is step one to making me look a bit more alive and perky.  Sometimes I will apply a plum-y/pinkish blush to the apples of my cheeks as well, but bronzer is a MUST for me.
2.Women's Anastasia Beverly Hills Duo Brow Powder

: I've tried pencils and powders and this duo seems to work the best for me.  I apply it sparingly with a small eye shadow brush.
3. Pacifica Eye Brightening Shadow
: I love a simple shimmery color over my entire lid, especially for day time.  If I am going out, I'll also add a highlighter color to the bottom arch of my brow and the inside corner of each eye.
4. Women's NARS Brow Gel
: As you can see, I seem to spend more time on my eye brows than anything else!  Eye brows frame your face, so you have to take care with them.  I need this brow gel, which I get the clear version, because I feel that my eye brows have a mind of their own sometimes and this gel keeps them in line.
5. Tarte Cosmetics Lights Camera Lashes Mascara: I've been on the hunt for a new mascara to try out.  I've tried Lancome (a few), Dior (a few), Maybelline, Benefit, but I wanted something different.  I received a sample of the Tarte Lights Camera Lashes mascara and I think I may buy the full size.  (It's hard to commit when there are so many options out there!).  It lengthens and thickens, which is what I am looking for. 
6. stila 'smudge stick' waterproof eyeliner

: I've used this eyeliner for a VERY long time and I love it.  I've tried others – Bobbi Browns pots of eyeliner (definitely liked that as well, but not as much).  It glides on super smooth and stays put.  
I do also wear lipstick, but I think that is a whole other post because I like way too many brands and types of lip color.  
So…what do you think about what I use?  Are there any products that you would recommend I try?