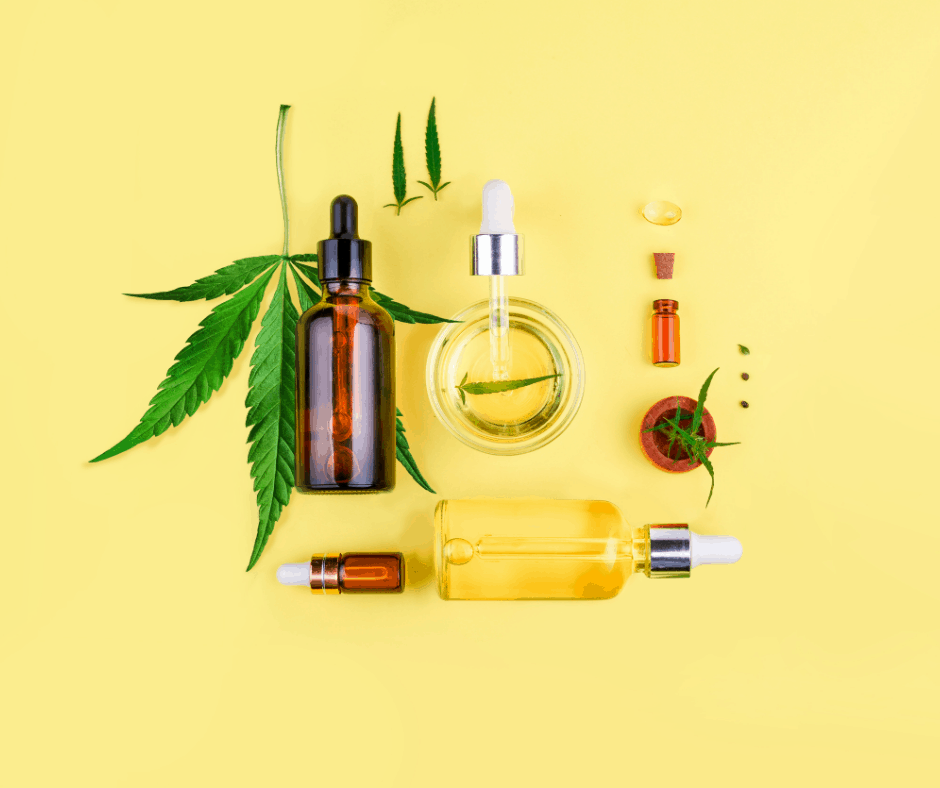 CBD has been THE buzz word in skincare recently!  While the use of this cannabis-derived compound has been around for over 50 years, mainstream society has only just started to see the increased use of CBD over the last few years.  I will never forget when I overheard two families at my son's baseball practice singing the praises of CBD gummies and how they had helped with their own stress and anxiety.  My heart was singing!
As consumers, we are now seeing and hearing more and more about new CBD skincare lines popping up! We are also seeing mainstream brands, such as e.l.f. Cosmetics and DermaE jumping on the CBD bandwagon💚 Now, the question(s) arise as to what exactly is CBD, how does it help in skincare, and what should a consumer look for if they are interested in incorporating a CBD infused product into their skincare routine.  Keep reading to get the skinny on this ingredient that has some major positive vibes ✨   
What exactly is CBD?
Cannabidiol, better known as CBD,  is a major cannabinoid compound that is extracted from cannabis or hemp.  CBD is further classified into either full spectrum, broad spectrum or CBD isolate…Let's talk about each one:
Full Spectrum means that the extract includes all of the phytochemicals found in Cannabis sativa; this includes cannabidiol (CBD) along with terpenes, essential oils, and other cannabinoids, i.e. THC, but the THC content is under 0.3%
Broad Spectrum means that the extract uses cannabidiol (CBD) along with all the other compounds found in hemp, except for THC.
CBD Isolate means pure CBD; it contains no other cannabinoids, terpenes, or flavonoids.  The problem with a CBD isolate is that it doesn't utilize the full hemp plant, therefore not providing any of the extended benefits of the entourage effect (stay with me we will cover that in just a jiffy!)
And just to cover all our bases, Delta 9 tetrahydrocannabinol, better known as THC, is a psychoactive cannabinoid compound that produces euphoria, pain relief, and increased appetite, AKA, the munchies lol 😋 
What is the Entourage Effect?
As previously mentioned, both full and broad spectrum CBD use all or most of the phytocannabinoids found in the cannabis plant, whereas, the CBD isolate does not.  Now here comes the interesting part…when multiple cannabis components are present, they work together to boost the benefits, almost like using an amplifier. 
Additional cannabinoids that contribute to the entourage effect are:
Cannabinol (CBN) – The longer that raw cannabis ages, the more CBN it produces; CBN works as a mild sedative, sleep aid, appetite stimulant, and pain reliever, as well as, having antibacterial and anti-inflammatory properties

Cannabigerol (CBG) – a minor, non-intoxicating cannabinoid produced from cannabigerolic acid during decarboxylation (exposed to UV light or heat); it also contains antibacterial and anti-inflammatory properties, as well as, promising results in treating glaucoma, fighting cancer, and protecting nerve cells from degeneration

Cannabidivarin (CBDV) – a minor cannabinoid with a molecular structure similar to that of CBD; it has been found to affect the neurochemical pathways and hinder the onset and progression of several types of epilepsy,  as well as, reduces inflammation and restore and even enhance muscle function

Cannabidiol acid (CBDA) – the 2-carboxylic acid form of CBD and an essential ingredient found in raw cannabis; it's known for its anti-inflammatory and pain relieving properties, as well as, controlling the release of excess serotonin which leads to nausea

Cannabichromene (CBC) – considered one of the "big six" cannabinoids prominent in medical research, interacts with the body's natural endocannabinoid, anandamide, inhibiting its absorption so that it stays longer in the bloodstream; anandamide (known as the "bliss molecule") has been known to fight breast cancer in vitro and in vivo 
Our Endocannabinoid System
The human endocannabinoid system was actually discovered in the early 1990's by researchers studying THC.  The ECS exists in our bodies whether we consume cannabis or not, producing its own endocannabinoids.  While the ECS is still not fully understood, what we do know is that it regulates a range of functions, including sleep, mood, appetite, memory, reproduction and fertility. 
Receptors in the ECS, specifically CB1 and CB2, play a major role in the internal communications of our bodies.  If something is off, they report back to the central nervous and immune systems, triggering the body to produce a certain endocannabinoid to fight off anything that might be going on, such as pain or inflammation.  CBD and THC actually bind to the ECS receptors allowing them to activate and enhance the efficacy of these cannabinoids.
Now that science class is officially over, let's talk skincare!
Did I say science class was over?!?!  One of my favorite things about skincare is the science and magic behind it!  As mentioned at the very beginning of this post, CBD is all the rage in skincare lately.  From the shelves of Sephora to Target, we are seeing CBD pop up in all different types of products, from cleansers to serums.  We answered what CBD is (in length), now let's talk about how it helps in skincare 🍃 
I am sure you may have noticed some other buzz words as we talked about CBD and it's family of cannabinoids.  Did you know that aside from having anti-inflammatory and antibacterial properties, CBD actually has more antioxidant levels than Vitamins A, C & E?  Impressive I know!  That is just the beginning…Check out some other awesome benefits to having CBD in your skincare.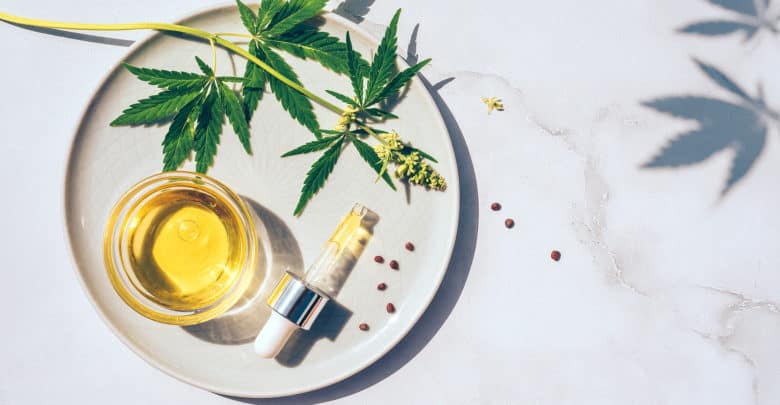 Anti-Aging Properties
When applied topically, cannabis has been found to slow the aging process…who knew the fountain of youth was CBD?!?!  Its potent antioxidant properties make it an effective treatment for fine lines & wrinkles, and it neutralizes free radicals, keeping them from damaging the collagen and elastin of the skin.  Get your glow on!
Combat Acne
Loaded with essential fatty acids, CBD provides hydration and the antibacterial properties help to treat bacterial infections on the skin, a large contributor to acne.  Cannabis is also non-comedogenic, which means it will not clog pores and as an anti-inflammatory will help to soothe pimples and breakouts
Strengthen the Skin's Natural Barrier
Containing vitamins A & D, cannabis contributes to the skin's natural barrier function by  stimulating cell regeneration and protecting the skin against damage from the sun, smoke and environmental pollutants
Reduces Skin Irritation 
CBD soothes the skin and can be used to treat rashes, dry skin, and the most common form of eczema, atopic dermatitis
Alleviates Psoriasis Symptoms
Cannabinoids inhibit the build up of dead skin cells, a direct cause of psoriasis, making it a powerful treatment
Fights Skin Infections
Similar to combating acne, cannabis was found to relieve numerous bacterial skin infections, such as boils, impetigo, folliculitis and cellulitis.  It has also been a go-to treatment for MRSA, a very antibiotic-resilient bacterium
OK, so now that we know CBD in skincare is amazing, how do we know what to look for when it comes to legit ingredients?
There are a few terms you will want to look for when it comes to CBD in your skincare:
Cannabidiol

Hemp extract oil

Full or broad spectrum CBD

Hemp CBD

phytocannabinoid-rich hemp oil
If you are specifically looking for CBD, you also want to keep an eye out for labels indicating hemp seed extract or cannabis seed extract, anything with the word seed in it, is not CBD.  While those are great facial oils, they have no active ingredients and will not provide the benefits of CBD.  
You also want to pay attention to the milligrams of CBD in the products…the more the better!
After falling down the CBD skincare rabbit hole, I mean doing some research, I found that the milligrams of CBD in skincare varies tremendously from lip balms to serums, as well as, within the product types themselves.  It's also important to note that a CBD cleanser, for example, will not provide the same CBD benefits as a lotion or serum, as you are simply cleansing your face with it and washing it down the drain. If you are looking to explore CBD in your skincare routine, focus on products that are absorbed by the skin and not removed.  
Skincare serums and oils are where you will see higher milligrams of CBD, ranging anywhere from 100mg to as high as 500mg.  Do remember though, the higher the mg, the higher the cost, with prices ranging anywhere from $100-$200.  Lip balms infused with CBD range anywhere from 25 to 50mg, while face tonics clocked in at 150 to 200mg at the most.  Chances are if there are no milligrams listed on the packaging or website anywhere, the mg may be a negligible amount and not enough to make it worth your while.  
Hand in hand with the milligrams, you also want to see if the brand has posted the 3rd party lab testing reports to verify the amount, authenticity and purity of the CBD hemp oil.  These reports can usually be found on the brand's website, either on the product page or the FAQ's.  If all else fails, I have been known to pick up the phone and call a brand if I have specific questions that are not answered on their site.
Don't Focus on CBD Alone
Nobody knows your skin better than you, more so even than a facialist or dermatologist!  You know what ingredients work wonders for your skin, and what ingredients you should probably steer clear of.  I happen to love aloe vera in my skincare.  It is holy grail status, amazing, beautiful and perfect…I am also a big fan of neroli oil, so when I shop for skincare, I tend to gravitate to products with those ingredients because I know they work best for me.  With CBD hitting the scene hard, there is no shortage of different formulas on the skincare market.  Take your time and do your research.  Go ahead and fall down the CBD skincare rabbit hole just like I did!  
Your turn!  Already a fan of CBD in skincare?  Let us know in the comments what your favorite brands and products are 💖