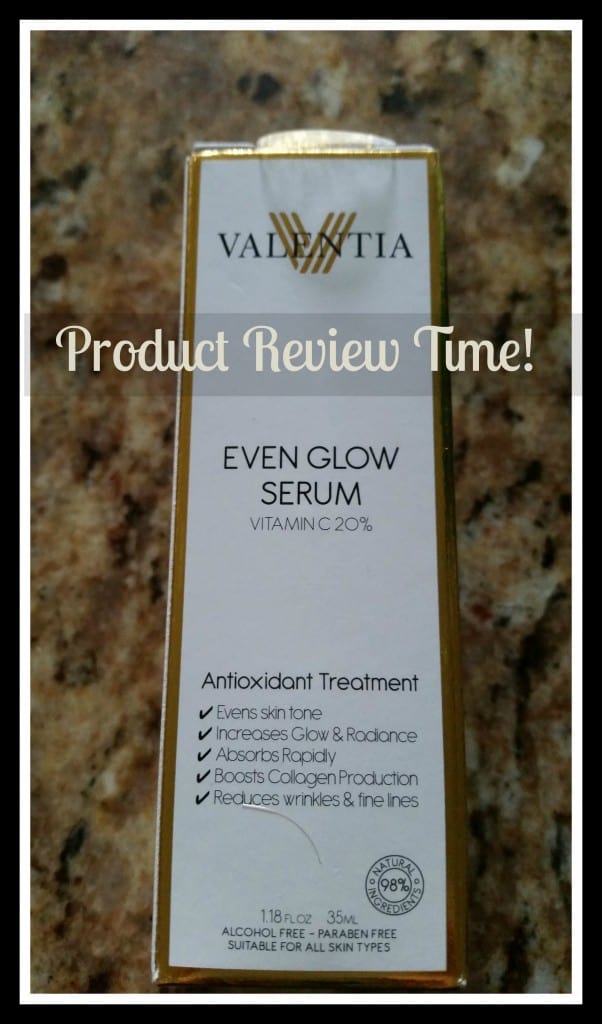 **Please note that I was given the Valentia Even Glow Antioxidant Serum to review.  All opinions are 100% my own!
I am always on the lookout for the next best beauty product – some antioxidant serum that is going to help my skin stay healthy, moisturized, and young-looking.  I was offered to review a new product in the beauty arena – Valentia Even Glow Vitamin C Serum – and after reading how it can help my skin, I signed up!
I've been using the product for a little over a week now and am super happy with the results thus far.  I am going to continue to test it, as I like to give each product a good 2 – 3 week trial period.
I have incorporated Valentia into my nightly beauty ritual (usually completed while trying to wrestle the boys into their showers and then brush their teeth, etc.) which includes:
Make-up removal
Mask application (on Sundays when I remember hee hee)
Cleansing
Serum (NEW!)
Moisturizer
The first impression of Valentia was that it smelled really good – a very refreshing citrus scent!  All I had to do to apply was smooth it over my face and then once fully absorbed I would apply the moisturizer.
I do feel, that after the one week, my skin tone has been evening out a bit where I have been noticing hyper-pigmentation.  I'll definitely keep you posted after the three-week mark, but from what I have been experiencing I think my skin could only get better with time!
I love that this product is paraben-free, contains no perfumes, is made in the USA, and a high percentage of organic vitamin C.
If you are interested in checking the serum out, you can purchase it on Amazon.