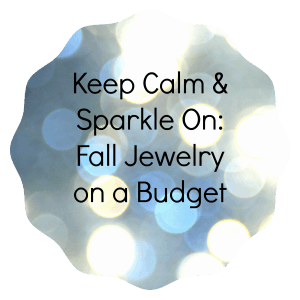 If you were to peek in my closet you would see a lot of neutrals…black, white, tan, brown, navy. There is a spattering of color (usually something that was purchased for me as a gift or purchased while I was shopping with someone who did not let me get the black version). Don't get me wrong – I love color – but I don't seem to gravitate toward it. I will see a beautiful royal blue sweater, but the black version is the one that ends up coming home with me.
I've decided that instead of reinvesting in a whole new wardrobe filled with color (like my husband would EVER agree to that hahaha), I am going to bring color in via accessories – one type being JEWELRY!  Hence, Fall Jewelry Picks on a Budget!
A few years ago I was a stylist for Stella & Dot, a fashion jewelry line that is sold via in-home trunk shows and online. I purchased all of the pieces as part of my "job" as a stylist and that is where I started to learn how to pair jewels with outfits and occasions.
Now that I am no longer a stylist, albeit still a big fan, I am always on the lookout for cool on-trend jewelry to spruce up my neutral wares.
I think cameos are beautiful.  You can find them as necklaces or rings and in a bunch of colors.  I think I may be getting myself the ring and possibly a necklace.
You don't have to spend a lot of money to get yourself some fashion-forward pieces that will accentuate any outfit!  When I am on the look out for some jewels, I hit the following stores (or websites):
J. Crew & J. Crew Factory: I never pay full price for anything I purchase at J. Crew.  I have this thing about buying something at retail cost and then finding out a few days later that its on sale.  Most stores allow for price-matching or you can always return what you purchased (as long as you haven't already worn it!) and then repurchase at the lower cost – this can get to be a pain if you ordered the item online.  There was this one time I purchased a sweater from an online retailer for full-price (I must have had a glass of wine and thought I HAD to have that!) to find out the next day there was a 20% off offer.  I reordered the sweater with the 20% off offer, knowing that once the first sweater came it would go right back to UPS.  (Free shipping and returns are the only way I will do this – or bring the item back to the store.)  The very next day I received an email offering 40% off one item.  Guess what I did???  Yep, ordered the sweater AGAIN at 40% off.  I had to show my husband that I wasn't in fact ordering three different things and getting many, many boxes but I was SAVING $$$ with a little legwork.
I completely went off topic there, sorry.  Back to jewelry!  OK…J. Crew and J. Crew Factory have some of the coolest statement necklaces and bracelets and when they are on sale, its a great deal!  Here are some pieces that have caught my eye:

Banana Republic/Ann Taylor/Loft:  Same situation here – check out the new goods but wait till they go on sale.  I went into Loft with some friends the other week and really liked this one set of bangles and they were only $20, which is great to begin with.  History repeats itself, as does the fact that given a few days or a week, that same set of bangles will be on sale.  BINGO!  A few days later I received an email offering 50% off!  Not only did I get the bangles, but I got the skirt, shirt, scarf and earrings I was also eyeing.  This is where I need to hold myself back LOL – yes, everything was 50% off, but I really should have only gotten the bangles BUUUTTTTTT I loved the outfit…and looked very put-together at work that day.  Here are some of my favorites from Banana, Ann Taylor and Loft:

Bauble Bar:  Bauble Bar is a great website to browse and maybe purchase on-trend jewelry right from your computer.
Target: Can't forget Target!  Although jewelry isn't my favorite department at Target, they do have some nice pieces and come out with capsule collections here and there.

Ever been into a Charming Charlie?  The first time I entered I was a bit overwhelmed.  It was huge but so well organized.   This wonderland of costume jewelry is sectioned off into colors.  Want something blue, red, silver, etc. you will know exactly where to go.  They also have a website, but the in-store experience is very interesting.  The jewelry is VERY affordable, but I feel that you have to pay attention to quality there.  If you don't want to spend a lot but want to get the current season's accessories, I recommend checking Charlie out.
Where are some other go-to places for costume jewels that you love?  Post in the comments – I'd love to know!
Click on the button above to see what was posted yesterday!