Yet another morning started with a Model Bakery egg, cheese, and bacon sandwich on an English muffin…delish!  The weather was rainy and gross but the clouds and fog between the mountains made for a beautiful backdrop.
The first vineyard we visited was Stag's Leap, in the Stag's Leap district.  Time for a cave tour!  Our tour guide was Ed, and he was great…very informative and had a great personality to boot.
The Stags Leap name derives from an old Wappo Indian legend that an enormous stag once eluded hunters when he leapt from one mountain to another.  Here is a picture of the "V" shaped mountain area where the stag was said to have jumped (rather far!).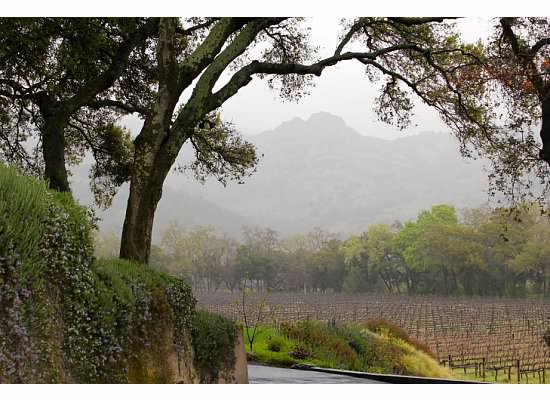 The caves were so cool…filled with hundreds and hundreds of French oak barrels.
Ed explained to us what each of the markings on the barrels meant, and that the way the barrels are created affects the taste of the wine inside.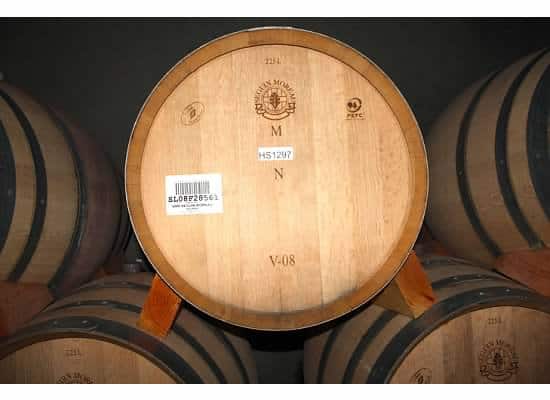 Everywhere you turned there was another walkway to a different part of this cave.  Luckily there was a map at each intersection in case you lost your way!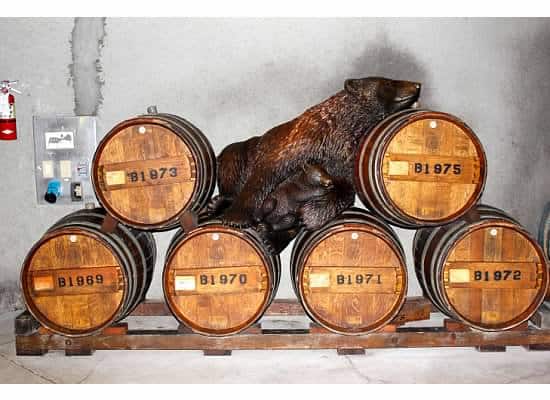 After the cave tour, we went back to the tasting room where the real fun began – time for some award winning Cabernets!  We had first heard of Stag's Leap one evening while dining at City Cellar, a favorite restaurant of ours.  There was a "special" on the Stag's Leap Hands of Time red wine…we loved it!  Unfortunately we found out that the wine we loved is only sold to restaurants and by the glass to the public BUT if you join their wine club, you are eligible to get one (or two maybe) of the Hands of Time bottles.  Click HERE to learn why this wine is named Hands of Time.  I love the symbolism.
By a recommendation from my doctor, we made reservations for lunch that day at the Culinary Institute of America at Greystone's restaurant (Zagat – 20).  The menu is based on what is fresh and available on that particular day.  Rich and I shared the chef's choice appetizer sampler, followed by salad and then for our main courses we chose swordfish and a pan roasted whole fish.  The food was excellent and it was cool to see the chefs-in-training do their "magic".  The only downside was the service.  They were really off in their timing of the courses, but were super nice and apologetic.
At this point I was a bit tired (nap time was looming), so we started the drive back to the hotel.  Along the way we stopped at Chateau Montelena – beautiful grounds and a wonderful Chardonnay.
A gift that we received when we got married (in 2003) was a bottle of their 2000 Chardonnay.  We kept it, or "cellared" it until now and were told by one of the guys at the vineyard that our wine is going to basically be delish.  (It was!  My husband cooked a special seafood dinner when we got home and it paired so nicely with the Chardonnay.)
We started to make our way closer to the hotel and all of a sudden we saw this burst of water shoot up into the sky – we had to check it out.  It was the Old Faithful Calistoga Geyser.  It normally erupts about every 30 – 40 minutes but because of the rainy weather it was spouting out water and steam about every 10 to 15 minutes.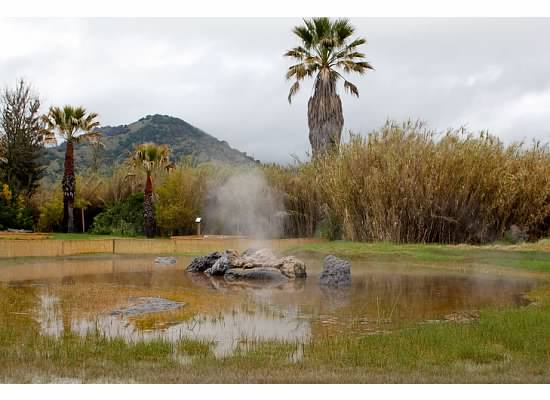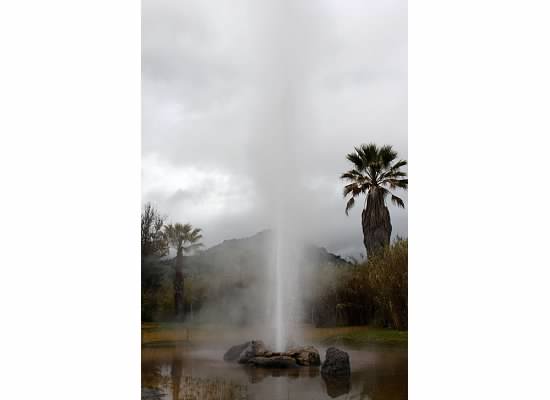 We also visited the petting zoo where there were many baby goats and lambs – I wasn't allowed to take one home.
A quick change at the hotel and we were back on the road to Mustards Grill (Zagat – 25), for dinner.  Known as the fancy rib joint with way too many wines, it has turned into this delicious "go to" for foodies.  To start – Ahi Tuna Crackers and the Three Greens Salad.
My lemon and garlic chicken was amazing but didn't hold a candle to my husband's famous Mongolian Pork Chop with sweet & sour cabbage.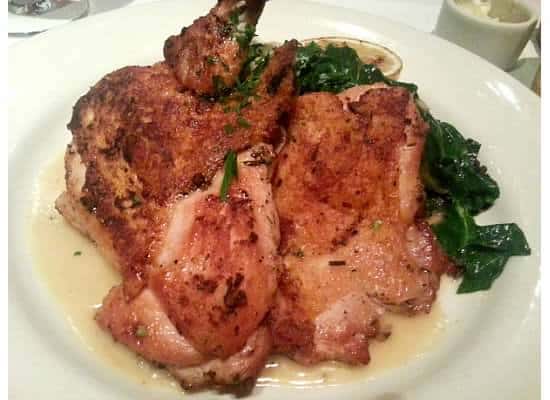 As if we didn't eat enough, we were "forced" to order their amazing Meringue Pie.  I have never seen anything like this before in my life.