Living in Florida has afforded us the ability to jump in the car and get to Orlando in just a few hours.  We try to avoid the parks over the summer months due to the heat but revel in the proximity once the fall months come.  Two of our favorite times of the year to plan visits are for Mickey's Not So Scary Halloween Party and Mickey's Very Merry Christmas.  Since we've gone for the past 8 years, I've collected a few pointers and tips on what to expect when you go!
Ever since the boys were babies, we would pack up the car and head toward the happiest place on earth.  We'd make sure that the boys took a nap on the way, as the entrance to the party begins at 3 pm and lasts until midnight!  (Not that we ever lasted that long…but we had hoped!)
Once we parked at the Magic Kingdom, we'd change the boys into their Halloween costumes and head over to either the monorail or the ferry…whichever the boys chose that day.  Not much has changed over the years, except we've learned a lot along the way.
Dress for the Occasion
What other time of the year can you dress up as your favorite character and ride amazing rides?  No matter the age, you'll see costumes galore, so join in!  When the boys were little, and Toy Story was huge, we found them Buzz Lightyear and Woody pajamas – they looked just like costumes and the little ones were super comfy.  (Oh, and it was easy to transfer them from the car to their bed at night!)
One year we went with another family, and my friend and I dressed up as Wilma and Betty from the Flintstones…so much fun!
I do, however, recommend wearing comfortable shoes.  As with any trip to one of Disney's parks, you will be doing a lot of walking.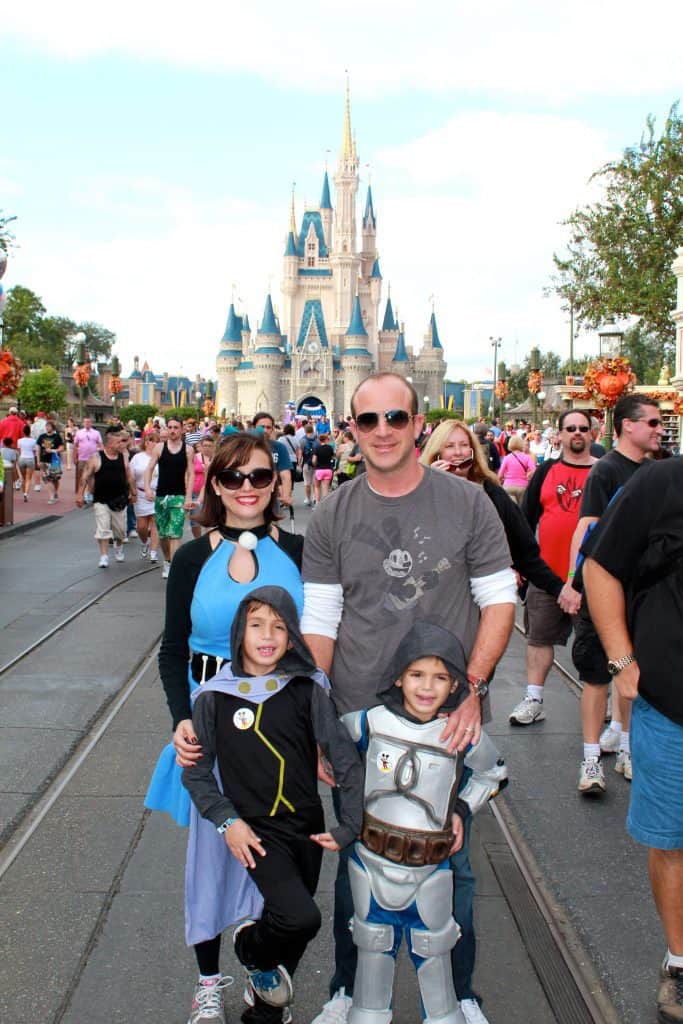 Last year, Disney enacted a few new rules when it comes to costumes.  Please be sure to read below before deciding on who you will be:
GENERAL RULES:
Disney may deny admission to anyone or remove anyone who is wearing attire that is considered inappropriate or could detract from other guests' experiences.
Guests may dress as their favorite characters, but cannot pose for pictures or sign autographs.
Costumes must be family-friendly and not obstructive, offensive, violent, or objectionable.
Costumes must not contain weapons that resemble or could be mistaken for real weapons.
Costumes may not contain sharp or pointed objects or materials that might strike another guest.
Guests who do not abide by the guidelines may be refused entry or removed unless their costumes can be modified to acceptable standards.
GUESTS AGE 13 AND UNDER:
Costumes and some masks may be worn. Masks cannot cover the entire face, and eyes must be visible.
GUESTS AGE 14 AND OVER:
Layered costumes or costume props that surround the entire body are strongly discouraged and may be subject to additional security screening.
Costumes may not reach or drag on the ground. (e.g., full-length Princess dresses)
Capes may be worn if the length does not go below the waist.
Themed T-shirts, blouses, sweatshirts, and hats are acceptable.
Acceptable accessories include transparent wings, plastic light sabers, toy swords, and tutus. Headwear may be worn as long as it does not cover the face.
Masks of any kind may not be worn.
Arrive Early
Try to get to the park at 4 p.m., when they start letting the party guests in.  You'll receive a wristband that you need to keep on for the duration of your stay at the park.  This band will allow you to stay inside the park when the regular park ticket holders have to leave by 7 p.m. – when the party starts!
Bring Your Own Treat Bag
Disney provides cute goodie bags for candy collection once you enter the park. I recommend bringing your own (bigger) bag.  We come home with tons of candy each time!  Aside from bringing your own treat bag, I recommend packing light.  I do, however, recommend if your kids are like mine, that you bring a light-up sword or toy from a previous visit so as to save some money.  We get hit up for lightsabers and twirly light toys EVERY time before the parade…we've learned our lesson.
DEFINITELY See the Parade
The "Boo-To-You" parade for this special event is MY FAVORITE.  There are usually two parades per evening around 9 pm and then again 11 pm.  Be sure to save your spot early if you can OR if you are like my husband and older son, take those parades times to jump on the rides as the lines are even shorter!  I like to stake out my spot on Main Street about an hour ahead of time.  I hold everyone's bags and take a seat for the time being – it's perfect for people watching!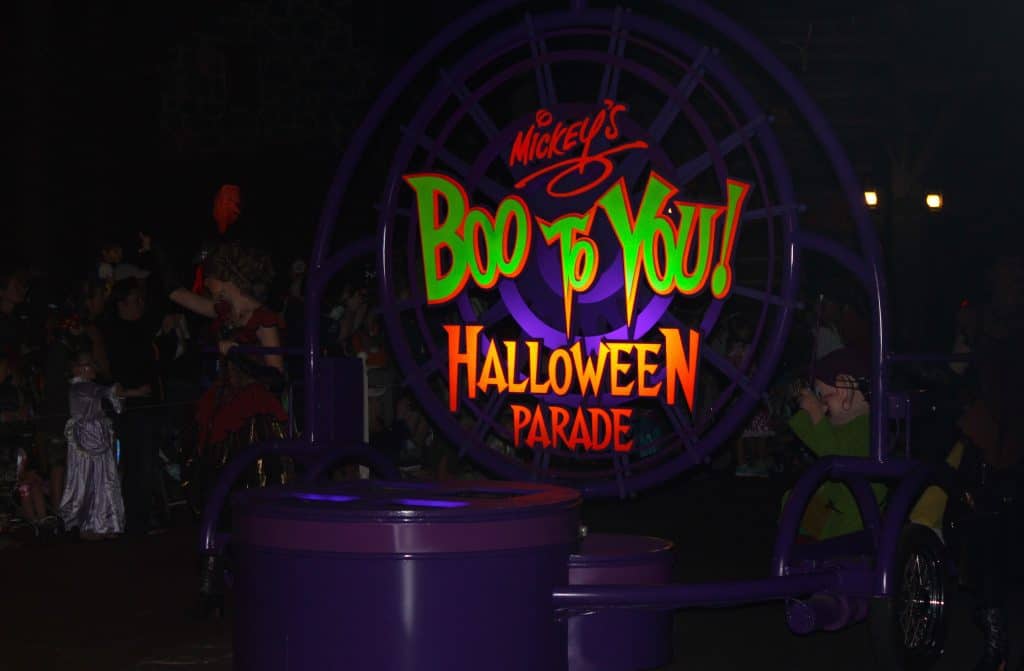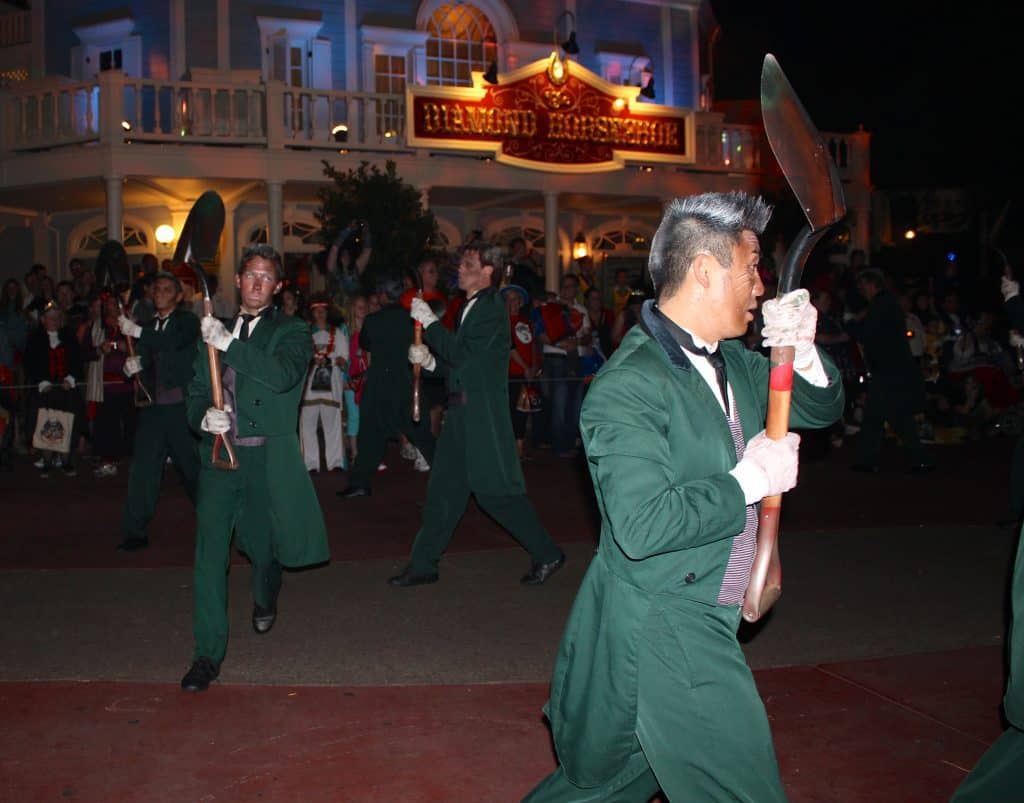 Other entertainment not to miss include:
Happy Hallowishes Fireworks
Hocus Pocus Villian Spectacular
Cadaver Dan's
TRICK OR TREATING GALORE
Throughout the park, you will find a trick or treat station illuminated, like below.  Be sure to check the event map for all of the locations throughout the park.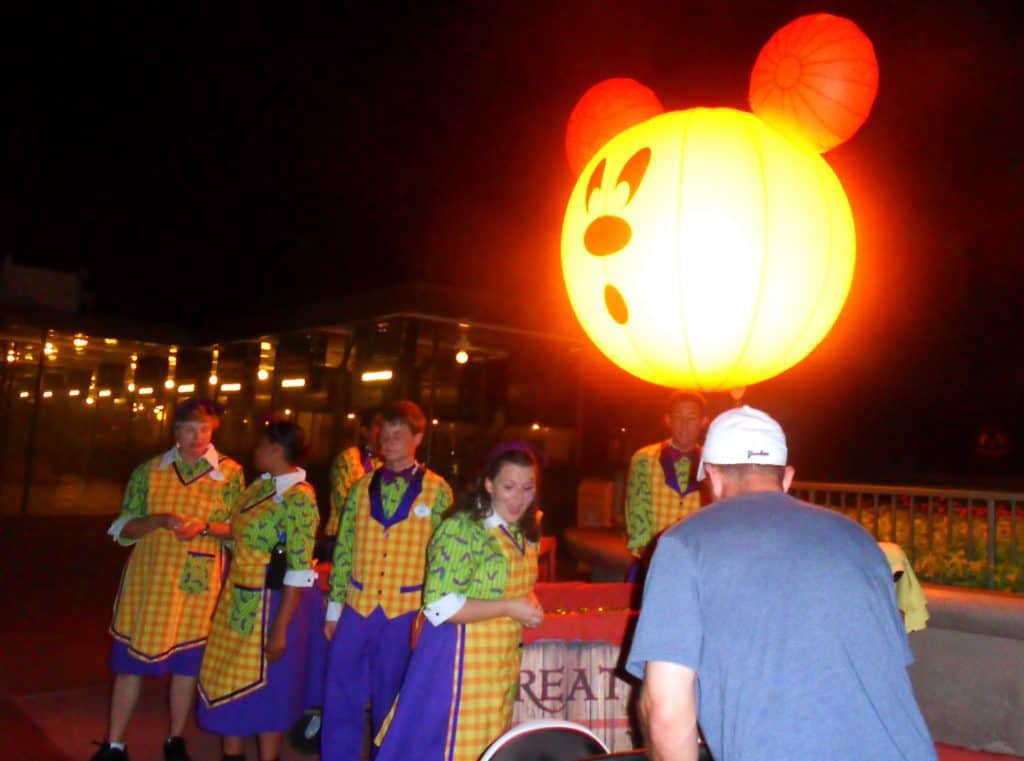 Little goblins line up to get their fill of candy – make sure to bring the larger bag from home (you'll thank me later).  I love that there are allergen-friendly options.  When you arrive at the park, explain to one of the team members that you need a teal bag.  This will alert the team members at each of the candy stations to give you a token.  At the end of the evening, trade all of your tokens at the Allergy-Friendly Center in for special treats!
MICKEY'S NOT-SO-SCARY HALLOWEEN PARTY TICKETS, ETC.
If this post has to whet your appetite to enjoy this super fun party, you need to get some tickets!  Unfortunately, there are no Florida resident discounts nor do the Fast Passes work.  We have a great time every year…and we hope you do as well!