*Please note that I was comped dinner at CPK in exchange for an honest review.  The opinions in this post are 100% my own…and my husband's…and both of my sons'.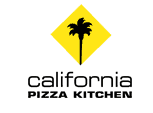 When you see (or hear of) California Pizza Kitchen what do you think of?  I initially thought only about pizza – their wild mushroom one in particular.  Well, within the past year or so a lot of things have changed at CPK – the menu not being the only thing.
We were invited to visit our local CPK and see for ourselves so we took a trip over there this past week.  As we walked in I noticed the change in decor – the new design includes lots of hard woods, high top tables – almost more like a farm-to-table meets Tuscany look.  Once seated, the General Manager Shawn came over to introduce himself and immediately got my boys' attention when asked if they'd like to make their own pizzas.
My little guy took this very seriously – and I knew he would as he likes to help us out in the kitchen at home.
Shawn taught them, step-by-step how to make the pizza and within minutes the completed individual pie was in front of G.  You could tell how proud he was – as were my husband and I!
N order his usual favorite – macaroni and cheese and dubbed CPK's version "the best he's ever had" (and that is a huge compliment considering that is all he ever really orders when we go out to eat).
HAPPY (HALF) HOUR
To start the meal out right, we were brought a few of CPK's signature cocktails.
This first skillfully crafted drink, the Honeybee Lemonade was very refreshing like lemonade, with a little bit of honey taste to it (Jim Beam Honey).  Of course my husband had to taste test it first!
Next up we were served their sangria flight – it's not even on the menu and is going away in April so if you are a sangria fan you need to go to CPK pretty soon!  I'd never heard of a sangria flight and was pleasantly surprised by the different flavors – appleberry (red wine with cranberry, orange and raspberry puree), blood orange (white wine with orange puree), and caribbean sunset (white wine, passion fruit rum, apple juice and mango puree).
The final cocktail was VERY different, but in a really cool, good way.  Named California Roots, this interesting drink is made with vodka, agave sour, and avocado – yep, you read that correctly – avocado – with a fennel salt rim.  I didn't know what to think of it at first, and probably wouldn't have ordered it initially as I've never heard of avocado as a drink ingredient.  It was GOOD.  Such a cool and different drink – I'm going to try to make it at home but doubt I'll get it as good as CPK's version.
APPETIZER TIME, CPK STYLE
I decided before we even arrived that I wasn't going to order anything that I would normally pick – like spinach dip or a salad.  We were torn between the new sesame ginger chicken dumplings (you know how I love dumplings!) or the avocado club egg rolls.  We chose the egg rolls and were not disappointed in the least.  They came with house made ranchito sauce and herb ranch.  I liked the ranchito sauce the best.
ON TO THE MAIN COURSE
There was so much to choose from, and it was very hard not to just go with the tried and true wild mushroom pizza that I love (pre gluten-free days).  They offer gluten-free pizzas among a few other gluten-free dishes, which is awesome – something for everyone!
I tried the shrimp scampi zucchini fettuccine (say that ten times fast!) and my husband opted for the new addition to the menu – wild caught alaskan halibut roasted on a cedar plank with grilled asparagus, butternut squash, farro and baby kale.  The shrimp scampi was delicious but I think I liked his choice better – now I know for next time!
ALL IN ALL
Stuffed to the gils, we digested the deliciousness while learning more about CPK past, present and future.  Shawn explained that all of the restaurants will be updated in the same style as the one we were visiting.  Their seasonal menus are new – introducing new dishes every season and keeping the menu fresh.   I loved that Shawn's whole family works for the company – his daughter is going to help open the Hong Kong CPK in April (we are going to try and see her while we're there…how cool would that be?!).
The food is delicious, but what really made me smile is that CPK is heavily into supporting each community in which they are located.  They do so via:
Inspired Acts™ – giving a helping hand in the community through charity walks and visits to Camp Pendleton, to name a few
FUNdraisers – helping to raise funds for the local schools or non-profits
In-kind Donations – donating money to organizations and charities in need, many of which help children
CPK Foundation
Knowing that a company invests this much into the surrounding community makes me more likely to choose such a place to do business – do you agree?
Yes, we were offered dessert – Butter Cake to be exact – BUT were so full…we took it home!
Have you visited CPK lately?