*I was given a complimentary Eleni's cookie gift package in exchange for my honest opinion.  All opinions are 100% my own.
I don't know what I want to be for Halloween just yet.  I thought I had some time to decide, but technically the holiday is in 1 month and 6 days, with Halloween costume parties scheduled for even sooner – eek!  I ask my boys what they'd like to be this year, but their mind keep constantly changing.  Decisions, decisions!
Based on the National Retail Federation's latest poll, here are the top 10 adult costumes: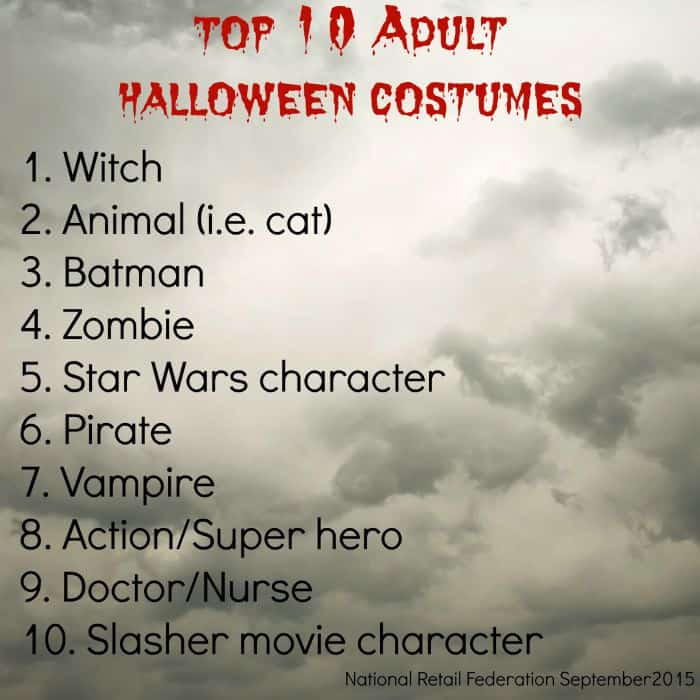 For kids, the first girl's costume that comes to my mind is either Elsa or Ana from Frozen.  I think the boys would be either a superhero or Star Wars character.  Let's see what the NRF poll results are:
You definitely cannot forget your furry family members either!  One year Sadie was a "Wide Retriever" (she's a goldendoodle – LOL).
Couple costumes are huge too.  The poll didn't cover them, but here are some of my favorites:
Popeye and Olive Oil
Policewoman and prisoner/jailbird
Fred and Wilma Flintstone
Flapper girl and her gangster
Raggedy Ann and Andie
For the past 2 years we've had a costume party at our home.  I Pinterested a lot and came up with some great food and decorating ideas (if I don't say so myself)!  I set up corn hole and other Halloween-themed games for the kids out back and a witch's cauldron of adult beverages inside.
A lot of my guests asked me what to bring to the party, which was super nice of them.  I wish I had known about these super cute cookies by Eleni.  They would make the best gift for a party host.  I received them the other day, in return for an honest review.
You could smell the cookies from the packaging!  It was hard to hold the boys back – I needed to take pictures!
The gift box that holds the cookies was securely packed within that box pictured above.  No worries about broken cookies here!
How cute is the packaging?  And I love the color combination.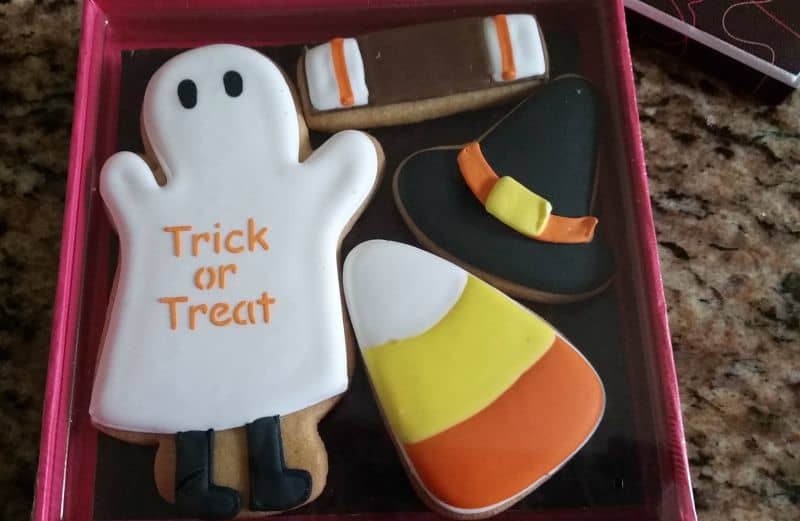 Now put the fact of the secure and CUTE packaging aside – the cookies were delicious.  N enjoyed the candy corn decorated one while my little one chowed down on the tootsie roll one.  They were super fresh, not too sweet – perfect!
Eleni's has so many different varieties of Halloween cookie packages BUT they create much more than just Halloween cookies….I have my eye on the custom photo cookies as gifts for the upcoming winter holidays.  Each cookie is handmade and hand-iced.  The bakery they are made in is nut free and kosher.
My little cookie monster, G, just told me that he approves and asked when we are getting some more!  For a limited time, Eleni's is extending 10% off to my readers on the first order!  All you have to do is use the code PELLERINI at checkout.
Check out their site and tell me which design(s) are your favorite!