Did you know that while I was finishing college, I worked as a barista in a small coffee shop inside Town Center at Boca Raton?  (It's where William Sonoma now is.)  Many days and nights were spent there making cappuccinos, studying for tests in between customers, meeting new friends, and of course…shopping!
It was, and still is, the place to go for just about anything you need!  The Town Center Mall was like no other mall I'd ever seen back on Long Island – so opulent.  Fast forward to today and although it has changed in terms of modernization, it is still like no other mall I've ever seen.
Boca Raton Shopping at its Finest
I recently had the opportunity to enjoy a luncheon at The Capital Grille, one of the dining options at Town Center, where I learned about Spring and Summer fashions.
Saks Fifth Avenue gave us a peek into what is hot for the current and coming season.  Although we are halfway through May, it feels like we are knee deep in Summer.  The styles are geared toward looking fabulous while being cool and comfortable.
Florals
Florals have been a trend for many, many seasons.
The floral duster above by Alice and Olivia caught my eye partly because of the gorgeous colors, but also because it is reversible!  You can also morph it into a wrap dress by adding a simple belt!
I am all about maxi dresses.  They elongate my otherwise petite frame and come in so many different styles – like this one above!  The YSL bag was the perfect finishing touch!
Monochromatic
Don't let anyone tell you that you can't wear white before Memorial Day and after Labor Day.  That rule just doesn't apply here AND I don't think I would be able to hold off on wearing this outfit another day!
Denim
Denim jackets are the perfect addition to just about any outfit.  We noticed that at least four of us brought or were wearing our denim jackets – each with a different style outfit.
This outfit above is a great one to travel in.  The skirt is super comfy, the bag perfect to carry your magazines, laptop, and other in-air necessities, and the denim jacket is perfect to reduce the chill that usually ensues on board.
Zimmerman – My New Favorite Label!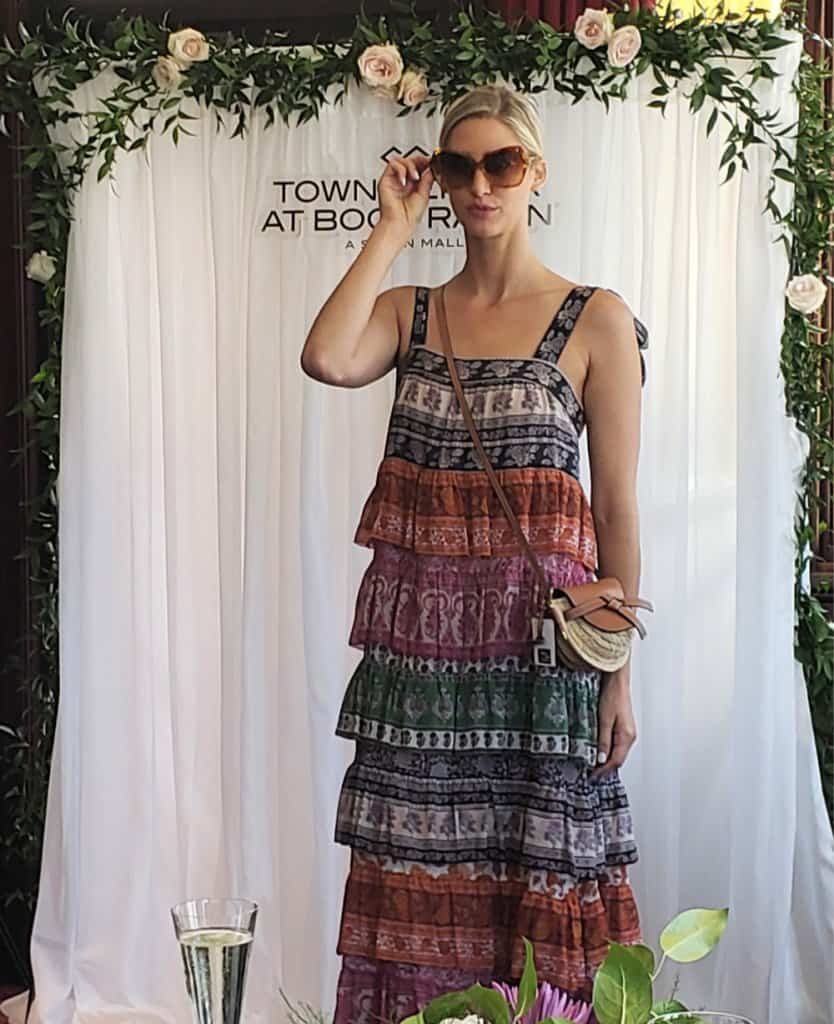 I. Need. This. Dress.  Like I mentioned before, I have been attracted more and more to maxi dresses.  This Zimmerman one is gorgeous – from the layers, to the colors and print, to the detail on the straps.
Two Piece To Go!
Both of the two-piece outfits below are perfect when you're on the go.  You can also pair each of the pieces with something you already have in your closet.
Town Center at Boca Raton
We also got a sneak peek into Versace's Fall collection – the pieces literally were delivered the night before the event!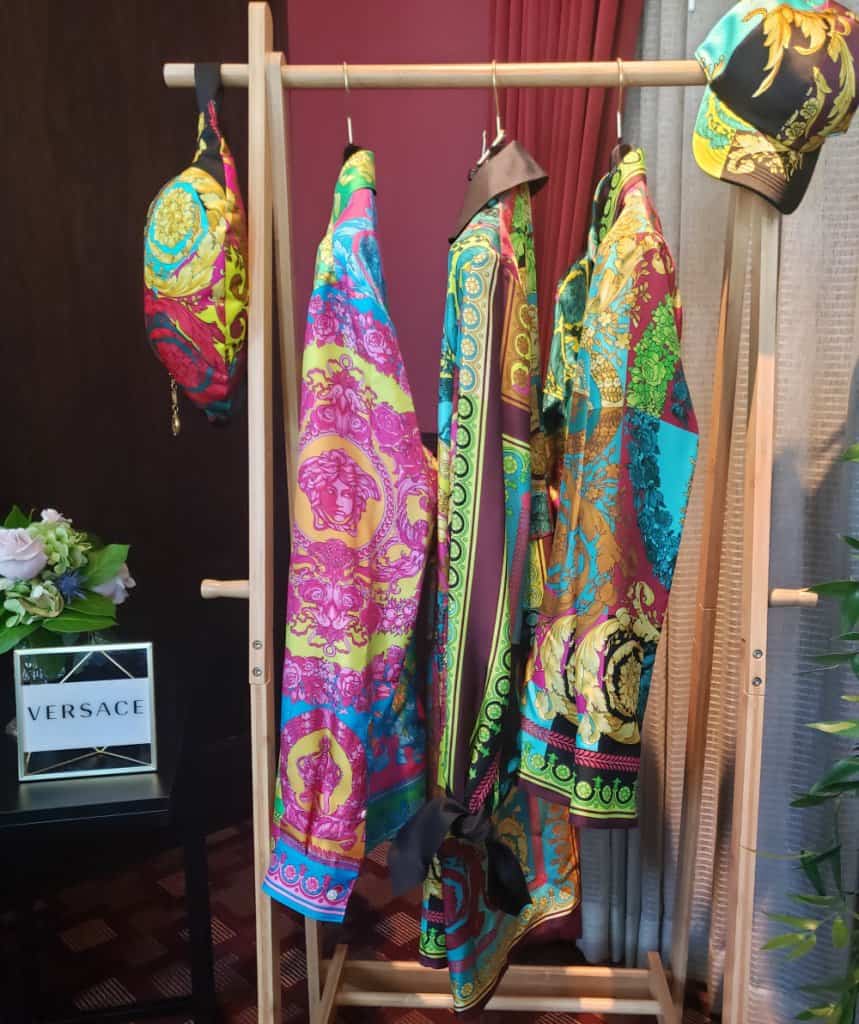 Gucci displayed some of their timeless bags – I am eyeing that backpack…and the sneakers.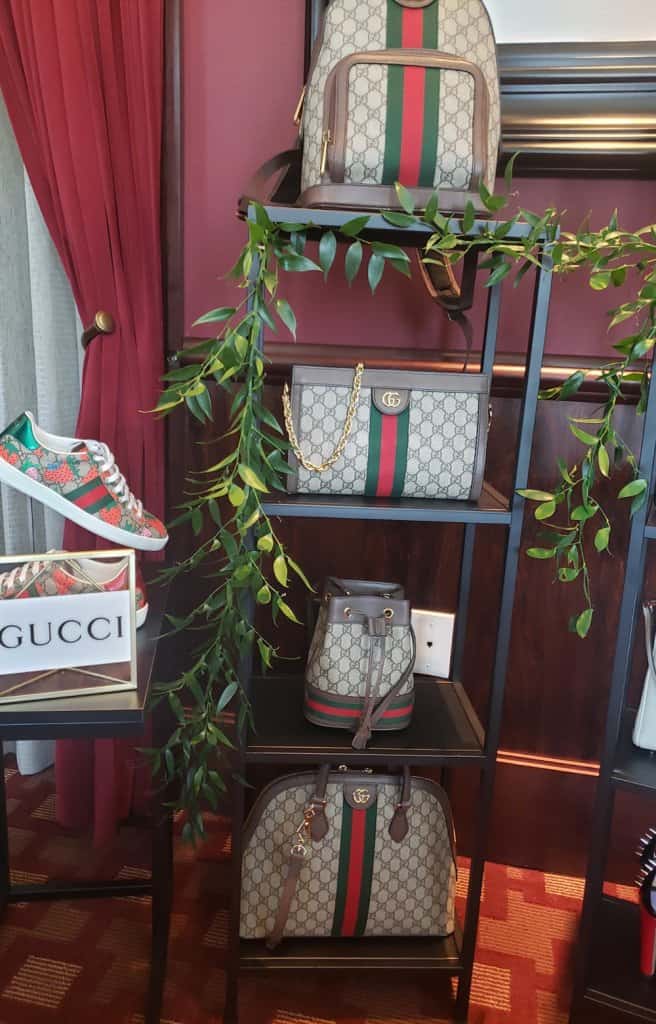 We were gifted hand-drawn sketches of ourselves from the fabulous Amanda Perna, the designer behind The House of Perna and Neon Bohemians!  I love mine!!!
Regardless of what you're looking for, you can find it at Town Center.  I like to make a day of it – grabbing lunch, shopping, then enjoying a coffee and on to some more shopping!