*There are affiliate links in the post.  If you purchase via these links, I may receive compensation. 
There are certain items that I  pack in my carry-on luggage each and every time I travel on a plane.  I find them essential to a comfortable trip and I think you will agree!
Let's Pack Your Carry On Luggage!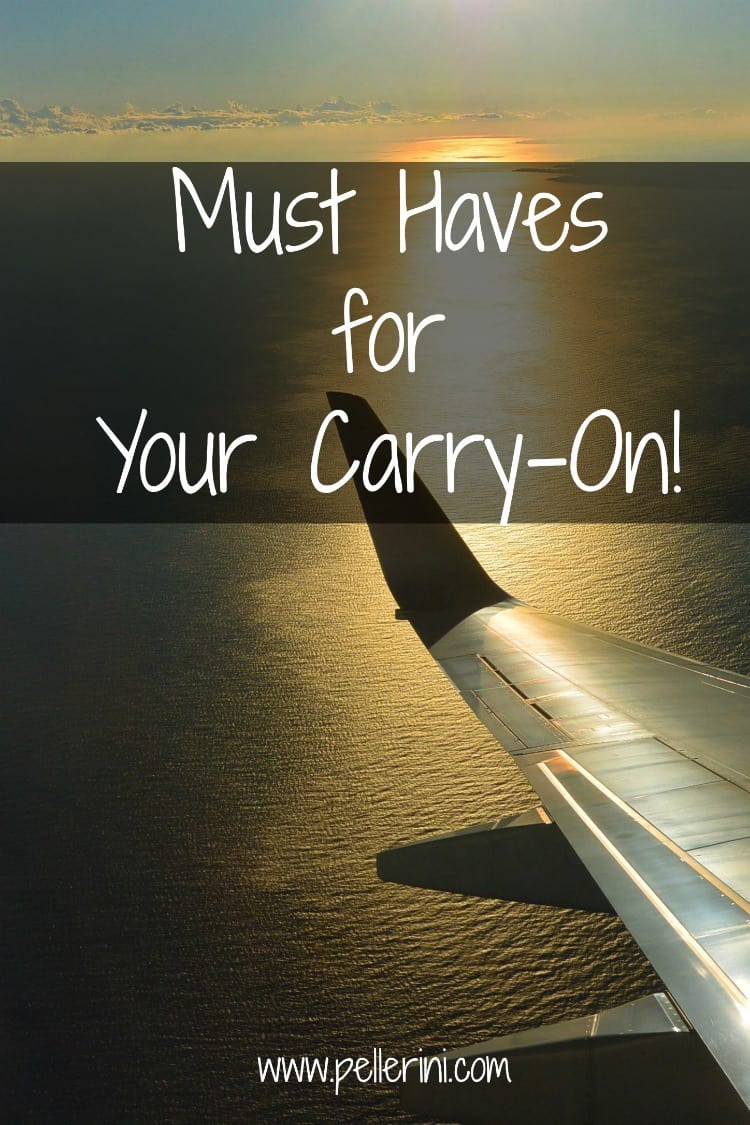 LIP BALM: Just thinking about being on the plane makes me reach for my lip balm.  My go-to's are either Carmex or EOS.
HAND CREAM: My hands are dry normally, so one of the first things I pack is hand cream.  I either opt for the Aveda Hand Relief or L'Occitane (make sure it is under 4 oz!).  The cream has to be non-greasy and not sticky…these two fit the bill!
FACE MOISTURIZER OR FACIAL SPRAY: If you are going on a long plane ride, I recommend slathering on your favorite face moisturizer before take-off, or refreshing yourself with a facial spray, like Evian or Avene.
GUM/CANDY: Gum is great for take-off and landing to ease the cabin pressure changes on your ears.  Candy is…well, it's just good to eat!
READING MATERIALS: En route is really one of the few times I get "quality time" to read.  I love to bring along my Kindle as it is lighter in weight that a conventional paperback (although I still love to hold and read from the physical book at times).  I also like catch up on the pile of magazines that slowly take over my nightstand, and do a few word puzzles. You can opt for the Zinio app on your Kindle or tablet to read magazines if you don't want the extra weight of a magazine or three.
SOCKS AND SCARF/BLANKET: If I am not already wearing socks, I pop a pair in my bag.  Once I'm situated in my seat, I like to take my shoes off and keep my feet warm and comfy.  I have always liked blanket scarves and being on a cold plane with one has made me a HUGE fan!
EARPHONES: I use them for the in-flight movies or TV, or to listen to music on my phone or other smart device.  I personally love the noise canceling headphones, but ear buds work just as well and are a bit more compact.
HAIRBRUSH: Once we are in our "final descent" I like to spruce up a bit – reapply make-up, fix my hair – you know…the usual!
PRESCRIPTION MEDICATION: This should have been one of the first on my list.  If you are taking prescription medication, it is highly recommended that you bring it on board with you.  Reason being is that if for any reason your checked luggage does not make it to its final destination, you at least have your medications with you.
CLOROX WIPES AND HAND SANITIZER: I am THAT person.  Once I am situated in my seat, I use a Clorox wipe to wipe down the arm rests, tray, TV (if applicable) and anything in my immediate vicinity that I am going to be touching.  Listen, you don't know who sat there before you and it is one simple step to help ward off germs!  Same with using hand sanitizer before eating, after the bathroom, etc.
TOOTHBRUSH and TOOTHPASTE: After a long flight, I like to freshen up and brush my teeth…especially those flights that are over 5 hours!
ELECTRONICS CHARGERS: I pack these in my carry-on just in case there is a delay or layover.  (These include cell phone, Kindle and laptop, if needed.)
EYE MASK: This is totally optional, but if you intend on sleeping on the plane, an eye mask is heaven-sent.  It blocks out any light – and along with the noise canceling headphones, you should be able to get a nice little nap in!
Don't Forget About Luggage Placement
It's not only about what you pack or how you pack it, but you can't forget about those times when you need to have luggage placement, more specifically, during those awkward times and limbo periods. For instance, if you have hotel checkout in the morning but you don't have to take the train until the evening, then something like luggage storage Haymarket Station could work perfectly if you're in Edinburgh. But in general, luggage lockers will instantly make luggage placement and logistics far easier to handle. 
To make packing easier for you I have created a checklist of my must-haves to pack in my carry-on that will ensure a comfortable flight!  All you have to do is enter your email address below for FREE access!