*Please note that if you purchase via clicking on one of the link below, I may receive compensation.
I know I need to stop ordering clothing online, but I so look forward to my Stitch Fixes!  This time around, as in many others, I was not disappointed.  I had just gone shopping with my husband, as part of my birthday gift, so I had to make sure that was was enclosed in that fix was things that I "needed" as opposed to "wanted".
First up was a very versatile black sleeveless shift dress from Sanctuary.  I wore it last week to work with a pair of black slingback kitten heels and got a lot of compliments.  It's freezing in my office so I paired it with a black cardigan but it would have looked great with a royal blue one.  I really liked the royal blue zipper detail on the front lower "pockets" and back.
I received two dresses in this fix – the second one from Tart, one of my go-to brands for maxi dresses.  Their fabrics are super soft and seem to wash well.  This cowl neck dress fit  perfectly – can you imagine?!  The only thing I need to remember when I wear it is that I need to wear some Spanx – it hugs the figure!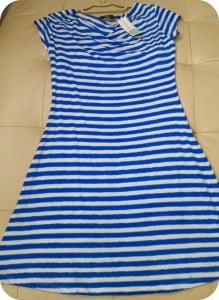 The color blocked shirt caught my eye and I mentally paired it with my off-white Zara pants or my black pencil skirt.  Perfect for the office with a black blazer or cardigan.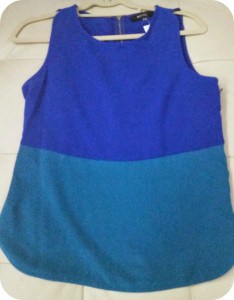 For what I believe is the first time, I received a necklace as part of the five pieces.  I did note in my initial survey that I didn't want jewelry because at the time I was working with Stella & Dot and the last thing I needed was costume jewelry.  The necklace they sent is nice – Zad's Adrianna circle bib necklace is simple and can go with really any neckline.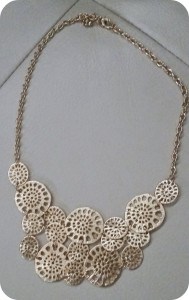 Last but definitely not lease was the most comfortable pair of shorts.  Level 99's Annie Abstract Floral Print shorts.  By touching them, I had a feeling they were going to soon turn into one of my favorite pairs.  They are.  I am not one for floral prints, but this is very subdued…off white with black and hints of pinkish color…I immediately paired them (the next day) with a black tank top and flops.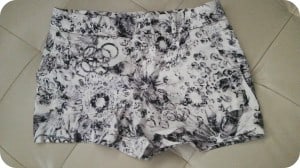 My next Stitch Fix is coming at the end of October and I look forward to seeing what's inside!  What's great about Stitch Fix is that you can request just one "fix" or schedule them out monthly, every few months – whatever you'd like.
I totally recommend trying this at least once.  Filling out the survey is easy and very beneficial as it gives your stylist a snapshot of what you like and what you are looking for (as well as your sizes!). I think a big help was that I added a link to my Pinterest board "My Styles" which illustrates the different clothing items that I have liked and pinned over time.
Learn more and definitely tell me if you check Stitch Fix out – I'd love to know what you think!
Want to check out my other fixes?  Click HERE, HERE, HERE, HERE, and HERE.