I've heard so much about Thrive and am a fan of the Huffington Post, and felt compelled to read Arianna Huffington's newest book.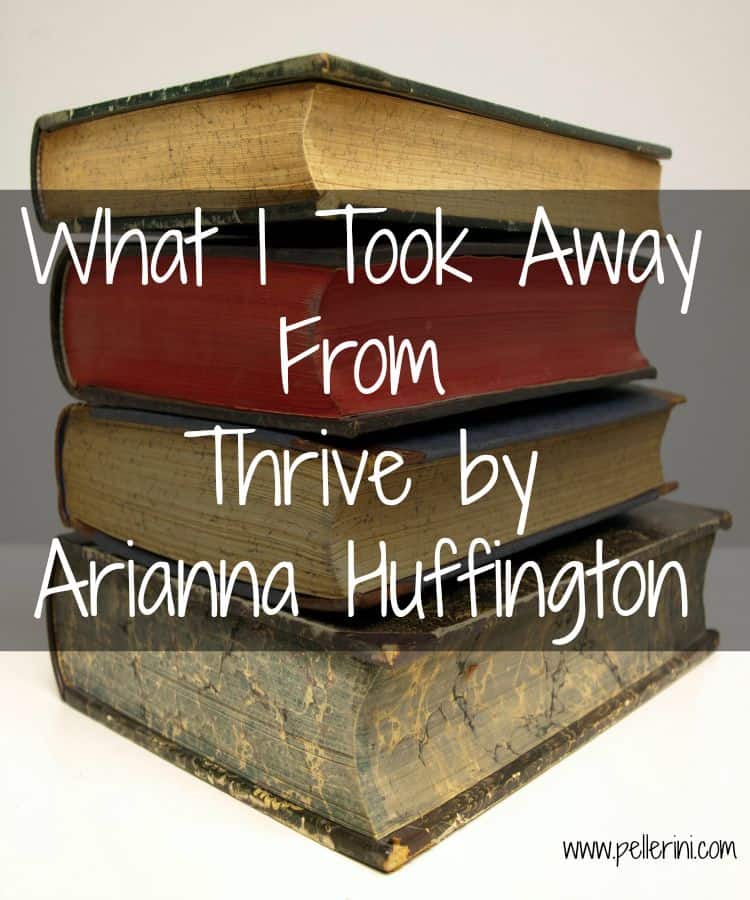 Arianna speaks about going beyond the usual two metrics of success (money and power), to her third metric.  This consists of four sectors, or pillars as she described them: well-being, wisdom, wonder and giving. As you read deeper into the book, she describes how to achieve each sector of the third metric with meditation, unplugging and more.
I used to pride myself on the fact that I could multitask. As I moved on in my career, I realized that multitasking wasn't optimal as I wasn't giving 100% to the projects because I was bounding back and forth between them, possibly leaving details out.  Huffington does not believe that multitasking is a good thing either.  She says, "Being connected in a shallow way to the entire world can prevent us from being deeply connected to those closest to us – including ourselves." This resonated with me – and justified the need to focus on one project at a time, time blocking (my favorite) if necessary.
One of the sections of this book was dedicated to eulogies – yes, the speeches at funerals.  They are filled with how wonderful the deceased was; how much that person was loved. She asks, "Why do we spend so much of our limited time on this earth focusing on all the things our eulogy will not cover – such as how much we meant to our families and friends, small kindnesses, lifelong passions, and the things that made us laugh.  Each and every one of us still has time to live up to the best version of our eulogy." Resonates, right?!
One interesting phrase that I learned is "email apnea", defined as when you open your email, you hold your breath for short periods of time.  I do that all the time!  First thing in the morning when I open my email inbox, I literally hold my breath as I scan through the subjects.  I don't know why either.  Almost like I'm overwhelmed before I even read the first one.  This is something I immediately added to my "need to work on" list.
The Italians know how to slow down during the work week.  Solvitur ambulando in Italian means "it is solved by walking". Huffington writes about the importance of getting up and walking around throughout the day.  So valid!  When I worked in an office setting, I would take a walk for about 15 minutes in the afternoon and come back to my office refreshed and ready to take on the next few hours.  Now I work from home, so I walk in the morning.  It allows me the time to mentally organize my day.
Another tradition from the Italians is the "riposo", the period of rest in the afternoon; and the evening stroll, the passeggiata, a time to disconnect from the pressures of the day.  I am an avid napper and can totally see how an evening walk could clear the mind from the noise of that day and relax oneself.
I completed agree with Huffington when she writes about social media as a time suck.  I have a love/hate relationship with it.  I enjoy catching up with friends from near and far, it has been a great way for me to get word about this very blog out to the public! BUT – it is important to reign myself in and not overspend my quality time on this.  Want to hear a true story I learned from this book?  In December 2013, a tourist in Melbourne fell off a pier and plunged into the sea while checking Facebook on her phone.  Thankfully they were able to rescue her (with her phone in her hand).
Arianna lists three steps we have the power to do that will our well-being:
1. Improve health, creativity, productivity, and sense of well-being.
2. Move your body: walk, run, stretch, do yoga
3. Introduce 5 minutes of meditation into your day
My favorite quote from the book is this:
If we really want to live we must have the courage to recognize that life is ultimately very short, and that everything we do counts.
There are few books that I have highlighted as much as Thrive.  There were so many different passages that I wanted to remember and integrate into my daily practices.  Very rare!  I highly recommend this book.  If you're interested, click on the image below to purchase (affiliate link).
I'd love to hear what you think of this book!