Reveal and review #2 of Wantable's Style Edit is underway.  I received this box shortly after I returned from our family vacation and was excited to possibly add some new pieces to my wardrobe.  Here's what I unboxed!
SUNKISSED APRICOT DRESS: OMG – I can't even begin to tell you what my face looked like when I first saw this dress.  The color is not me at all.  It was all wrinkled, but I can't blame the dress for that.  I decided to keep an open mind and tried it on.  OMG.
I tried, I promise.  Openminded and all. I looked past the wrinkles but I couldn't bring myself to liking this dress.  It was too frumpy. RETURNED.
BB DAKOTA JOSEE DRESS: I am a big BB Dakota fan so I was excited to see a BB piece in the box.  The dress was in my favorite color and had a cute white print to it, but it looked a little boxy.  Openminded, I tried it on!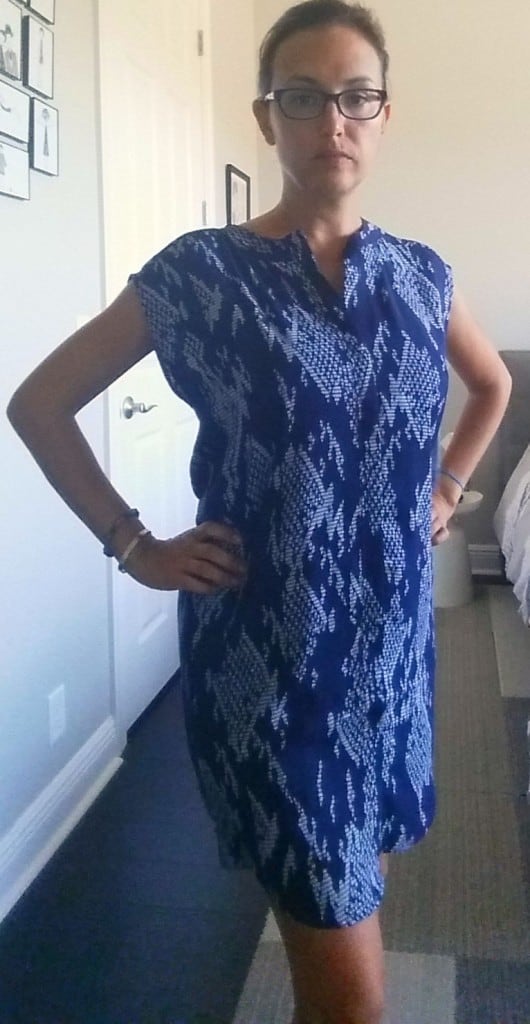 If I stood the way I did in the photo above ALL THE TIME while wearing this dress, I would've possibly liked the dress. It was shapeless – but a cool print.  Oh well. RETURNED.
KUT FROM THE KLOTH MIA TOOTHPICK SKINNY BLACK: I loved thee skinny pants.  They were GREAT! I have a pair that is similar but if I didn't these would have definitely been a keeper! I apologize for the lack of photos, but the one I took wasn't too great).  RETURNED.
TART ARYN TOP HIBISCUS: Another favorite brand of mine, Tart's fabrics are super soft and the pieces are very versatile.  The color of this top was beautiful!  When I tried it on, it was tent-like.
RETURNED (but it was a nice color!)
KUT FROM THE KLOTH KRISTY CUT OUT PRINTED TOP: I didn't know that Kut from the Kloth made tops, but I am sure glad they did!  This printed top was perfect!  I especially loved the back.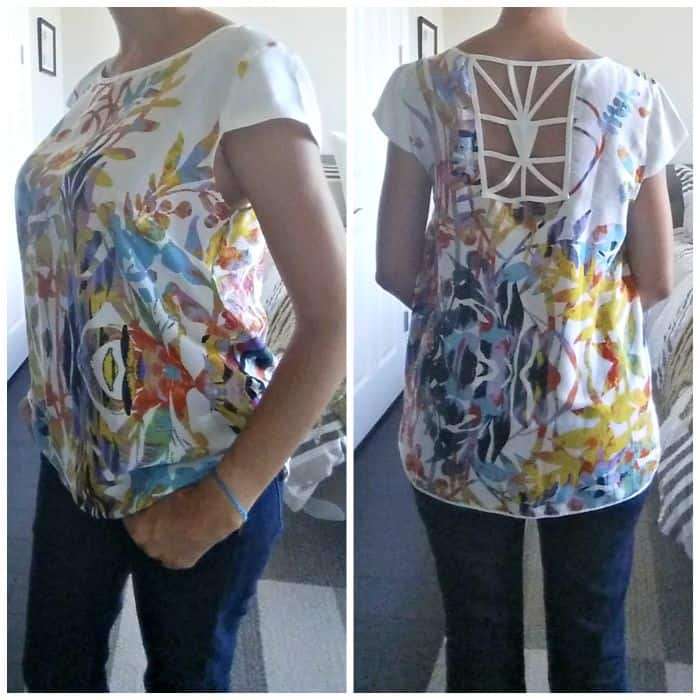 How much do you love the cut out in the back?!  I wore this top the next day to a ribbon-cutting ceremony and felt great in it! KEEPER!
All in all, I was a bit disappointed with this box.  I love the last top!
Do you receive any clothing subscription boxes?  If so, which one?