Natural doesn't have to be boring!
TruKid, a California-based lifestyle company, was created because there weren't a whole lot of children's products on the market to choose from, and a lot of the stuff out there was chemical-filled and unhealthy, or smelled "yucky", according The founder, Jennifer Adams Bunker, always felt hesitant to use those products on her six children.  TruKid evolved shortly afterwards.
TruKid's philosophy is to create a sustainable future for our children by teaching them to take care of themselves, each other and the environment.  Their innovative approach to healthy living allows for them to create a product line that both kids and parents like.
Jennifer was kind enough to send me the Silly Shampoo and TruKid Hero Stick to review.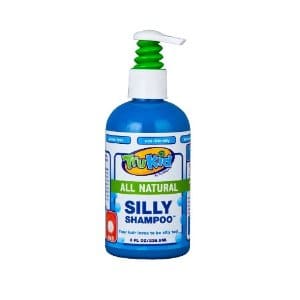 I loved the shampoo bottle's bright blue color and the scent is delicious!  Most of all I love the fact that all of TruKid's products are FREE of parabens, phthalates, gluten, BPA, petroleum, and any harsh chemicals.  You know how I feel about parabens and phthalates (click HERE).  Kids' skin is so soft and sensitive – why introduce them to products that can harm them in the long run, when there are great products available, such as these!
My boys loved the color and "smell" as well.  I explained to them that this was a new shampoo that we were trying out and what their opinion was.  My older one thought that the pump was cool and my little guy liked the smell the best.  After washing their hair, I usually let it air dry, but this time I wanted to see and feel the results.  Try blow drying a boy's hair sometime…it's hard but I was determined!  Their hair was super soft, smelled great, and I am now hooked!
You can choose from (or just get all of) the following products:
Hair Care
Wash & Body Care
Sun Care
Baby Care
After checking out the entire product line in the website www.trukid.com, I noticed that a lot of thought was put into this product.  TruKids wants to make sure the kids have fun while promoting healthy habits so that is why the bottles are brightly colored, the product names are fun (Silly Shampoo, Cool Conditioner, to name a few), and there is a symbol on each that the kids can recognize.  Love it!
To learn more about this fabulous and healthy line, learn new songs to sing with your kids, activity pages, parent tips and sunscreen facts – check out the website at www.trukid.com.
Learn about upcoming products and news by following TruKid on Facebook by clicking HERE and on Twitter by clicking HERE.
 Try out TruKids' products and receive a FREE Bubbly Body Wash with any order of $30 or more when you order from the website.  (One use per customer) 
COUPON CODE: bubblymom
NOW…. FOR THE GIVEAWAY!!!
ENTER NOW (ENDS 11/26, 12:01AM EST) TO WIN YOUR OWN SILLY SHAMPOO AND HERO STICK!
a Rafflecopter giveaway

Disclosure: No compensation was given for participating in this event. Thoughts added are 100% my own. Details supplied by host. Prize will be supplied by sponsor and mailed directly to winner. Please read all rules on Rafflecopter before entering.  Note: I was sent the products to review by TruKid.  All opinions are true and my own.