I am so excited to share this delicious roasted spatchcock chicken recipe with you!
Roasted spatchcock chicken is one of my most favorite main dishes ever.  There's something about the way it is split and prepared that makes it super juicy.  You can pair just about any sides with it (my favorite is pearl couscous, but I'll list a handful more at the end of the recipe).
What is a spatchcock chicken?
Don't laugh but I thought spatchcock chicken was a certain breed of chicken.  You never know, right?!
When the backbone is removed from the chicken, allowing it to lay flat and in turn cook evenly and quickly, you can it a spatchcock.  Spatchcocking the chicken is essentially butterflying the chicken.
Ready to create some deliciousness?
ROASTED SPATCHCOCK CHICKEN RECIPE
INGREDIENTS
1 whole chicken, backbone removed (or ask the butcher to spatchcock it)
5 tablespoons olive oil
2 tablespoons salt
2 tablespoons pepper
2 tablespoons oregano
1/4 cup white wine
1/2 cup chicken broth
1 tablespoon lemon juice
DIRECTIONS
Preheat oven to 375 degrees.
Pat chicken dry.
Place the chicken breast-side up (backbone side down) in a cast iron pan.  Be sure you have one large enough to hold the chicken.  You can technically use any oven roasting pan, but we feel that a cast iron pan is key.
Add 3 tablespoons of olive oil into the pan.
Rub both sides of the chicken with 2 tablespoons of olive oil.
Sprinkle the salt, pepper and oregano on both sides of the chicken.
Put the chicken in the oven and cook for approximately 50 – 55 minutes.
Remove chicken from oven.  Flip the chicken over in the pan (backbone up), and place under a broiler at 550 degrees for 5 minutes.
Place chicken on cutting board.
Put cast iron on the stovetop, adding the lemon juice, white wine and chicken broth.  Bring to a boil and then reduce to a simmer for 10 minutes.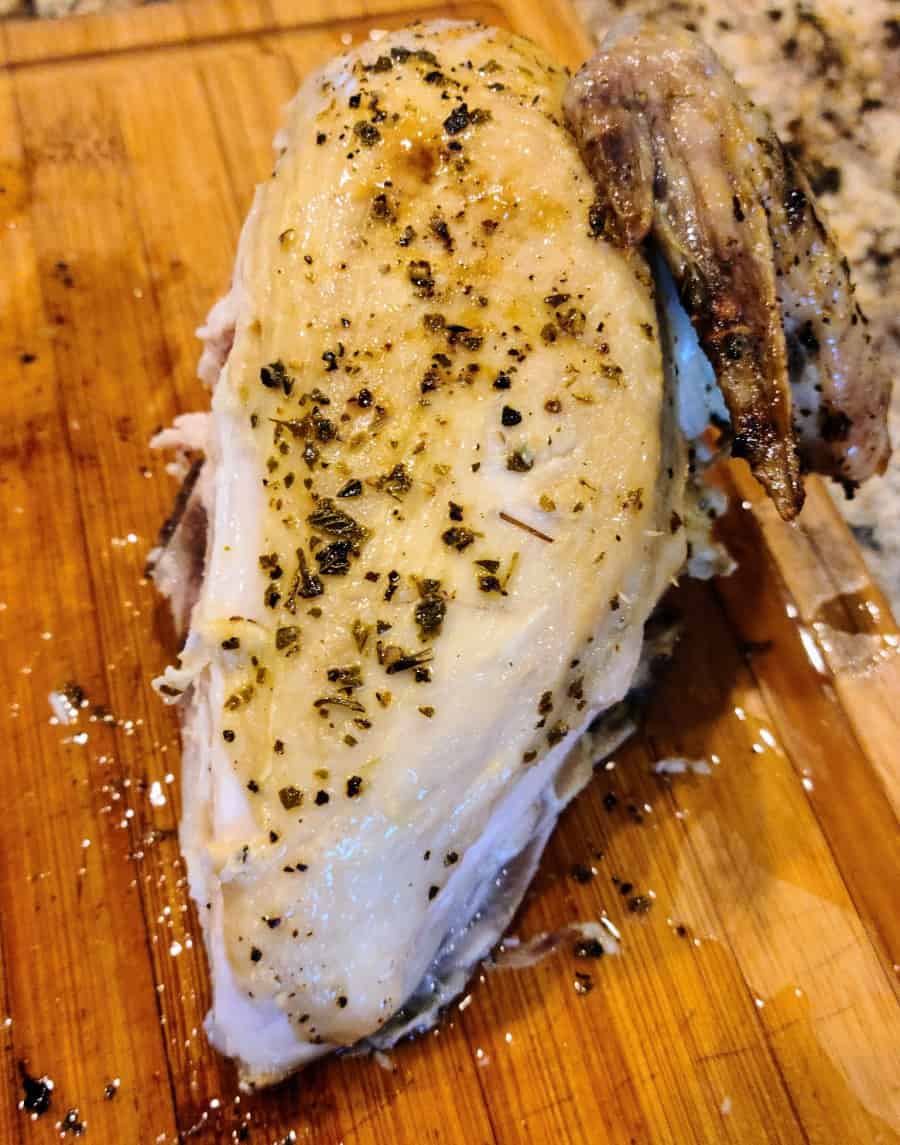 We recommend serving it with your favorite roasted veggies and a starch such as pearl couscous or orzo pasta.
Give it a Mediterranean twist by adding sliced Kalamata olives, feta cheese, and diced cucumbers to the orzo.