Planning a road trip over the upcoming holidays? Have you started your road trip packing list?
Whether it is to a family member or friend's house, or to a quiet cabin in the woods, you need to be prepared.  You could be traveling solo or with the family and pets snuggled in the back.  Regardless, you will need some supplies to make the trip as comfortable and fun as possible.
TECHNOLOGY IS OUR FRIEND
Handsfree Driving
Remember back to when we used paper maps to guide us to our destination?  I could never correctly fold them back in place and I don't even think my kids know what a paper map is.
These days we use our phones to guide the way.  Pick up a car mount holder to keep your hands on the wheel while your trusty smartphone tells you what to do next.
I do have to say though when we went to Napa and were trying to navigate to one of the wineries there was NO service.  If you think you are going to be traveling in an area like that, you may want to download an app like Maps.me.  It will allow you to download to your phone a detailed map of whichever area you are traveling to, just in case.


Lost and Found!
You're in the car for hours and something is bound to get lost in the piles.  It could be your iPad, extra set of keys, your kids FAVORITE stuffed animal!  Attach a tile to whatever you hold near and dear, download the app, and breathe a sigh of relief that you will never part with it!


Lighting
Keep a tiny flashlight in the front and back seats to ensure enough light is available for finding whatever it may be you're searching for!
I like the MAGlite LED flashlight – as do my boys (they have one in each of their bedrooms at home in case the lights go out).  Small yet mighty!


Charge it!
Make sure you have chargers for each of your devices.  You can always grab one on the road, but more than likely it will be 3x the price (and not the same quality as the one you left on the counter).


ENTERTAINMENT
Music
Good music is a MUST when traveling long distances.  Make a playlist on your favorite music app to keep you jamming along.
If your car does not have the ability to sync to your phone via Bluetooth, be sure to grab an auxiliary cable to play music on your phone through your car's speakers.


Video
Portable DVD players were a blessing for us when the boys were little.  We'd be sure to pack the latest and greatest Thomas the Train and Baby Einstein DVDs for endless entertainment in the back seat. DVD players or tablets with movies must be one of your family road trip essentials!


Games
There are so many different games that you can play to pass the time that does not include electronics.  Try the state license plate game or "I Spy".  I always pack a deck of cards and some travel games like the ones below!


FOOD AND DRINKS
Snacks
It is inevitable that you are going to have someone in the car whine, "I'm hungryyyyyy".  (It may be you!)  Think ahead and pack some favorite snacks to curb your appetite.
I personally like snack packs of nuts, or even make my own trail mix from some Trader Joe's favorites.  We bring the kids' favorite nibbles – both sweet and savory just in case!


Beverages
Depending on the number of times you really want to stop to go potty, you may want to limit the drinks, BUT you have to have something!  We pack a soft cooler of reusable water bottles (and iced coffee) to get us through the trip.
Don't Forget Fluffy!
Pack a collapsible water and food bowl for your furry friend too.  Make sure when you take a pit stop to stretch your dog's legs as well!


COMFORT IS KEY
If you are the driver, make sure you are wearing comfy clothes and shoes.  As a passenger, you can add a few more items to the list.
Travel pillows are perfect to avoid a stiff neck should you snooze en route.  If the driver likes the A/C on low, you may want to bring some throw blankets too.  I take my shoes off and put on fuzzy socks.  Why not, right?!
Sunglasses are a necessity when driving in daylight as is sunscreen.  A lot of people do not realize that sunrays go through the car windows.  Even if it is tinted.  (Hence why the left side of my face is a smidge tanner than the right!)
Body wipes may sound a bit overkill, but depending on how long your car voyage is or if your A/C doesn't work well (you never know) you may thank me!  Most definitely pack baby wipes – they are great for stain removal as well as cleaning your hands and face.
SAFETY FIRST!
Make sure that your spare tire is fully inflated and that you have a roadside emergency kit – just in case.  Some items you might need include flairs, light sticks, reflective vest, warning triangle, tire pressure gauge, and window breaker.
Tuck your car insurance, registration and car manual in the glove compartment – once again, just in case.
Hand sanitizer may not normally be categorized as a "safety item" but will protect you from yucky germs you may encounter along the way.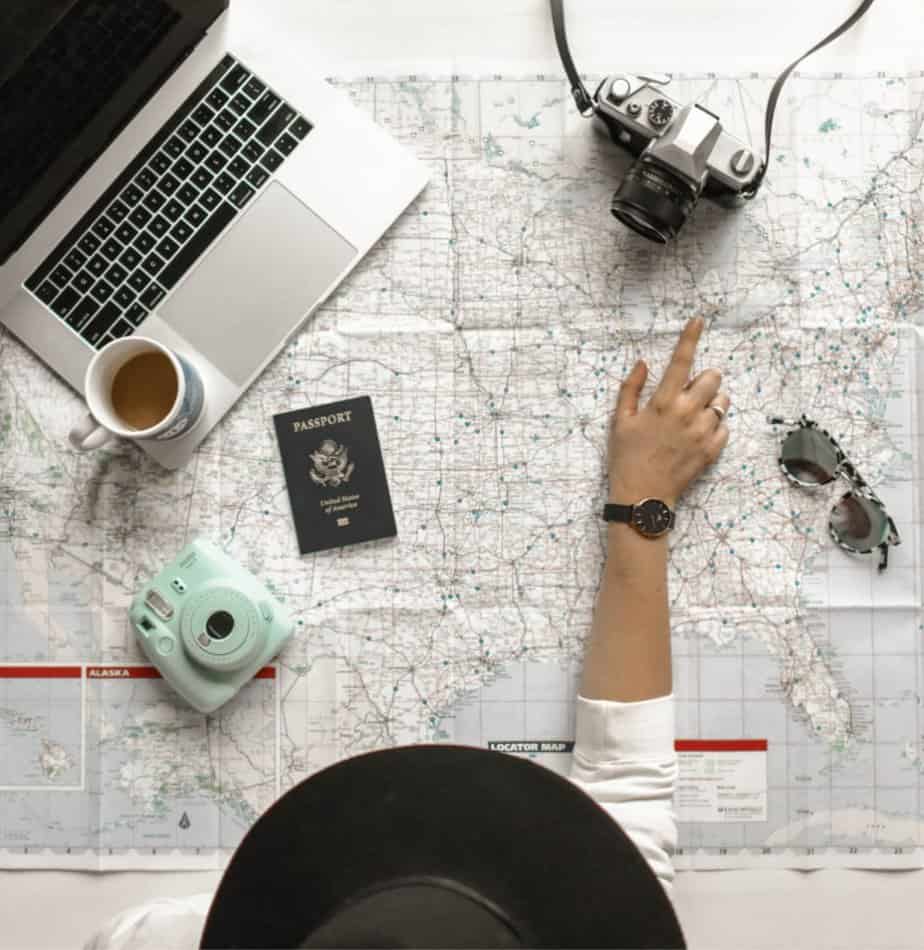 AND…
I know I must have missed a few items that you find essential for your road trip.  I'd love to know what they are!  Please comment below with your road trip must-haves!