I met my next womanpreneur, Michele Bellisari, at an event  years ago and have been friends ever since.
The first three words that come to mind when describing Michele is warm, super-friendly and FUN!  Her larger than life personality is just plain awesome.  I love her family dynamics and her drive to push forward and do what she loves.
MEET MICHELE BELLISARI!
When you were little what did you want to be when you grew up?
I have been asked this before and honestly nothing LOL. I have a zest for life so I always loved everything. Even in college I didn't really know what I wanted to do. I have typically fallen into my careers but #SoooBoca is probably the most intentional career move I have made other than real estate.
How did you come up with the idea for your business?
I have lived here since 1978, raised my family here, work and play here and I love sharing all the things I love about Boca. #SoooBoca Lifestyle came about unintentionally as I was doing a ton of Facebook "lives" at events, sharing my day, spotlighting local businesses and non profits and people were really enjoying it so I ran it by my daughters, Kylie and Alle and #SoooBoca was born
What is the biggest struggle you've encountered as an entrepreneur and how did you solve it?
Time. I am a full time real estate agent with RE/MAX (marketer, entrepreneur, admin) and run #SoooBoca Lifestyle so I have to divide my time effectively and I do that by time blocking, having a virtual assistant and outsourcing time sucking tasks.
What do you think are the pros and cons of being a womanpreneur?
Tons of pros because you are the boss. Tons of cons because you are the boss. Pro Side – You make your own schedule, decisions, direction of your company and vision of your why. Con Side – Doubters…people who want to steal your sunshine. Energy vampires. You simply have to stay focused and your business and not get distracted with this kind of thing.
Do you have any mentors or coaches that you work with?
Over the years I have invested in real estate coaches and that has been helpful here and there. I have a great group of real estate friends that I collab with, bounce ideas off of and mastermind with. I do believe that having a consultation about your business with a coach to strategize and rough out your vision will save you time in the long run. Several local bloggers have been great mentors to me by the way in regard to #SoooBoca.
What advice would you give to someone reading this that has the entrepreneurial "itch"?
Know your why. Set your goals. Be realistic about the money side of things. It doesn't happen over night so plant seeds now so you can harvest your garden down the road. Everyone has a different speed so stay in your own lane and stop worrying about what someone else in your niche is doing, focus on what you are doing. Do something every day to move your new business forward.
What is the secret to achieving work-life balance for you?
Boundaries for sure. I do believe you can have work-life balance and I have chosen to be more picky these days. Like putting my phone on do not disturb from 7 pm – 8 am as an example, not accepting every event invite if it doesn't align with #SoooBoca Lifestyle and avoiding the "coffee meeting" like the plague.
How do you find inspiration?
I look to other successful women entrepreneurs for inspo. Kathy Ireland, Kris Jenner and Dottie Herman are a few in my immediate demo that I follow closely and of course many of the fabulous South Florida bloggers and influencers like yourself who have been awesome with advice and encouragement.
What is your favorite book?
Crushing It – Gary Vee. I went to Agent 2021 in January 2019 and met him personally. His advice is sooo on point!
What is your favorite quote?
Maya Angelou Quotes. When someone shows you who they are, believe them the first time.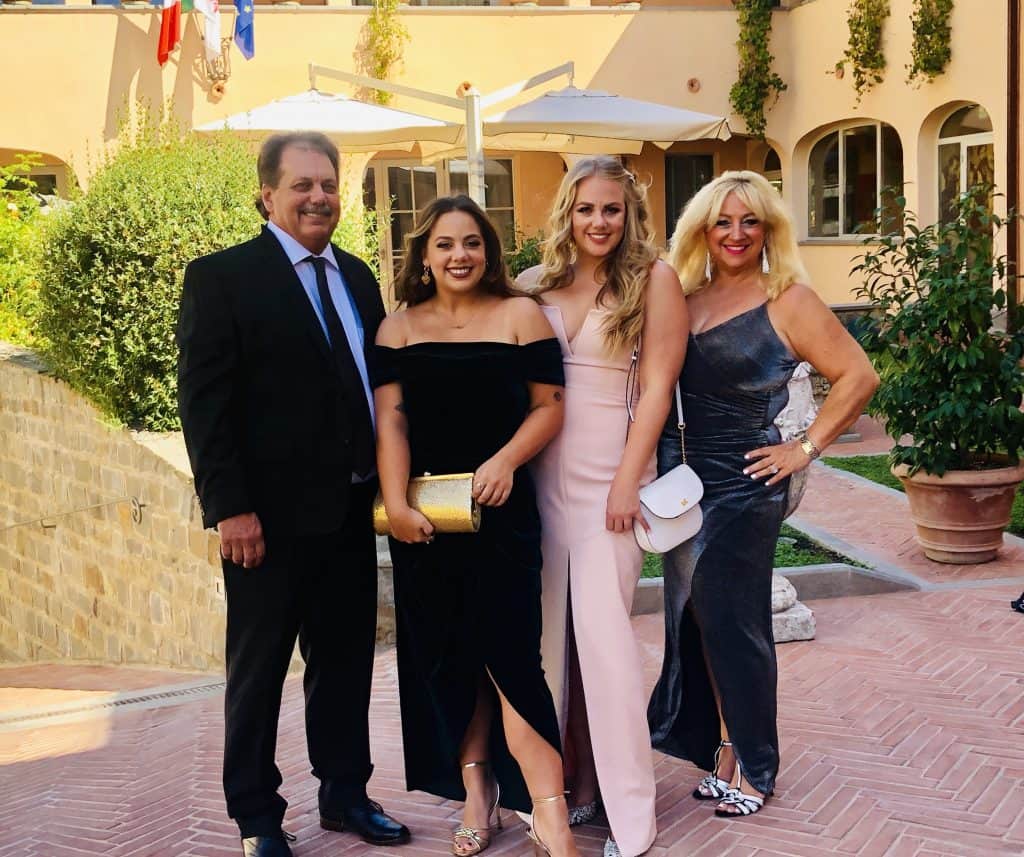 What do you do to decompress?
Hang out with my family (my husband Andy is an amazing cook), traveling with my daughters, going to the Florida Keys, binge watching something on Netflix.
Tea or coffee?
Coffee all day long especially Nespresso!
Favorite flower?
My mums fave – gardenias!
How You Can Connect with Michele!
Michele can be found having a blast and spreading her love on Instagram, Facebook , and of course her website!  If you're a podcast lover like I am, be sure to listen to her local podcast. #SoooBoca Stories
Don't forget to check out the other featured womanpreneurs!