Happy Father's Day!  Here are some inspirational quotes you can pass along to the father, grandfather, uncle, etc. in your life, as a token of appreciation.
Father's Day Inspirational Quotes
Jim Valvano:
My father gave me the greatest gift anyone could give another person, he believed in me.
Wade Boggs:
Anyone can be a father, but it takes someone special to be a dad, and that's why I call you dad because you are so special to me. You taught me the game and you taught me how to play it right.
Michael Jordan:
My father used to say it's never too late to do anything you wanted to do.  And he said, 'You never know what you can accomplish until you try.'
Pete Rose
My father taught me that the only way you can make good at anything is to practice and then practice some more.
William Shakespeare
It is a wise father that knows his own child.
Justin Ricklefs
The power of a dad in a child's life is unmatched.
George Herbert
One father is more than a hundred schoolmasters.
Marisol Santiago
A girl's first true love is her father.
Susan Gale
A father's smile has been known to light up a child's entire day.
Dimitri the Stoneheart
A father doesn't tell you that he loves you. He shows you.
Erika Crosby
Fathers just have a way of putting everything together.
Fanny Fern
To her, the name of father was another name for love.
Tim Russert
The older I get, the smarter my father seems to get.
Lydia Maria Child
No music is so pleasant to my ears as that word―father.
Steve Martin
A father carries pictures where his money used to be.
Linda Poindexter
When my father didn't have my hand, he had my back.
Dan Pearce
The greatest mark of a father is how he treats his children when no one is looking.
John Mayer
Fathers, be good to your daughters. You are the god and the weight of her world.
Unknown
I always thought you'd make a great dad. Now, I know it. Happy Father's Day to an amazing husband.
I never knew how much I loved your daddy until I saw how much he loved you.
The only thing better than having you for a husband is our children having you for a daddy.
My Father's Day gift to you is letting you pretend to be in charge of the family for a day.
A truly rich man is one whose children run into his arms when his hands are empty.
A father is someone you look up to no matter how tall you grow.
Happy Father's Day to Grandpa
Joy Hargrove
One of the most powerful handclasps is that of a new grandbaby around the finger of a grandfather.
Robert Brault
To a small child, the perfect granddad is unafraid of big dogs and fierce storms, but absolutely terrified of the word boo.
Henry Ward Beecher
We never know the love of a parent till we become parents ourselves.
Lydia Maria Child
Blessed indeed is the man who hears many gentle voices call him father.
Jim Valvano
My father gave me the greatest gift anyone could give another person: he believed in me.
The Talmud
When you teach your son, you teach your son's son.
Ruth E. Renkel
Sometimes the poorest man leaves his children the richest inheritance.
Margaret Truman
It's only when you grow up and step back from him—or leave him for your own home—it's only then that you can measure his greatness and fully appreciate it.
Billy Graham
A good father is one of the most unsung, unpraised, unnoticed, and yet one of the most valuable assets in our society.
Joni Eareckson Tada
There is nothing that moves a loving father's soul quite like his child's cry.
Unknown
Grandfathers are for loving and fixing things.
Grandpas bring a little wisdom, happiness, warmth, and love to every life they touch.
A grandfather is someone with silver in his hair and gold in his heart.
The best dads get promoted to grandpa.
There are three stages of a man's life: he believes in Santa Claus, he doesn't believe in Santa Claus, he is Santa Claus.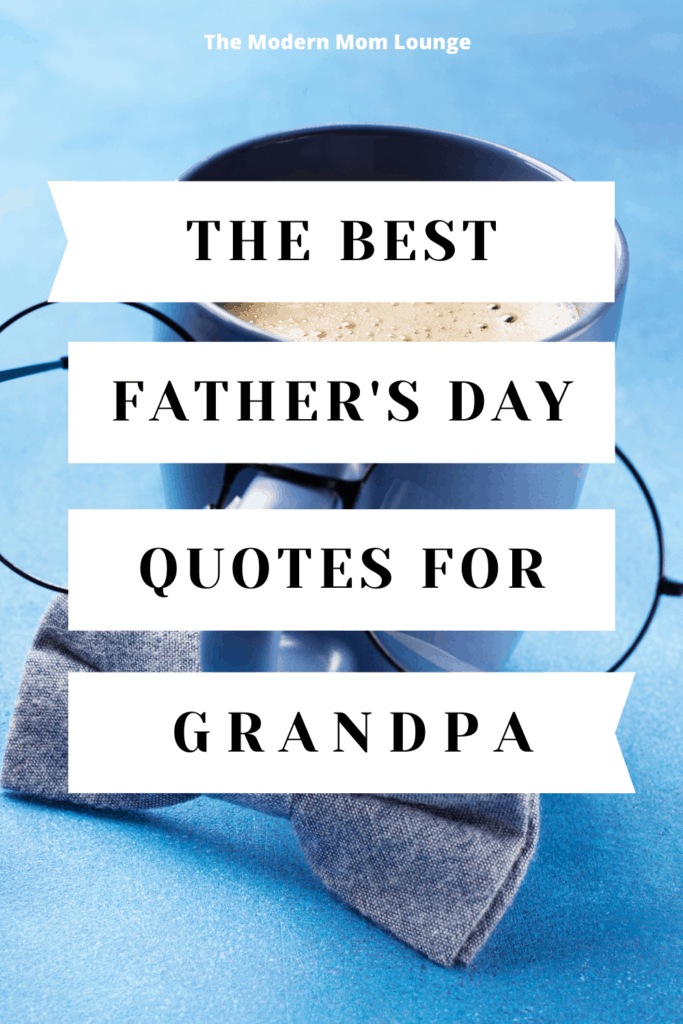 Quotes from my family:
Gabriel Brillante:
If a bear farts in the woods, would anyone know?
LOLOLOL….that's my dad!  Happy Father's Day to two of the best dads in the world – Dad and Rich! xoxoxo