I was never really in to jewelry until I became a stylist for Stella & Dot.  I seriously had a great time at the myriad of trunk shows I scheduled throughout the year.  I learned to love costume jewelry as I was previously used to wearing simple pieces here and there and met some wonderful women in the process.  I also have a boatload of jewelry…anyone want some (just kidding…)?
I still like accessorizing with jewelry but now I am into more delicate pieces.  I also don't want to spend an arm and a leg as I know trends (and my taste change) frequently.
What's nice about my Rocksbox subscription is that I can choose the style I like best…I pick my favorites and then their stylist sends me items based on that.  I just go on their site and update my favorites and also check out their Instagram pics and comment with "wish list" on the pieces that catch my eye.
This month I received three great pieces!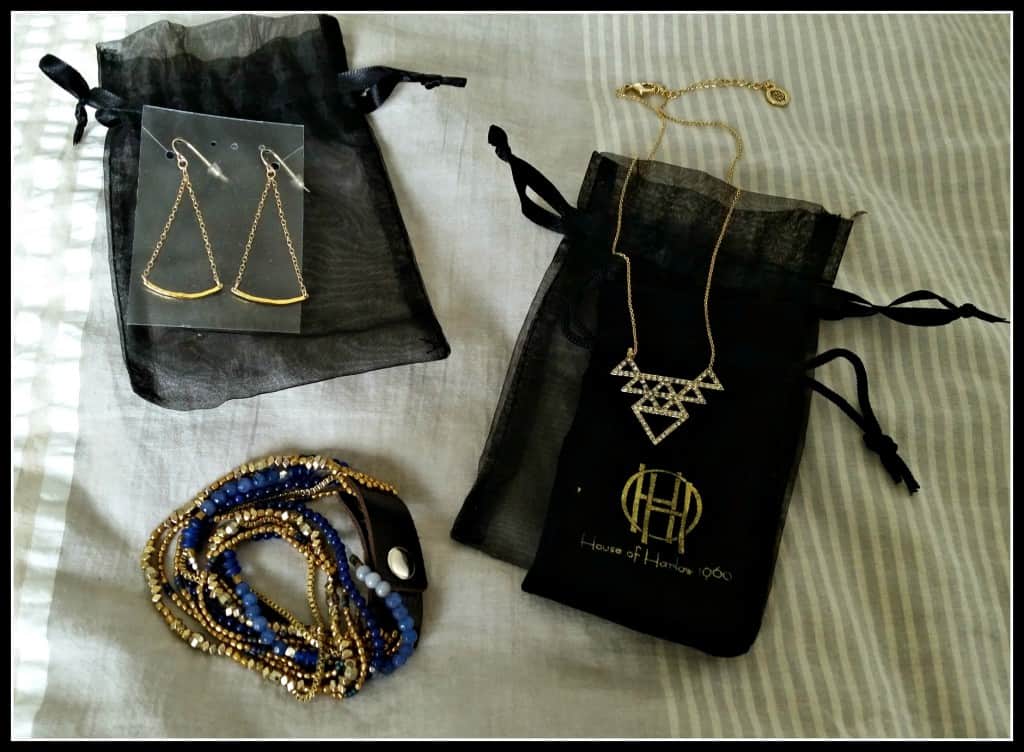 First up are the Gorjana Taner Bar Mini Swing Earrings.  These earrings fit my style to a T!  They are delicate and simple, but different.  I am leaning towards gold jewelry lately and think this pair will go with just about everything.
Next out of the box came this awesome chain wrap bracelet by Nakamol.  This is the first I am hearing of this brand and am looking forward to checking out some other pieces in the collection.  I love navy and I love the casualness of this lightweight wrap!  The leather is really nice too!
Last but DEFINITELY not least is this super fabulous necklace by House of Harlow 1960.  I am a big fan of House of Harlow and loved that I got a piece in my box!!  This necklace is sooooo cool…it's delicate (my style) but different (yet again my style).  It is adjustable, so you can wear it short or longer and layered with other delicate pieces.  Love it!!
The decision is a hard one…which piece(s) do I keep?
Have you ever tried Rocksbox?  Try one month on me!  Use the code PELLERINIXOXO at checkout and please share with me what you received and your thoughts on Rocksbox!