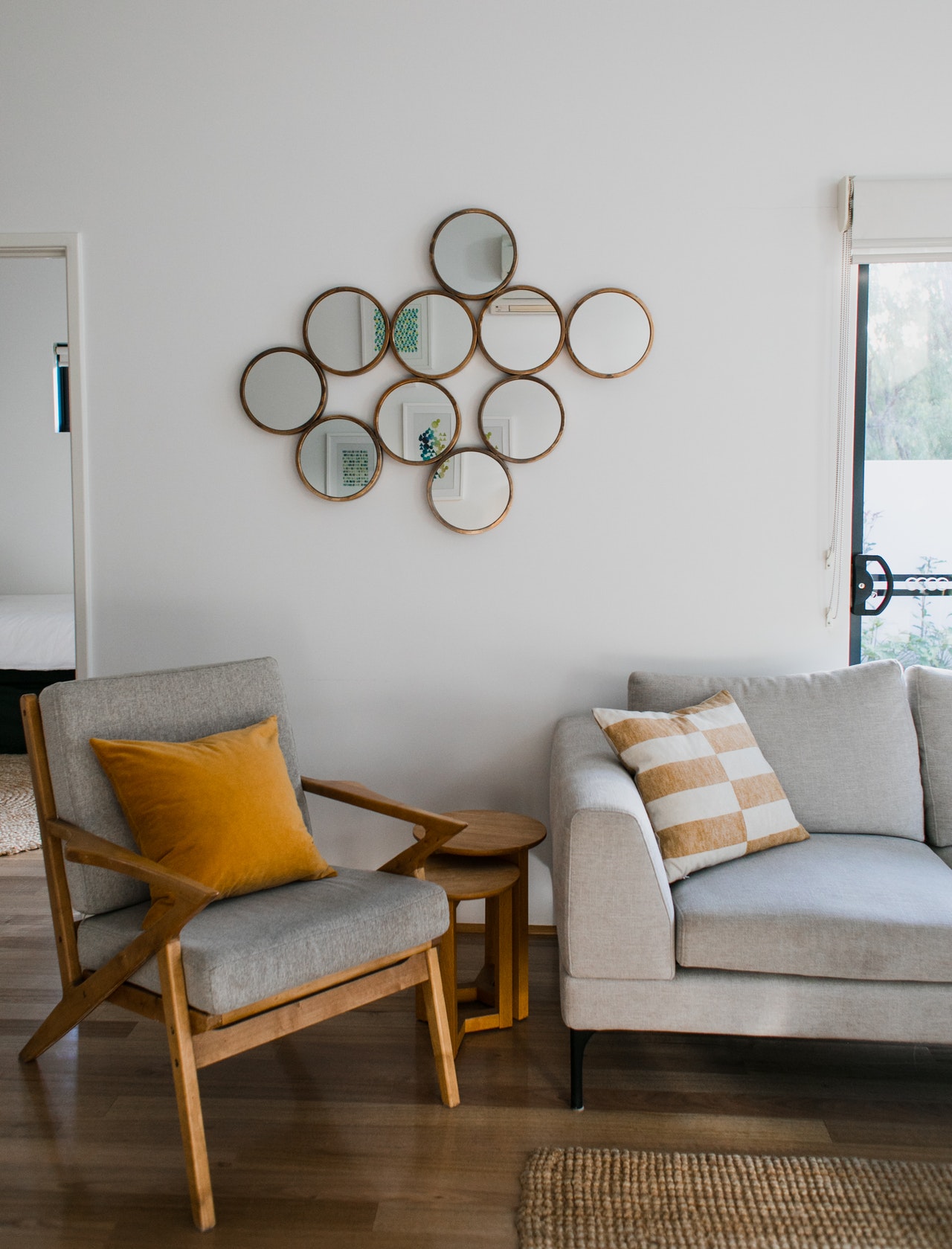 A bright living room can feel happier and more spacious. If your living room is looking a little gloomy, consider some of these interior design tricks for brightening it up. 
Open the curtains
If you're keeping the curtains drawn in a room, it's obviously going to feel gloomier. Open those curtains during the day in order to let in some sunlight. If you want to let in light but maintain privacy, consider options such as net curtains, blinds, or shutters – these can allow you to let light in while distorting the view inwards. 
Use bright colors
Bright colors reflect more light and can make a room feel brighter. White is the most effective color for brightening up a room, however, you can also use creams, yellows, and oranges. Pastel colors are often the best option. On top of considering your walls, consider other elements such as your furniture and floor. A cream white sofa and light wood floorboards will reflect more light than a black sofa and dark grey floorboards. 
Make use of mirrors
Mirrors can also help to brighten up a room by reflecting light. A mirror opposite a living room window can be great for bringing in more light, giving the room the impression of having an extra window. You could even consider mirrored furniture such as mirrored coffee tables. Mirrors can also be used to make a room feel bigger, which could be something to consider in a small living room. 
Consider other reflective surfaces
There are other reflective surfaces beyond mirrors that can also be used to reflect light. Gloss paints have become very popular and can help to give certain surfaces an extra sense of shininess. Such paints could be used on walls or on furniture (you can buy high gloss furniture from many home stores saving you the job of painting it yourself). Laminate wood flooring can also help to reflect light in order to make a room feel brighter. You may even be able to find cabinets and coffee tables with laminate layers. Chrome steel and glossy plastic could be other materials to work into your living room.
Add more artificial light
If you can't reflect more sunlight, another option could be to simply add more artificial light to the room. Consider your overhead lighting first. Instead of relying on a single bulb, consider track lighting and multi-arm ceiling lights. These will help to increase the amount of light from overhead. You don't have to rely solely on the overhead lighting to brighten up your living room either – you can brighten up corners of your living room by using table lamps or floor lamps. You could even use spotlights to help brighten up recesses and shady corners. Use LED bulbs as opposed to incandescent bulbs as they tend to be brighter and more economical in the long run.