I am so behind on blog posts!!  I received my latest Stitch Fix while I was on vacation, and then when we got back it was super hectic.  I kept eyeing that Stitch Fix box, and finally got to open it – and once again, I was NOT disappointed!!!  I kept everything.  I really feel like they have a secret camera in my closet and that walks around with me when I shop.  All of the items that they picked were perfect, whether a no-brainer "D shirt" or something that I wouldn't normally gravitate to, yet LOVE and can't wait to wear!
Here's what I received:
Piece #1:
Collective Concepts Black Ivy Solid Tab Sleeve V-Neck Blouse – LOVE!  I have to say this was screaming my name.  Not (only) because it was black, but it is lightweight and fits so well.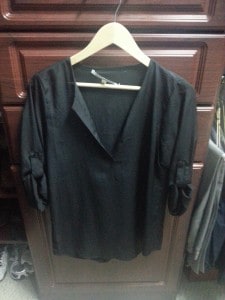 Piece #2:
Collective Concepts Pixy Dot Sheer Sleeveless Blouse – another winner 🙂  I totally would not have even picked this up off the rack in the store, but open-minded as I am I tried it on.  The color was a nice peach and it actually accentuated my skin tone instead of draining me.  I love polka dots too (and am a huge fan of Collective Concepts).
Piece #3:
Mira Abstract Stripe Blouse – blue and white stripes are a favorite print of mine.  I am always drawn to striped shirts.  This one is a nice change from the cotton tees I have in my closet.  It's sheer, so I would wear this with a white cami underneath, and totally see pairing this with a pair of white skinny jeans.
Piece#4:
Cary Peplum Detail Striped Dress – I am not normally a peplum girl.  I like the shirts and dresses when I see them in magazines, catalogs, and online but never thought they would really be for me.  I tried on the dress, thinking I would be taking it right off.  I actually liked it!  The peplum was flattering – I thought it would accentuate my post-babies pooch and it didn't.  The cap sleeves were padded a bit which allowed it to keep the structure of the sleeve.  Now I only need to know where I am going to wear this!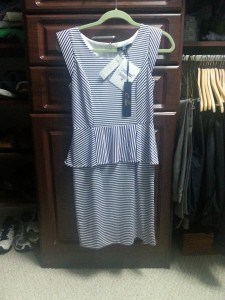 (this picture doesn't give this dress justice…it is so cute on!)
Piece #5:
Conor Cotton Eyelet Detail Top – I am all about the cutout style that is seen all over.  This eyelet top is the closest I am going to get to that, as I am a wimp when it comes to trendy trends.  It's sleeveless which isn't my super fave but it looks really cute on.  What would you pair with this top?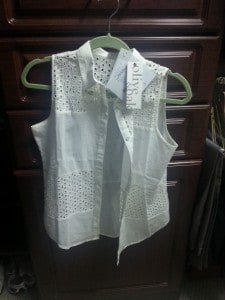 All in all, yet another great Stitch Fix experience!  Check out their blog for some cool articles on fashion  Try it out…I think you'll like it!  Click HERE to schedule your first fix!