After two fun-filled days in San Diego, we packed our bags and headed north on Pacific Coast Highway (PCH) toward our next destination, Newport Beach.
We stopped at so many beautiful spots along the way.  First stop was Dana Point (a favorite of mine since the name is fabulous – j/k).  We were greeted by the beautiful water and rock jetties.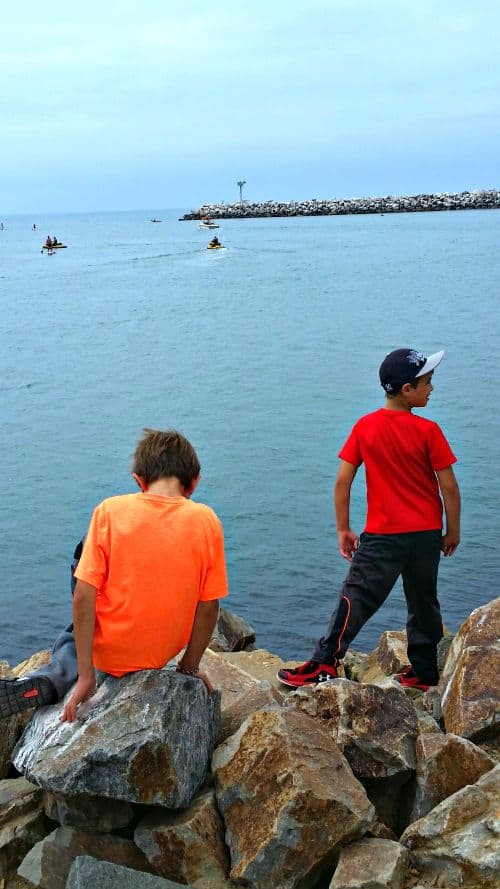 During our walk we heard a funny, yet familiar sound.  Finally we were able to find out where it came from.  There were sea lions barking to a fishing boat, as if they were asking (or yelling) for some lunch.
After Dana Point, we worked our way up to Laguna Beach where we walked around a bit after eating lunch at a local restaurant. We stumbled upon Laguna Point by accident, but glad we did.  The views were breathtaking! (The houses in the surrounding neighborhood were breathtaking as well!)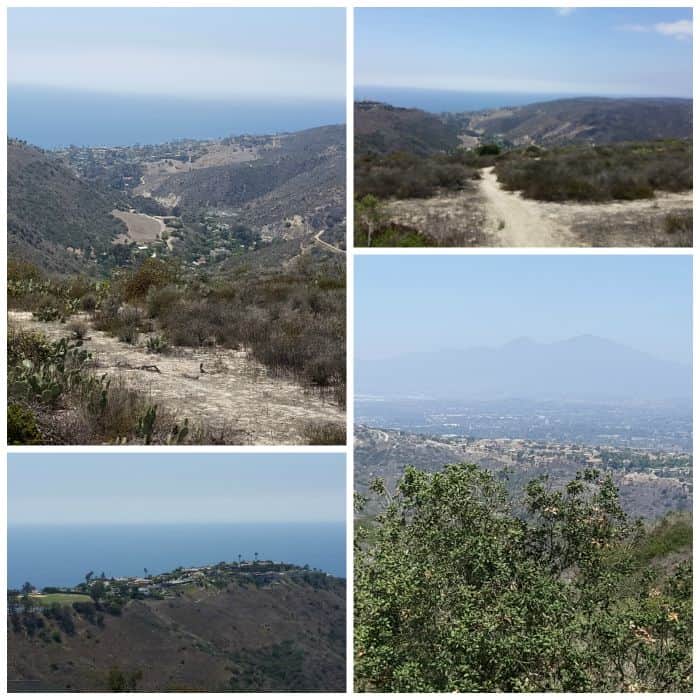 We settled into the hotel in Newport Beach and then ran over to Fashion Island for dinner.  I remember going to Fashion Island when it was an eighth of the size it is today.  I ate at P.F. Changs for the first time there and came home raving to my husband about it, searching up the closest one to our home so he could experience the food too.  P.F. Changs is still there, but Fashion Island has become a shopping mecca.
At 7 pm we boarded a private gondola for an hour sunset ride through the beautiful bay and canals of Newport Beach.  The boys had never been on one before so they were super excited.  The houses along the canals were so different from each other which was a nice change from what we're used to back home.  Each of them had a small dingy boat docked out back.  Apparently this is the way they go to and from neighbors' homes and to nearby restaurants and such.  So cool!
One of the houses was decked out with pirates.  When I say "decked out", I mean OVER THE TOP – but in a cool way.  Pirate mannequins were hanging from the rooftop, on the balcony, in the dinghy, playing cards on the dock.  There were cannons, parrots, it was all out crazy fun!
All in all it was a really nice evening.  The boys enjoyed themselves and entertained the gondolier to no end asking question upon question about anything and everything.  There are different types of gondola tours that you can book – some with meals, or just wine or champagne (super romantic but definitely not appropriate with the boys).  We found a great deal for the gondola ride on Groupon, so be sure to check the site out before you book reservations!
Sunday was a super long day and we were all in agreement that it was time to hit the hay.
Monday we were up bright and early, super excited for Knott's Berry Farm, a well-known amusement park about 30 minutes from where we were in Newport Beach.  Knott's Berry Farm itself has a very interesting history to it.  Before it became the location for an amusement park, it started as the location for a farm stand that sold berries, jams and pies.  Walter Knott, the owner, created a hybrid berry named the boysenberry – a combination of blackberry, red raspberry and loganberry.
I couldn't believe how large the park was!  There were many themed sections filled with roller coasters. swings – basically any ride you can imagine.  The boys had a blast!  It wasn't overly crowded since it was a weekday so that made it even nicer.  The park was super clean and had a Starbucks, which made me VERY happy at about 3pm when I was about to wilt.
Straight from Knott's Berry we headed over to Huntington Beach to walk along the pier and get a shake from the famous Ruby's.  Yet another beautiful area of California.
We watched men and women fishing, enjoyed the cool night and treated ourselves to ice cream shakes that were phenomenal!  G had his first (of many more I'm sure) root beer shake.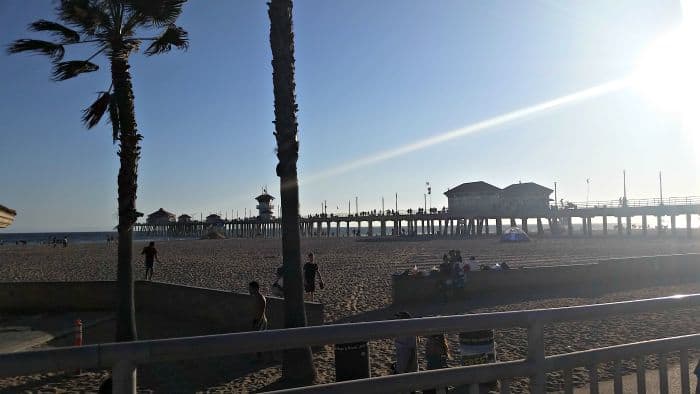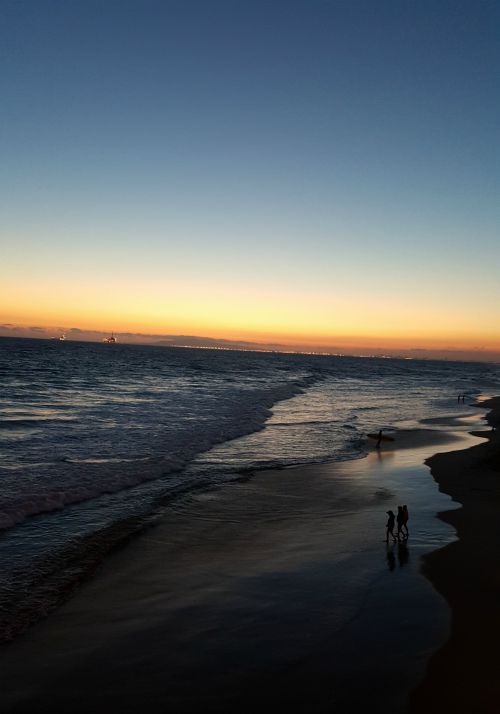 The next day we were off to Catalina Island!  We took the Catalina Flyer over from Newport and I found a great deal on the catamaran tickets site ($20 off per passenger – score!). The ride was about an hour and 15 minutes long.  There are three levels on the boat we took – the bottom 2 have indoor cabins where you can sit at tables and play cards to pass the time.  (If you get a little seasick, they recommend you sit outside on the first level, on the back of the boat.)  You can also take Dramamine, which can help as well.
Catalina Island was so much fun!  We rented a golf cart from Catalina Golf Cart Rentals for 3 hours and drove all around the island, taking in the beautiful views.  I definitely recommend reserving a golf cart online ahead of time, as they get booked very easily.  Catalina Golf Cart Rentals only takes online reservations, and check to see if you can get the deal we did (3 hours for the price of 2!).
You can also do segway tours; snorkeling; this cool amphibious submarine-ish boat that takes you out to see the marine life or just walk around and lay by the beach.  I highly recommend the Avalon Grill for lunch and Lloyd's for ice cream! By the end of the day we were pooped and ready to grab some dinner in Newport and go to bed.
Stay tuned for the last leg of our California vacay – Santa Monica!