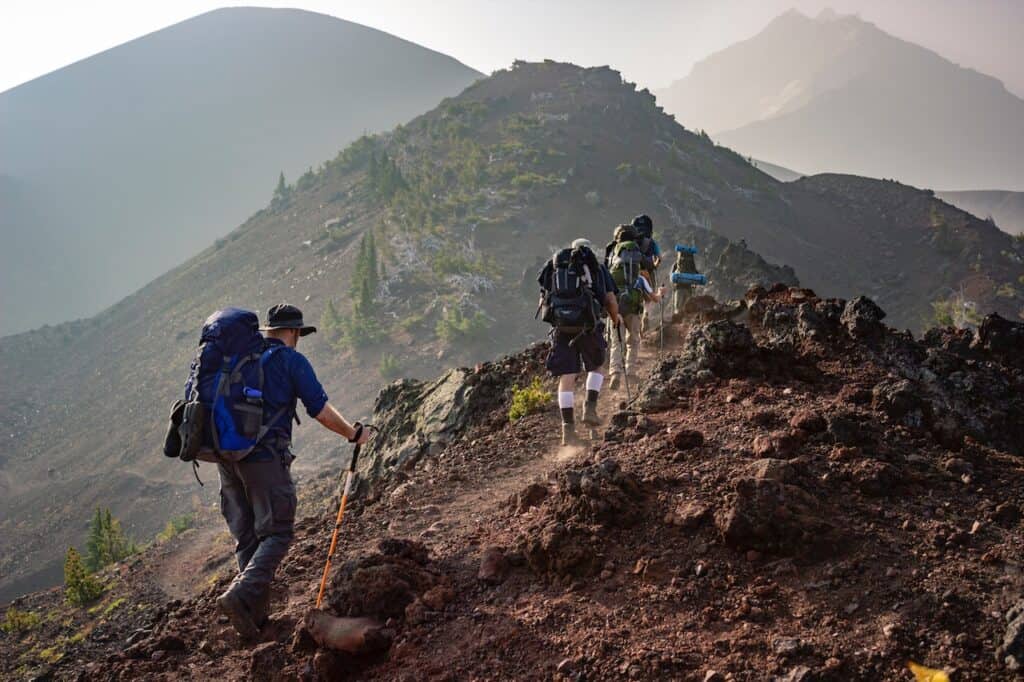 Walking is great exercise. It really does help you burn calories, and gain cardiovascular fitness. That said, when we're out and about, and especially on vacation or traveling to a tourist hotspot, we can underestimate just how much we're walking.
This might sound strange, but it is true. Use a step tracker on your phone or smart watch and you'll realize that during those days you were 'lightly exploring' and walking around the shops, you managed to hit 20,000 steps or more. 
For some, this is great. It can help offset the calories you might enjoy by indulging in great cuisine and perhaps spending an hour or two in the bar during the evening. For others, that much walking, day on day (especially if we rarely walk this much in our daily life) might require a few provisions to keep your legs in good shape.
We hope to also help you avoid any aches and pains, and perhaps avoid exacerbating issues that may exist any more than you need to:
Consider The Trail
Depending on where you hope to travel to, the walking experience may be easy or it may be quite tough – even if you plan to take it slow. For example, many people would consider walking around an old Italian village to be the height of beauty, historical exploration and culture, only to realize that because it's built into the side of a hill, you're walking up and down continually throughout the day. 
This can no doubt tire you out more than you had anticipated, and so it's good to take a sit back where you can, and really research the area you're going to. A morning walk on the local beach is pleasant if it's sand, but something of an ordeal if it's a pebble beach, after all.
Take Breaks Where Necessary
It's important to take breaks where and when you can. Sit in for lunch at a local cafe, stop off and sit on a bench to feed the birds, and don't feel bad about splitting your exploration of an area over the course of several days if required. 
This latter point is important, because the fear of missing out (FOMO) that comes from rushing here to there prevents you from actually experiencing the full wonder of the trip. We can see this with large theme parks such as Disneyworld, where it can take hours upon hours and even more than two weeks to explore everything. So why not go to your priority locations, and make sure to stay there a little while? It will help tremendously.
Plan For 'Rest Days'
A rest day to split up the intensive searching is a fantastic use of your time. So every other day you might just enjoy some great food in some great cafes and restaurants, lay at the beachside, or go for lazy walks shopping in a local area.
Then on the other days, you might go for longer, more adventurous trips, like taking your surfing lessons or driving a little while to walk around some national gardens. Feeling refreshed from your previous day, you'll tire less easy, and let your body naturally heal.
Factor In Your Travel To Loations
It's also good to factor in your travel to certain locations where you can. So yes, the route you may wish to walk might take two hours to circle. But if you walk there, it might be that you spend an extra ninety minutes each way finding your route.
If you're not driving or taking public transport, always factor that into your walking plans. It will help you avoid being caught unaware.
Support Your Ankles & Feet
It's very important to support your ankles and feet where appropriate, some great footwear is a good place to start. Make sure the shoes you wear give your arches support, and depending on where you're headed, try and opt for waterproof hiking boots if heading around a large town or village – especially if the weather isn't that great.
Some ankle support can also be a great idea, which you can achieve via this guide which teaches you how to KT tape your ankle. With proper support, washing your feet thoroughly each day (a tip that soldiers learn quickly), and the right footwear, your chances of strains or injuries will be reduced.
With this advice, you're sure to deal with walking easily and with care during your travels. Of course, you'll probably be having so much fun that no matter how much you walk, it will be worth it.