I have a thing for boots…and sweaters, scarves, and jackets.  The list goes on and on, and even though I live in a warm-weather state, I still ogle over and subsequently purchase cold weather gear.  We do have a few days of chilly weather here and I do visit the northeast in the winter time.
Since I can't wear boots year round, I did some research as to which boots would be considered "must haves" this season.  Click on the images to get more information!
OVER THE KNEE BOOTS
I always thought that because I was petite, that I couldn't wear over the knee boots.  Boy, was I wrong!  As long as I paired them with the appropriate clothing, I was good to go.
The rule of thumb is to make sure that there is only one inch or less of skin showing between the top of the over the knee boot and your skirt or dress.  If you are going to wear them with pants, opt for skinny jeans or leggings.  The pants need to hug your legs otherwise it will look like a bunched-up mess.
Here are some of my favorite over the knee boots:
These boots are awesome (and on sale right now)!  They are faux leather with a comfy block heel and come in four different colors.  Niiiicccceeee!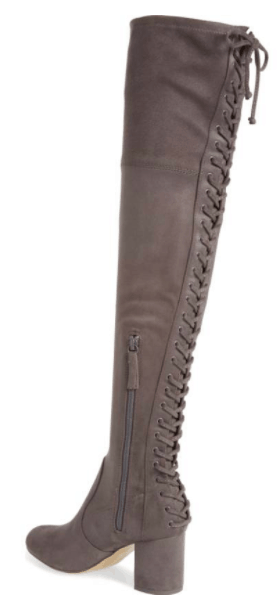 The lacing up the back of these boots makes them stand out!  Once again, these have the block heel which is on-trend and comfier than a stiletto!
This pair caught my eye for two reasons – the color is ah-mazing (it comes in other colors but this blue suede is heavenly) and the heel is lower, which signals comfort!  (Can you see I am all about comfort these days?)
ANKLE BOOTS
There are SO many different styles when it comes to ankle boots and it's hard to pick just one!  Here are my three favorites:
I like these for a few reasons.  My eyes always veer toward suede and black, and the v-cut shaft at the ankle makes them edgy and fun.  (Oh, and they are on sale!)
Cutouts are still on-trend this season and these Vince Camuto booties are my favorite in that style category.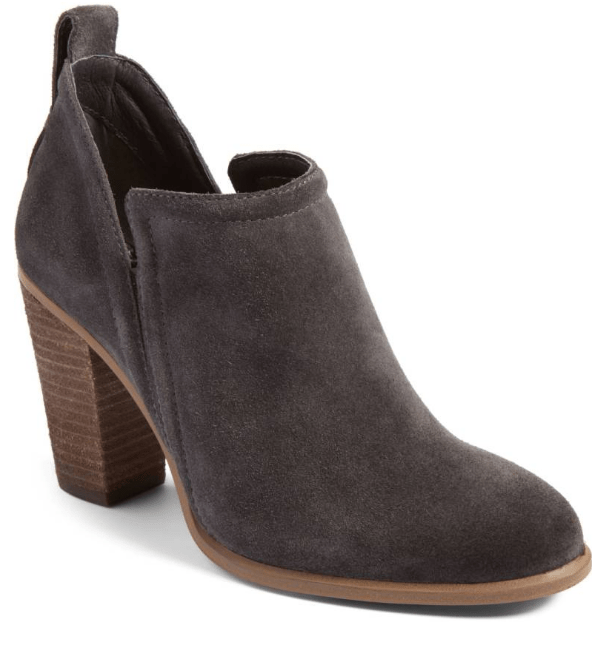 For ladies that like a heel, these booties from Vince Camuto is perfect.  I love the smoky grey color (although they do come in other colors as well) and the V-shaped cutout at the ankle.
CHELSEA BOOTIES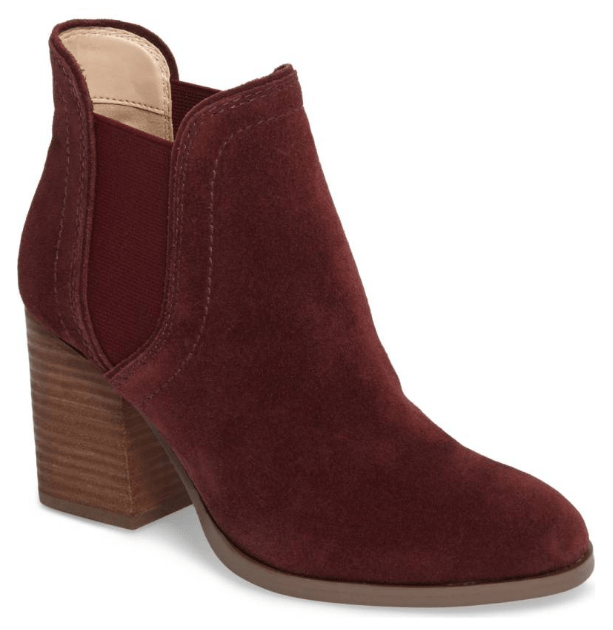 Chelsea booties are similar to the standard bootie but tend to hug the ankle a bit more.  I find them more flattering than their predecessor as I have skinny legs and ankles, so they look better on!
Now, this bootie is HOT!  I love the pointed toe and the color!!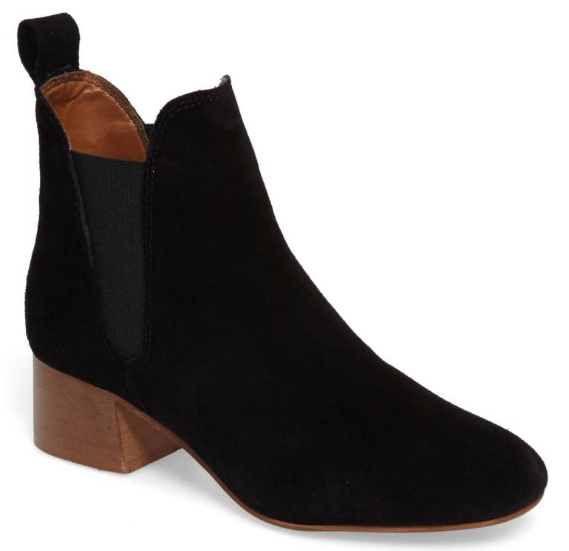 Black and suede AND a super cool wood heel.  I may need to order these, like NOW!
Which boot style is your favorite?  I'd love to know!