**I am an affiliate for Stella & Dot.  I love their jewelry!  If you purchase something through one of my links, I may receive a small commission.
A sunny day and a road trip in a convertible, lazy afternoons and a shady hammock… some pairings are just obvious, but when it comes to fashion, trying to find the right style, as well as add your own personal touch, gets a little more complicated. Check out the summer style suggestions from the stylists at Stella & Dot, where pairing the right necklace and neckline is fun! Meeting your boyfriend's parents for brunch on Sunday? What about that navy strapless sundress with the Stella & Dot Sardinia Pendant ?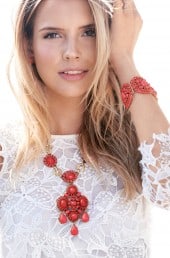 Heading out to the summer concert series in your spaghetti tank? Rock it out with the Stella & Dot Medina Bib Necklace.

Stella & Dot Medina Bib Necklace
Bangles, bracelets and bold earrings… whatever your style, and with all of your summer wear, Stella & Dot has put together everything to make sure that you are the hottest thing out there this summer.