I personally taste-tested over 30 different snacks to compile the list below of my favorite healthy snacks that taste good too!
Hi, my name is Dana and I am a snacker. There, I said it. I love snacks. But I also love to fit into my clothes.
My Love Hate Relationship With Gluten
I found out years ago that I am gluten-sensitive. I may have acted as if the world was crumbling down upon me at first, but slowly found alternatives.
I'll deep dive into other gluten-free options aside from snacks in a future article, but let's dig into to my favorites!
free2b Bagel Chips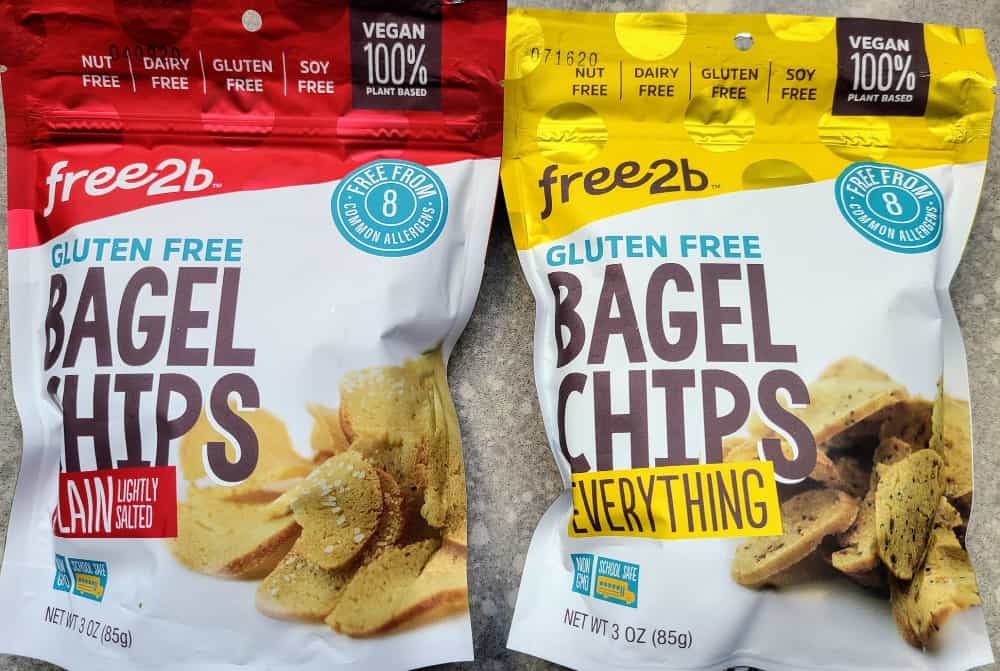 Growing up, my grandparents owned a bakery, Heshy's Old World Gourmet Bakery. Mind you, he never baked a day in his life until he decided he wanted to open this bakery but he took the required classes and Heshy's came to be. When I would visit, I'd look forward to working the cash register for them, and of course, eating the delicious baked goods – especially the bagel chips.
One thing I missed once realizing gluten was affecting my body negatively, was bagels – especially bagel chips. free2b just launched their newest product – get ready…bagel chips! Their plain and everything bagel chips are free of:
Peanuts

Tree nuts

Dairy

Gluten

Soy

Egg

Fish

Shellfish
I can happily attest that they hit it out of the ballpark with these allergy free and vegan healthy snacks. They are thinner and crunchier than the conventional bagel chips, but they are delicious.
You can purchase these healthy snacks right on the
free2b website
. $11.99 for a 3-pack (each bag is 3 oz.)
free2b Chocolate Cups
Mint Thins are another weakness of mine, which leads me to believe that free2b has been reading my mind. Their Dark Chocolate Mint Cups are the perfect combination of mint and chocolate – just the right amount of sweetness.
We also tried Dark Chocolate Sun Cups (both the full size and minis), and they received two thumbs up from the hubby (who is a die-hard Reeses fan). The sun cups are made with sunflower seed butter, making it free of:
Peanut

Dairy

Tree nut

Gluten

Coconut

Egg

Sesame

Soy

Mustard

Corn

Fish

Shellfish
That's a long list of "free" – but still packs a punch in the flavor department. You can purchase them on
Amazon
!
Bohana Popped Water Lily Seeds
I know, water lily seeds?! I thought the same exact thing. Although a bit hesitant, I had to try these popped snacks out as they looked good. I received three flavors – Himalayan Sea Salt, Wild White Cheddar, and Soulful Spice (Sriracha).
Popped water lily seeds are an Ayurvedic superfood, due to their alkalinity. The Himalayan sea salt is my overall favorite flavor, with the white cheddar coming in a close second. R loves a bit of spice, and enjoyed the Soulful Spice flavor.
Himalayan Sea Salt was my favorite, by far; with the white cheddar coming in a close second. They remind me of a mix of a cheese doodle and Pirate's Booty, just healthier.
You can try out each of the flavors with a 6-pack purchased via
Amazon
!
Kip's Granola Bark
Both the Cinnamon Crunch and Cocoa Crunch bark bags are hidden in my desk drawer…shhhhh. Each flavor is free of the top 8 allergens:
Peanuts

Tree nuts

Wheat

Dairy

Soy

Egg
as well as gluten-free, vegan and kosher!
I equally like both flavors – it depends more so on my mood! You can find them on
Amazon
!
Crunchsters
Crunchsters is the perfect alternative to trail mix. Made of mung beans, the yummy flavored snacks are filled with potassium, magnesium, fiber and protein! I added some of the Smoky Balsamic to my salad yesterday and it added a little extra burst of flavor and texture.
I keep a pouch in my bag for those just-in-case "need a snack" moments! Check them out on
Amazon
!
Rule Breakers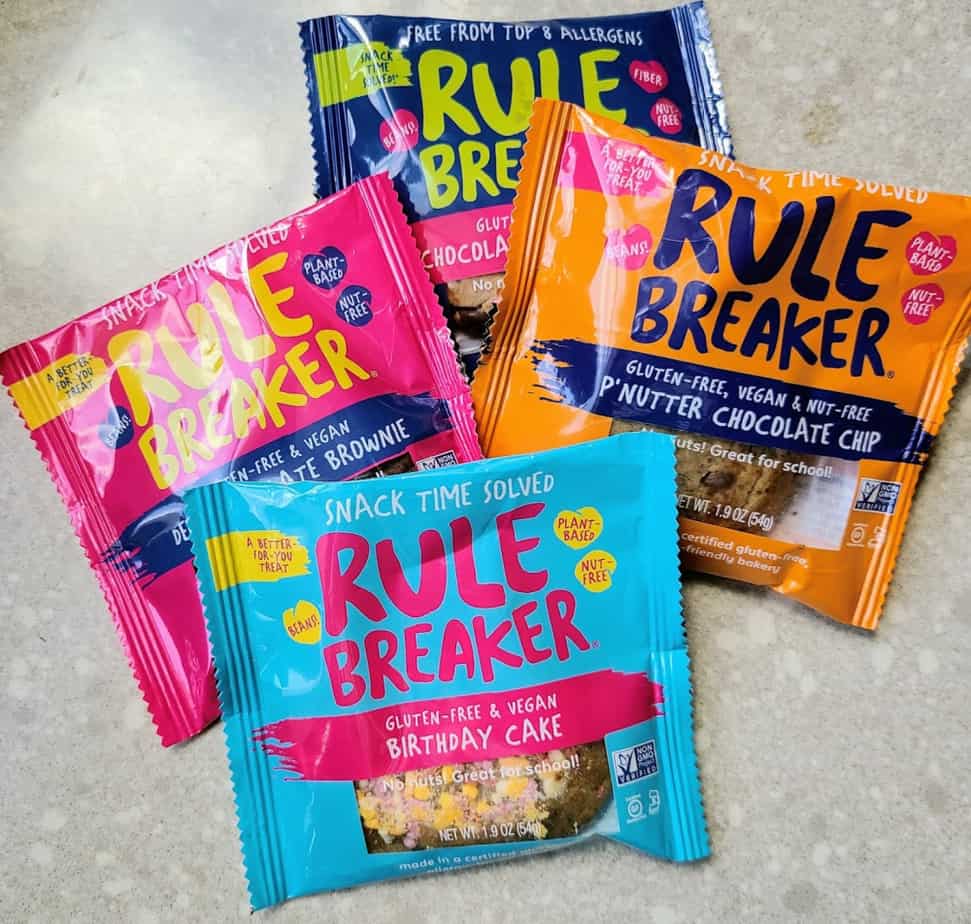 When I saw that these plant-based and nut-free brownies were made with beans, I really considered graciously thanking the brand for sending them and calling it a day.
I brought them into the office thinking that someone would try them and I could then report back. I offered one, not divulging that there were beans in the mix. He chose the Birthday Cake brownie, and I was just waiting for him to make the usual "ick" face when he eats something he doesn't like. He liked it.
I opened the double chocolate and selfishly scarfed the whole thing down, then squirreled the rest to bring home.
These brownies are truly yummy. You would never know they are made with beans. Flavors include:
Vegan Birthday Cake Blondie
Deep Chocolate Brownie
Chocolate Chunk Blondie
P'Nutter Chocolate Chip Blondie
You can order them on Amazon!
Wicked Crisps
I can't honestly tell you which of the seven Wicked Crisps flavors is my favorite because I can't pick just one. I always err on the side of caution so I tried the Sea Salt and Hummus baked chips first. You can't go wrong with a simple-ish flavor right?!
These crisps did not disappoint. I enjoyed the lightness, texture, crunch, and perfect amount of salt. I then paired them with guac and later with my hubby's homemade spinach and artichoke dip – a marriage made in healthy snack heaven.
Other well-received flavors available include:
Roasted Garlic and Asiago Cheese
Red Curry Hummus
Sweet Potato Souffle
Spinach Parmesan
Spring Vegetable Medley
Cheesy Cheese Pizza
You can paired any of them with a dip or eat them on their own. All are:
Non-GMO
Gluten-free
Non dairy
Kosher
I particularly love that Carolina Fine Snacks, the geniuses behind these chips, is a veteran-owned business! Check them out on Amazon!
Healthy Snacks That Taste Good
As I find new snacks that are worthy of noting, I will be sure to add them to this article and give you a heads up.