"The gladdest moment in human life, methinks, is a departure into unknown lands." – Sir Richard Burton
We couldn't agree more and if you thought that you had to abandon your travel plans this winter, thanks to our friends at Covid-HQ, think again – because America the Beautiful remains open and excited to welcome you back.
This year, when traveling across our beautiful country, not only do you get to see some of the most iconic sites in the world, but you'll also get amazing deals too, as local markets compete more aggressively for those all-important holiday dollars.
If you're hitting the road with children, you'll need to know a few things but even if it's just you plus few places in the United States capture one, let's discover some of the best places to visit in America, this winter.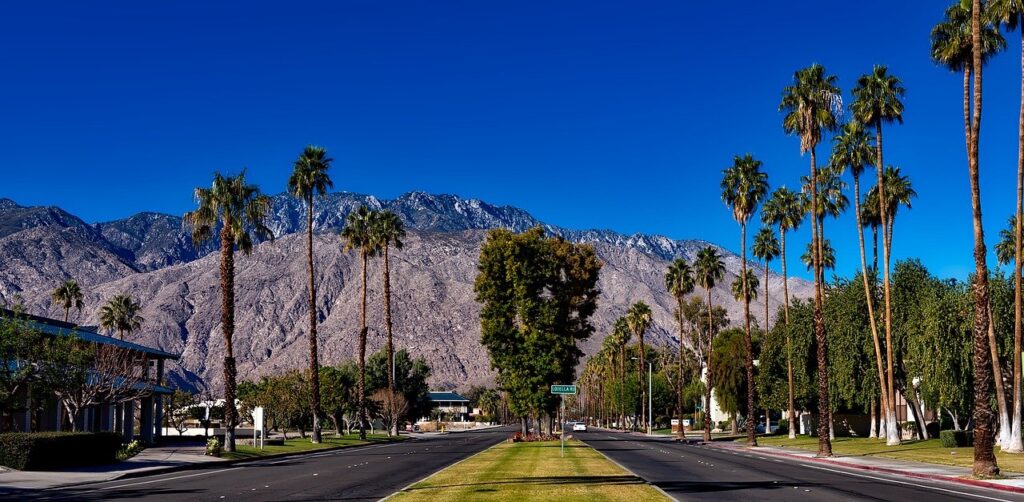 PALM SPRINGS, CALIFORNIA
Always a firm favorite for winter travelers, thanks to its mild daytime temperatures and cool nights, Palm Springs is not what one would refer to as a hard sell for winter travel. You can spend your days golfing, hiking, shopping, or just sunbathing, and then dance the night away at a lively and diverse night scene.
Stay at the Colony Palms Hotel, first built in 1936, and enjoy old-world Hollywood glamour with contemporary touches.
NORTH CONWAY, NEW HAMPSHIRE
North Conway holds the distinction of being the birthplace of skiing out west. The storied New Hampshire town offers visitors around 10 different ski resorts and cross-country centers that take in stunning terrain.
Enjoy pastel-painted Victorian houses and fabulous shops along Main Street and to complete the experience, hop on the Conway Scenic Railroad.
Stay at the White Mountain Hotel and Resort with a heated swimming pool, fire pit, and a traditional Finnish sauna.
NAPLES, FLORIDA
If all of that sounds like far too much cold for your liking (Palm Springs aside of course), then head out to Naples, Florida for a more subdued and relaxing alternative to Miami and Key West. This upscale destination on the Gulf Coast is arguably one of the best towns to visit in the Sunshine State and is ideal for young families, couples, and retirees. The beaches are world-class and the restaurants offer delicious cuisine. If you have a few dollars to burn, then you'll love the high-end shopping.
Stay at the Ritz-Carlton Naples for a truly luxurious experience.
YOSEMITE NATIONAL PARK, CALIFORNIA
Yosemite National Park holds a special place in the consciousness of Americans and few places in the United States capture the imagination quite like the park – and in the winter, the sentimental vibes are maxed out!
The snowy terrain, scenic drives, and some of the best hiking anywhere in the world, simply must be experienced, and the best part? You won't have the usual crowds that the summer months attract.
Stay at The Ahwahnee, also known as the jewel of the national park lodges, this stately lodge is a celebrated basecamp for exploring all that Yosemite has to offer.
You can search for great deals all over America at AmericanOrtels.com.
However you're celebrating this holiday season, we wish you safe travels and happy holidays!