My mom taught my sister and I at a very young age to take good care of our skin. If I remember correctly, I had my first facial when I was in my mid to late teens.
I've been hooked ever since.
The feeling afterward (sometimes a few days afterward) is so refreshing! The results, even better!
I tried out three very different facials at TruDerm and wanted to share with you the differences between each of them as well as what to expect and the benefits.
Mini Chemical Peel
What is a Mini Peel and Why Would I Get One?
Mini chemical peels are used to treat or "peel" the first layer of skin. This allows the new layer of skin to grow in its place.
There are are a few types of chemical peels. Two popular ones are:
Glycolic acid peels decrease signs of aging, fine lines, and improve your overall skin texture.
Salicylic acid peels help in treating oily skin, clogged pores, and seborrheic dermatitis.
I received the salicylic peel.
What Should I Expect During and After the Chemical Peel?
Dr. Usmani first took a close look at my skin to properly determine the type of peel needed.
I personally think that a great facial can be as relaxing if not more relaxing than a body massage. Add in a chemical peel and I am floating!
There is absolutely no pain or discomfort when the peel is applied. (There shouldn't be so if you feel some please be vocal and tell your esthetician ASAP.)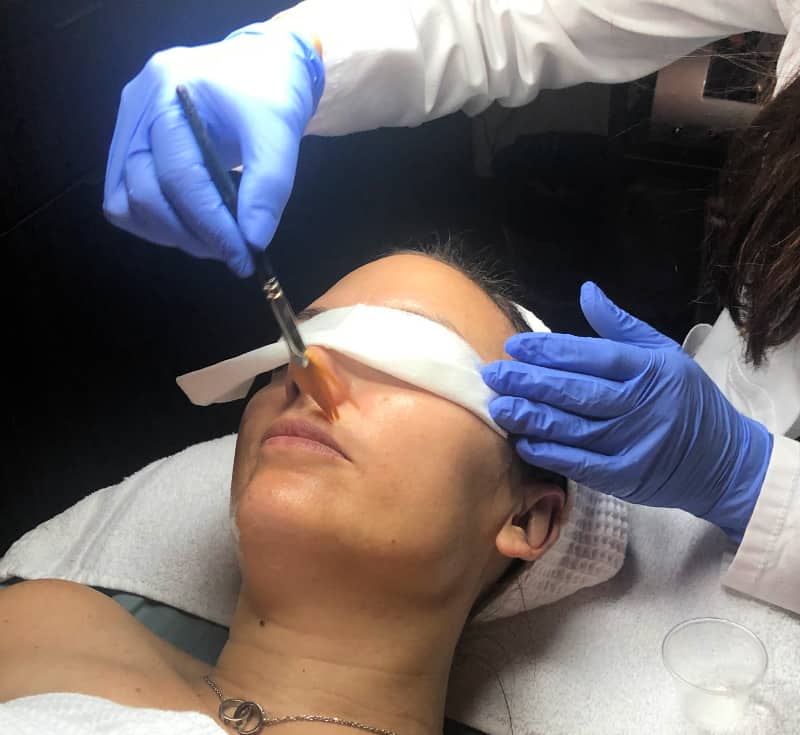 Once done, my skin felt tight and super clean. I, of course, was super sensitive about applying and re-applying sunscreen afterward. I had a bit of a glow after – nice, fresh skin!
Laser Skin Resurfacing
What is Laser Skin Resurfacing and Why Would I Do This?
Laser skin resurfacing is the use of particular lasers to improve the appearance of your skin. There are a few different laser types so be sure to do your research!
At TruDerm, my laser skin resurfacing was done with an Erbium laser – perfect for treating fine lines, wrinkles, hyperpigmentation, and age spots.
What Should I Expect Before, During, and After the Procedure?
Before the laser procedure begins, the esthetician will clean your face of any makeup or creams you may have applied earlier. You, as well as any other person in the room, are required to wear protective goggles.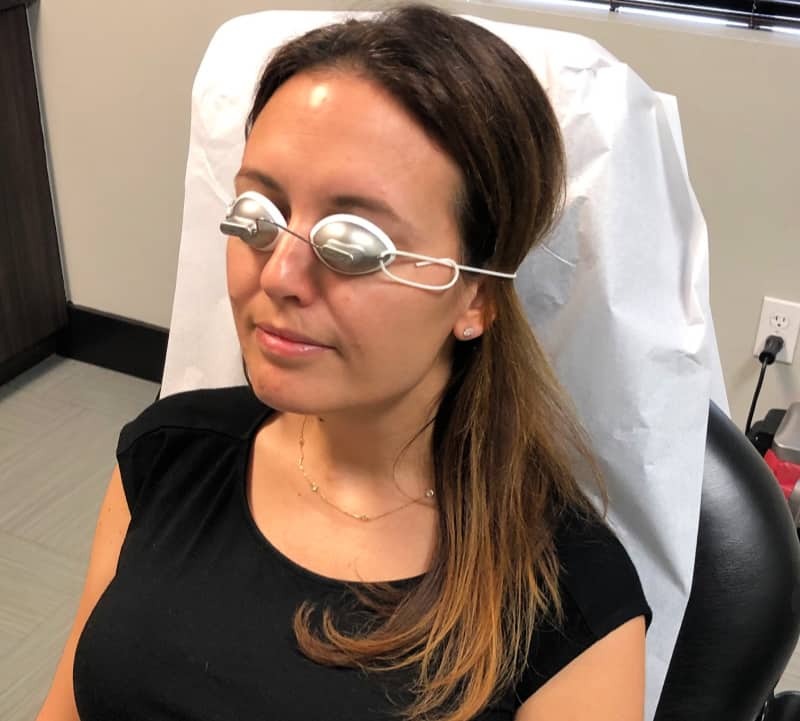 The laser itself feels like continuous rubber bands being snapped against your skin. Some facilities offer numbing cream which will help with any pain. The procedure itself took only 15 minutes.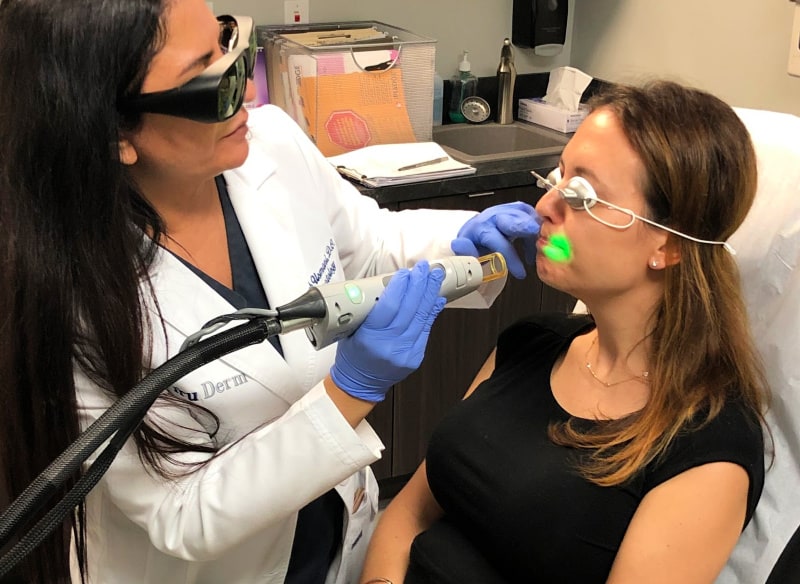 24 hours after the treatment, I started to notice dark brown spots appear on my face in certain areas. These spots denoted the places I had brown (age) spots that reacted positively to the laser. All of the brown spots were gone about 7 days later, leaving nice and clear skin!
It may be recommended that you do more than one treatment, depending on what your skin type is, etc. Be sure to consult with a reputable doctor (like I did) before deciding on this procedure.
PRP and Microneedling
What is PRP and Microneedling and Why Would I Do This?
Platelet Rich Plasma (commonly known as PRP) and Microneedling is also known as a "Vampire Facial" – something the Kardashian crew made super popular a few years back.
As we get older, we produce less and less collagen. Collagen is what keeps our skin's elasticity and smoothness. Using the best collagen-filler product in the world – the PRP from your body – will trigger your body to continue to produce collagen.
Microneedling, creating tiny holes in the first layer of the skin, allows for a much easier way to absorb whatever it is that you are applying to the skin.
You would opt for these procedures if you are looking to treat everything from age spots, wrinkles, scarring, and/or hyperpigmentation.
What Should I Expect Before, During, and After the Procedure?
Before
I was instructed to apply numbing cream about 45 minutes before the procedure. I applied it liberally as I wanted to make sure I was amply "numb".
The nurse cleansed my skin to remove any excess makeup and residue from the numbing cream. She drew blood from my arm and then put the vial into a centrifuge. After 9 minutes of spinning around, my plasma was separated from the rest and ready to be injected and applied!
During
Dr. Usmani injected the PRP into portions of my jaw, lips, cheekbones, laugh lines, and under eye (by the top portion of my jawbone…not too close to the eye).
Once that was completed, she moved a microneedling tool across sections of my face, applying the remainder of the PRP along the way.
After
I have to say, it definitely didn't tickle. I didn't feel some injection areas, but by the lip area hurt the most.
With regard to the microneedling, I was able to handle that pretty well. It did hurt a bit more on the forehead, bridge of my nose and upper lip area.
The whole procedure from blood draw to walking out the door took about an hour. Yes my face was red and swollen when I left the office, but by day 2.5 you wouldn't have known. There was slight bruising at some injection areas, but that is normal depending on the individual.
I was instructed to use only cleansers and sunscreen for sensitive skin for the following few days.
Here is Day 2:
My biggest advice is to make an appointment to speak with a very reputable dermatologist. Let her/him carefully assess your skin and recommend which procedures are most beneficial for your particular skin type.
Looking for a dermatologist in the local area? I highly recommend Dr. Usmani and TruDerm. I felt very comfortable with her and especially liked that she was honest with what was needed and what I really didn't need to focus on.
Should you decide to call TruDerm, please tell them Pellerini sent you!