Aside from a microwave and a phone (to call in delivery or to-go orders), there are some essential kitchen tools you need now.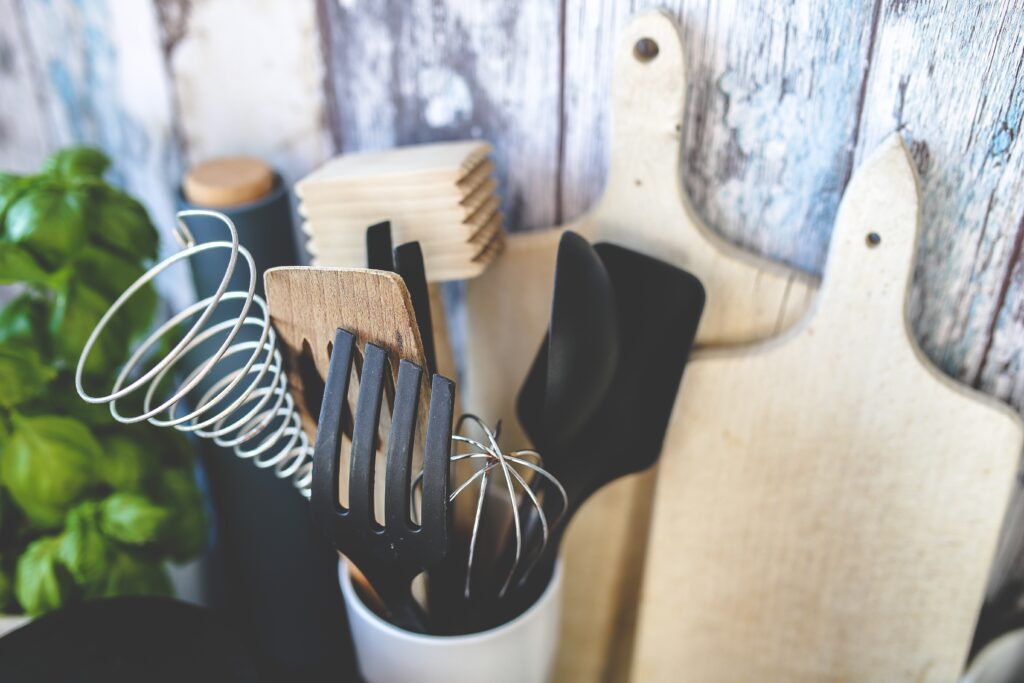 I know you're super busy and at times, the last thing on your mind is what to make for dinner let alone what kitchen tools you need to throw it all together.
Below are tools I highly recommend you have in your cabinets and/or drawers to make the experience of cooking that much easier and pleasant.
My hubby loves to cook, so I consulted with him as well.
WOODEN SPOON
Is it terrible that the first thing that comes to my mind when I hear "wooden spoon" is when I was little and did something wrong? I would be told, "I'm getting the wooden spoon", hear the drawer open and hightail my little bootie up the stairs to my room.
In this case, we obviously are not stocking a wooden spoon in our kitchen to threaten the kids.
Wooden Spoons are Great Because They…
Don't scratch pots or bowls (especially the coated variety – super bad to use metal utensils with those. I learned the expensive way.)
Don't get super hot like their metal counterparts
No reaction with acidic foods
No weird taste or melting occurs like when using plastic tools.
How to Care for Wooden Spoons
Wooden spoons, if cared for properly, should last for quite some time.
Always wasJ the spoons with hot water and dish soap – no dishwasher.
If you see cracks on the spoon, toss it.
Another washing tip – let them fully dry before returning them to their home in the drawer or cabinet.
They do tend to stain when used with food such as tomato sauce, etc. but that is totally OK.
TMML's Top Wooden Spoons
These are spoons that we've used in our kitchens, but that's not to say that there are others out there that are just as good! Keep a few on hand, we do!

QUALITY KNIVES
The most dangerous kitchen tool you could own is a dull knife. How do I know that? The husband tells me that each time he's sharpening them.
So, aside from a knife sharpener, there are a handful of different knives needed in your kitchen.
Chef's Knife
The most important in the bunch is the chef's knife. It is the go-to tool for about 85% of kitchen tasks. You use this knife to slice and dice vegetables, fruit, meat, and fish.
Serrated Knife
Serrated knives are perfect for cutting bread, waxy food like tomatoes and citrus, and even thick cakes.
The serrated edge makes slicing those "hard to cut with a smooth edged chef's knife" a piece of cake (no pun intended but funny all the same)!
Paring Knife
I personally did without a paring knife in my single years, but since my husband loves to cook this knife was quickly added to our collection.
Paring knives are great for dicing and cutting small food – soft too, not requiring a lot of pressure to cut through.
TMML's Top Kitchen Knives
Here's a variety of each of the knife types for you! You don't have to spend an arm and a leg for knives, but in some cases the more expensive ones are due to their higher quality.

SPATULAS
Spatulas come in either rubber or silicone, with the latter being more heat-resistant than the former.
Spatulas are used to mix and spread ingredients. The first time I was introduced to a spatula was when I was little and baking with my mom. The spatula was the perfect tool to make sure that all of the cake mix was scooped out of the mixing bowl. It was also a great help when spreading the frosting on the cake once cooled.
TMML's Top Heat-Resistant Spatulas
I use spatulas for more than mixing. They come in so many different colors, shapes and sizes you could go crazy! To start out, I'd recommend only one or two (one handy for when you throw the dirty one in the dishwasher!)

WHISKS
Whisks are used to combine ingredients – mix them all together. The first time I was introduced to a whisk was the same baking fun day I had with my mom when I was little.
I loved licking the whisk once I was done mixing the egg, powdered mix, milk, and egg together!
Whisks come in a variety of sizes, are mainly made of metal but I've seen them in plastic and silicone as well.
TMML's Top Whisks
I don't use whisks all that often, mainly with baking and when I am scrambling eggs (although a fork does really well then too!).
As you can see below, whisks come in many shapes and styles and price points.

TONGS
Tongs are by far one of the most useful tools on our kitchen tolls list. I use them to flip my chicken cutlets when I am baking them. They come in handy as a serving piece. Tongs also come in handy when I am trying to reach something that fell between the cabinet and the fridge!
TMML's Top Kitchen Tongs
Like the other kitchen utensils, tongs come in a variety of colors, sizes and compositions. Metal tongs should not be used with coated kitchen pans and pots, similar any other metal kitchen tools.
Below are some that grace our kitchen!

CUTTING BOARD
Cutting boards are a necessity. They save your kitchen countertops from unnecessary slices into them. As with the other kitchen tools, they come in a variety of shapes, sizes, colors – you name it. The two most popular types of cutting boards are either wooden or plastic.
Wooden Cutting Boards
Until plastic cutting boards came around, all we knew of was wood. Wood cutting boards bring with them the same required cleaning tips and precautionary measures as wooden spoons mentioned above (if there is a crevice found, chuck it).
There are so many different types of wood cutting boards, from bamboo to maple, acacia to walnut. I believe the wood type is more of a preference than anything.
When we prepare and then slice meat, we love the wood cutting boards that have what I call a "moat" around it to catch the juices before they spill all over your countertop. Super helpful!
Plastic Cutting Boards
Plastic cutting boards are safest for meats as you can easily clean and disinfect it in the dishwasher. One of our favorite plastic cutting boards is a flexible one that we can chop ingredients on and then funnel the ingredients into the mixing bowl or pan.
Look for the ones that have the little icons showing you which cutting board is for veggies, for meat, for chicken…I personally do't pay attention to them but Rich does.
One thing to keep in mind is that plastic cutting boards are harsher on your knives blades than their wooden friends. Make sure your knives are sharp regardless, but you may need to sharpen them more often if you go with plastic.
TMML's Top Cutting Boards
We have some wood cutting boards and some plastic cutting boards. I feel like you should have at least one of each in the cabinet. Be sure, with both, to look for crevices or cracks – you need to toss them at that point and get a new one.

What kitchen tools do you feel are essential? Comment below – I'd love to know!
TMML's Top Kitchen Tools