*I was invited to tour the Norwegian Cruise Line Escape in return for an honest review.  ALL opinions in this post are 100% my own.
Saturday couldn't have come any sooner!  I was super excited to join Local Mom Scoop's Heather and a handful of other media representatives for a VIP tour of Norwegian Cruise Line Escape, a gourmet lunch and wine tasting with THE Michael Mondavi and a little bit of downtime at the Thermal Suites onboard.  I don't know where to begin – the whole day was incredible.
After a warm greeting at the terminal by NCL's Christina, Evelyn, Tom, and Liz, we received our visitor's pass and were off to board the ship.  At first glance, I was impressed at the size of the ship and the beautiful artwork by Guy Harvey that decorated the front of the ship.  Built in 2015, the Escape can accommodate a little over 4,200 guests and is almost 3 football fields long.  That's loooooooonnnnngggggg.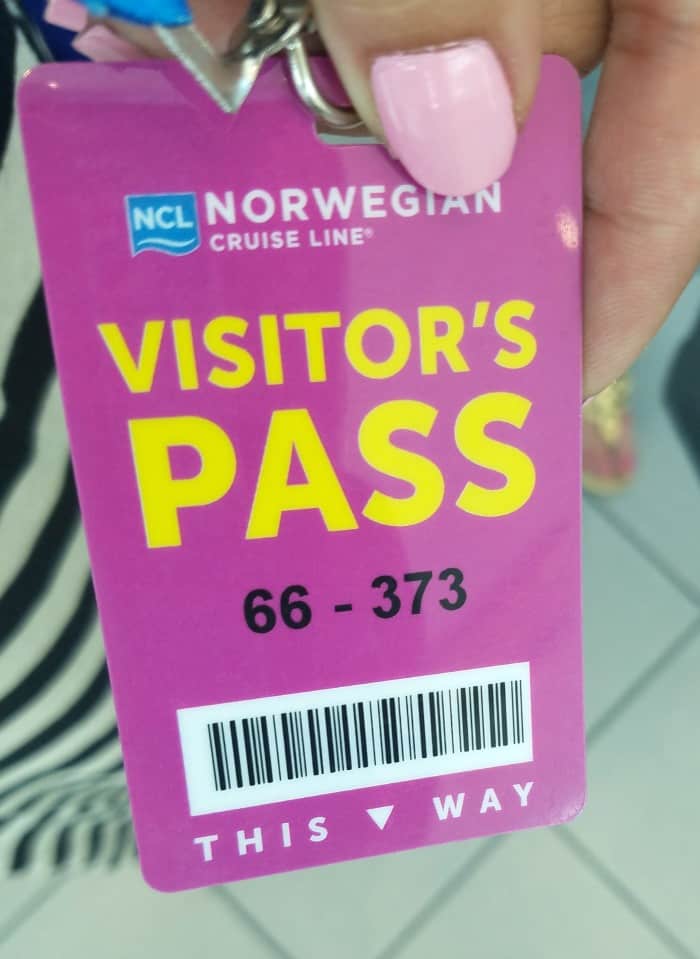 ALL ABOUT THE KIDS
First stop for us was a tour of the Guppies Nursery and Splash Academy.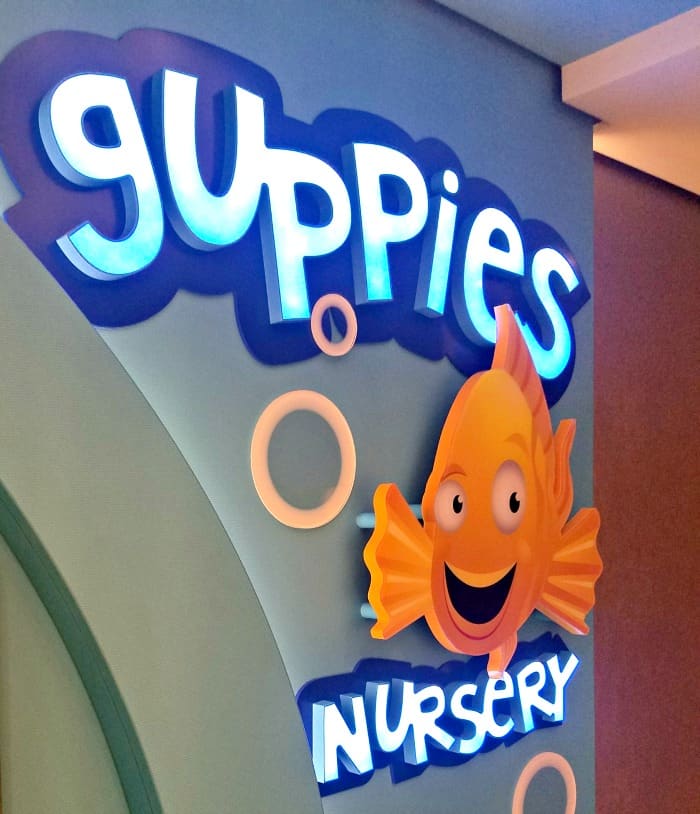 The Guppies Nursery is a drop-off nursery for babies between the ages of 6 months to under 3 years old.  Parents make reservations ahead of time to drop off their little ones for 2 hour time blocks – also known as 2 hours of quality time for Mom and Dad to roam the ship, take a well-needed nap, and/or enjoy any of the numerous activities.  At drop-off, the parent receives a handy phone in case the nursery attendants need to reach them.  Each day has a different theme which is translated into the scheduled crafts, self-exploration, story time, sensory activities and more!
The Splash Academy is where I would want to be if I was a kid.  If you are between the ages of 3 and 17, you'll LOVE this hangout!  I especially liked that there are different programs geared toward different age groups.
Turtles – 3 to 5 year olds
Seals – 6 to 9 year olds
Dolphins – 10 to 12 year olds
Teens – 13 to 17 year olds
Each age group has their own designated area to hang out with children their own age and partake in fun age-appropriate crafts, games, and more.  Freestyle Free Play, available during special times of the day, is when the kids can choose a Freestyle activity and hang out with their siblings and friends in other age groups.
I know you are thinking, "What about late night?"  NCL has it covered.  Want to go to a show or dancing at one of the clubs onboard?  For only $6.00 per child per hour, you can drop your little ones off between the hours of 10:30pm – 1:30am. Nice.
Check out some of the other fun attractions for kids (and adults)…
There's also a basketball court, pools, shows and more.  I doubt VERY much that your child would get bored aboard this cruise ship!
TIME TO EAT
I was amazed to hear that the Escape has over 25 dining options.  25.  You have a choice of eating at one of the three complimentary main dining locations – Savor, Taste and The Manhattan Room – or Garden Cafe or O'Sheehan's Neighborhood Bar and Grill (complimentary also).  Don't forget 24 hour room service too!
Specialty dining options are endless.  Want Italian food? Make reservations at La Cucina.  Really hungry? Check out Moderno Churasscaria, the onboard Brazilian steakhouse.  Looking for delicious food with a little entertainment on the side?  Teppanyaki hibachi grill is perfect.  There's also Le Bistro (French), Pincho (tapas bar), Jimmy Buffett's, Food Republic, and Bayamo – where we enjoyed a delicious lunch along with Michael Mondavi!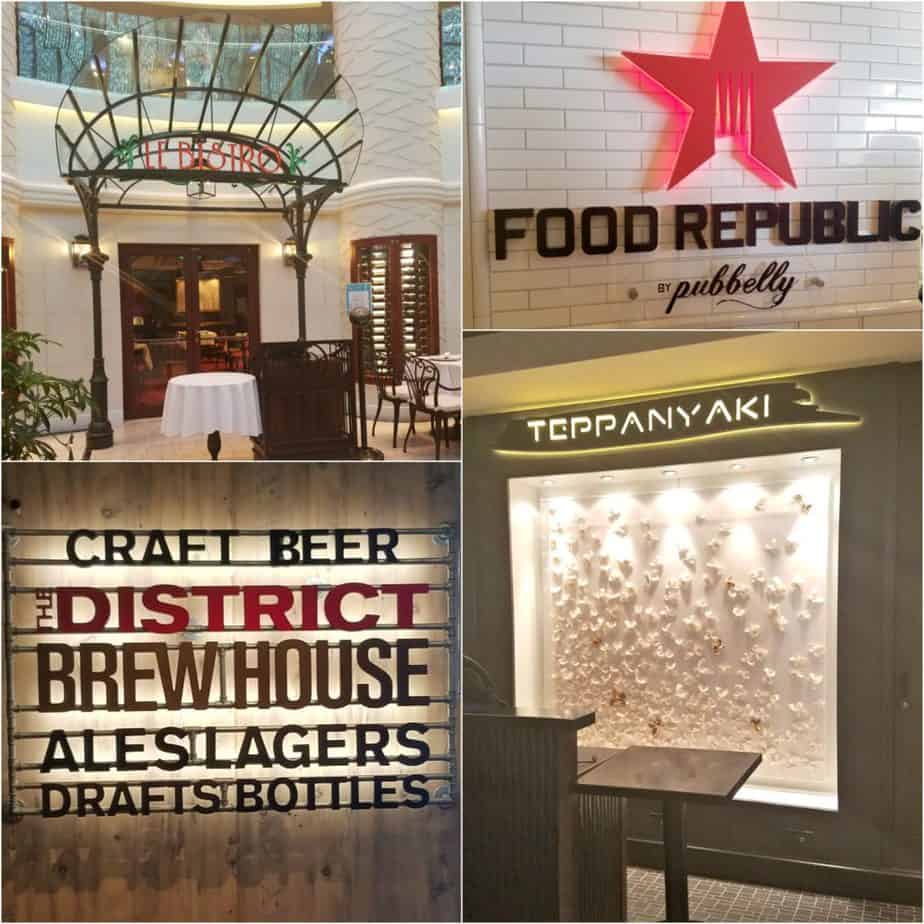 The food was top notch.  Each course was paired with wine that best fit the food – and everything was delicious!  I chose the hearts of palm salad followed by the wagyu beef main course.
I was a little star struck having Michael Mondavi sitting at our table but easily relaxed as he is so friendly and a great conversationalist!  Conversation moved from wine (of course) to Napa restaurant recommendations, Trader Joe's and more.
WINE TASTING EXPERIENCE
After lunch, we walked over to The Cellars, a Michael Mondavi Family Wine Bar.  The wine bar is very warm and inviting!  We sat down in front of four glasses of wine, and listened intently while Michael introduced us to his family of wine.
[Tweet "If the wine tastes good to you, then it's good. If it doesn't taste good to you, find another one! – Michael Mondavi"]
We learned that about 17 years ago, Michael and his family purchased land in Atlas Peak where the Amino vineyard is located.  Next they purchased land to create the Oso Vineyard.  Each vineyard produces distinctively different grapes due to their growing conditions and terroirs (environmental factors that affect the crop's quality).
[Tweet ""Take the mystery out of wine but keep the magic." – Michael Mondavi"]
Aside from tasting the different wine above, we also learned that the shape of the wine glass can affect the taste of the wine (hence the different shape glasses for pinot noir as opposed to a cabernet sauvignon).  Also, I liked how Isabelle's wine bottles are screw cap because she does not like fidgeting with the wine corkscrews.
STATE ROOMS
State rooms vary from the Studio for the single traveler all the way to the the Haven Suites – exclusive and most luxurious accommodations, with 24-hour butler service, concierge service and a private sundeck.
Time to Relax
After a super fun day filled with touring, food and wine it was time to enjoy all that the Thermal Suite has to offer.  Heather and I tried to experience all of the specialty rooms and it was a lot of fun!
One room I didn't picture above but needs to be mentioned is the Snow Room.  Heather and I visited the room for the recommended 2 minutes max.

It was that cold!!
MY THOUGHTS
The Escape, built in 2015, is beautiful.  Aside from all of the fun I mentioned above, I also love that there is a Tony Award® winning musical aboard – After Midnight as well as 21 bars and lounges.  The attention to detail noticed throughout the day are very apparent.  The attention to cleanliness is something extremely important to me, especially on a cruise where there are thousands of people aboard.  Everywhere I went, I noticed hand sanitizer dispensers which was great.
I hope to one day take my whole family on vacation aboard the Norwegian Cruise Line Escape!  I can imagine the look on my boys' faces when they see how much there is to offer for them and the amazing memories my family could make!
Have you cruised before?  If so, what ship did you take and how was your experience?