*There are affiliate links in this post.  If you happen to purchase via one of these links, there will be no additional charge to you, but it will help keep Pellerini rolling with great content!  Thank you!
Who says parents can't get new clothes for back to school?!  It's a new season and new trends have surfaced but I'm super busy with no time to get to the mall other than to shop for the boys.  That's why I love Trendsend!  I've scheduled that a box gets delivered to my doorstep every other month.  Each box is filled with three outfits – full on outfits that help to take the guesswork out of what to wear and how to pair everything.  All you have to do is try on the outfits, decide what you like and send the rest (if anything) back in the prepaid shipping packet.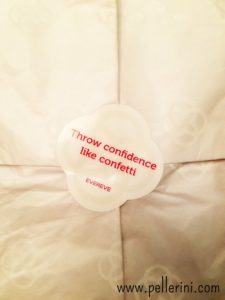 New Clothes for Back to School – Convenience is Key
I personally love this concept because it saves me time and I am introduced to brands, styles and colors that I wouldn't normally pick for myself if I were perusing a department store.  My eye is so trained to find the skinny jeans, black tops and minimalist jewelry but I also like the colors, patterns, statement pieces and such.  I just never buy them on my own.
OUTFIT #1
I'm all about ease when it comes to dressing lately and this outfit fits the bill.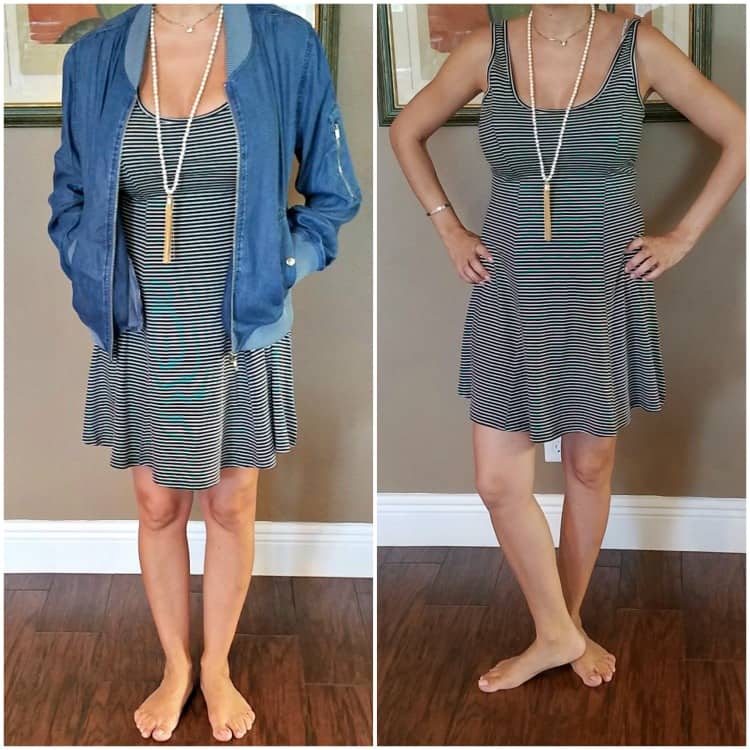 Natural Stone Tassel Necklace: I can never seem to turn down a tassel necklace.  I don't know what it is – the length, the little bit of pizzazz.   This one in particular caught my eye because its color is versatile and I can layer it with other delicates I already own.
Billabong Tank Girl Dress: A dress, to me, is a dream outfit.  It's one piece and all you have to do is put it on and you're done.  Well, that and a bit of accessorizing and then you are done.  As a fan of stripes, I liked this dress once I unpacked it from the box, as well as the flattering skater cut.
Peyton Jensen Chambray Bomber: Bomber jackets are all over the fashion magazines and online so I was excited that one was packed in my latest box!  Perfect for layering, this would've been a keeper if it wasn't too big in the arms.  Darn.
OUTFIT #2
Did I tell you I love that I receive full outfits?  It's not that I can't pair a top with bottoms, I do like to mix and match with different pieces, but this outfit is a perfect example of a great, put-together outfit.
Sanctuary Kira Tank: I wasn't 100% sold on the print, but loved the silhouette and that the back had a bit of "wow" too!  Lately I have been drawn to tops that have something special on the back – whether it is a different fabric than the front panel, or a biased cut.
Cloth & Stone Folded Pocket Pants: Comfort and fit come to mind when I tried these pants on.  These lightweight joggers are perfect for fall weather (or year round in Florida!).  BTW – they are on sale now!
OUTFIT #3
So cute and definitely on trend, this outfit was my favorite of the three.
Free People Long Beach Tank: Super soft and a great cut, I love how this tank doesn't cling to me but accentuates my shoulders.  I wish the arm holes weren't as big as they were, but you couldn't tell underneath the next piece! At only $20, I would get a few.
Peyton Jensen Mila Raw Edge Sleeveless Plaid: I'm all about the plaid.  When it first came back into style, I was a bit hesitant as it reminded me of my college years up at SUNY Albany.  I'd wear plaid button downs all the time (partly because it was fashionable and partly because it was COLD there).  Today's plaid is much more feminine.  The raw hems on this sleeveless shirt add a nice touch and it gives this outfit a bit of an edge (no pun intended).
XCVI Josette Skirt: I like skirts but usually only wore them to the office – pencil skirts being my all-time favorite.  I was a bit skeptical about this skirt, but when I put it on it was comfortable and sporty.
Check out some of my previous Trendsend boxes:
June's Trendsend
January's Trendsend
What do you think of my latest Trendsend box?  Interested in trying one out?  All you have to do is complete a quick profile survey.  It's $20 for each subscription box – the $20 gets deducted from any purchases you make.  Try it and tell me what you think!