On the second day of BlogHer I did a walk through of the trade show hall before my first breakout session began.  I passed CancerCare's booth, stopped and turned right back around.  I was curious.
The women standing there greeted me warmly and asked if I had ever heard of CancerCare.  New to this national cancer support organization, I wanted to learn all I could about what they do.  A close friend of mine's mother had been battling a brain tumor for years – many more years than the doctors initially estimated (thankfully).  She was a fighter and never let this big health issue get in the way of her life filled with family and friends – especially her two grandsons.  She passed away in August, and although it was something the whole family was battling for years and knew this day would eventually come, it still hurt – terribly.
Through conversations with my friend, I knew that the boys took the initial news of their grandmother's condition in stride but once she passed there was a difference in the behavior of her eldest son.  He would say nothing was wrong but would have sudden headaches or not feel well out of nowhere.
The wonderful women of CancerCare explained to me, that day at the trade show, about their newest initiative to help people touched with this disease, Pillow Talk.  This creative project is a conduit to allow the family and friends, both kids and adults, talk about their feelings with relation to a cancer diagnosis.  The Pillow Talk package sounded like it might be just the thing to help him open up a bit. Included in the Pillow Talk package are:
Comfort Pillow cover, markers and pillow filling – Spending time together to decorate this pillow cover will allow for an open conversation about concerns and feelings.  The pillow case has a spot in the middle of it where you can put a photograph of your loved one.
CancerCare fact sheet – Useful information and facts about cancer
Comfort Pillow booklet – includes instructions on how to decorate your pillow.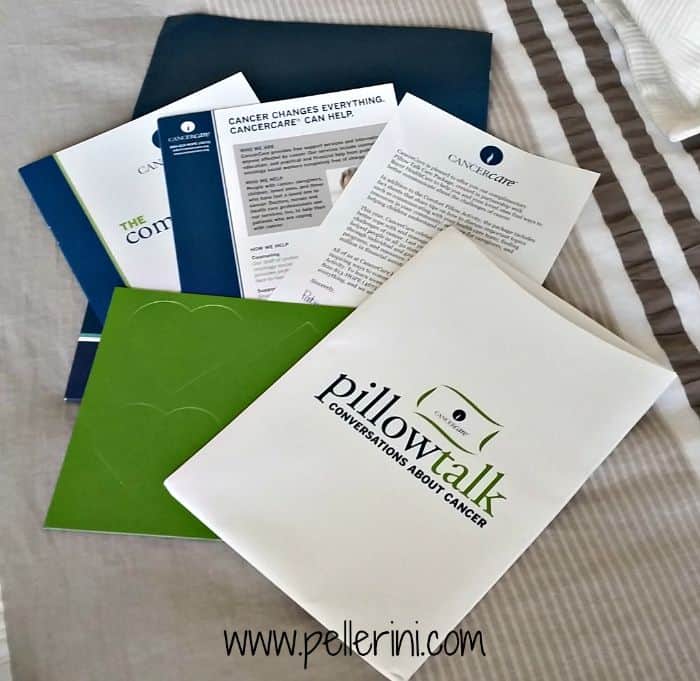 The program launched earlier this year with 10,000 packages, and is expanding to make 25,000 packages available to families such as my friend's.  If you know of anyone that would benefit from a Pillow Talk care package, please visit http://www.cancercare.org.  You will also find information about all of the other amazing supportive services that CancerCare offers:
Counseling
Support groups
Educations workshops
Publications
Financial help
Referrals to resources
CancerCare, founded in 1944, provides these services by oncology social workers and world-leading cancer experts.
I wish I knew of this organization before my friend's mother passed, but I am so glad to know of it now.  Unfortunately I hear more and  more about people being diagnosed with a form of cancer and can only imagine the intense stress and strain it puts on the person diagnosed as well as the family and friends.
Via my blog, and any other way I can, I will pass along the word about this amazing organization that helps people deal with significant emotional challenges of being told that they or one of their loved ones has cancer.  Please help me spread the word and offer support by sharing this post and visiting http://www.cancercare.org to see what else you can do!