T-minus one week until my boys go back to school.  I don't know where the summer went, but this is not the time to be dragging my feet when it comes to proper back to school organization.
When I speak about organizing, I refer to a lot of different aspects.  I previously discussed getting your home ready for back to school, now it is time for the details!
LUNCH BOXES
Picking out the right lunch box is as important to me as anything else.  I came across Bentology lunch boxes over the summer and can't wait for my boys to use them next week!
There are 21 different patterns to choose from – my absolute favorite being the llama pattern but my boys are loving the airplane print.  The boxes are PVC, BPA, phthalate, and lead-free – important factors to look for when choosing a lunch box that has reusable containers.  Check them out online – you can choose which lunchboxes fit your kids' personalities and also get some great tips on lunch ideas and more!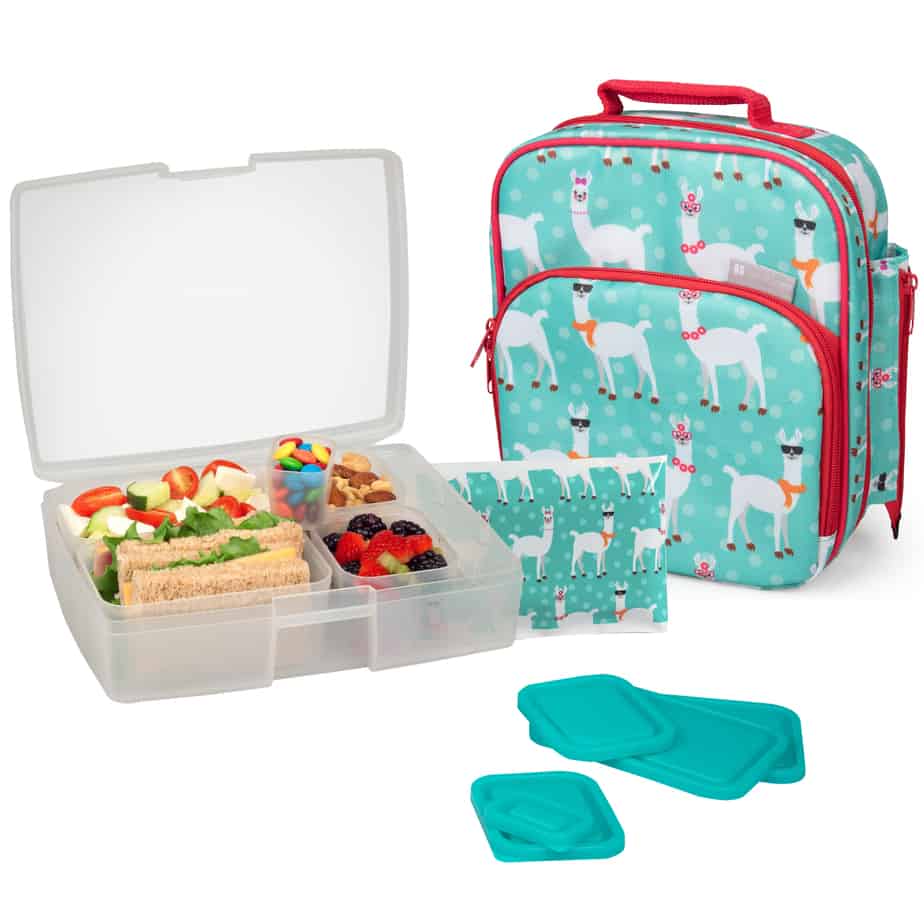 Here's what Bentology has to say about their awesome brand!
At Bentology, we believe lunch should be the meal you look forward to most. Parents can expect affordable, durable and stylish products that empower kids to express their individual style and personality. As always, you can count on all our products to be free of phthalates, BPA, PVC, and lead. As an added bonus, Bentology lunch boxes provide healthy portion control and also create less waste for the environment!  It's a win-win.
Whether your child prefers llamas, dinos, sloths or sharks, Bentology's new fun and creative lunch bag designs will make your kid's lunch the envy of the lunch table. These must-have lunch gear items come in three styles including bento sleeves, totes and dual compartments. Twenty-one new playful prints are available in every style and include popular themes such as sloths, magical unicorns, llamas and the Eiffel Tower for girls and dinosaurs, jets, sharks and skulls for boys. (Visit bentology.com to view the full line.) This extensive variety of new prints atop of Bentology's mission to promote eating a variety of nutritious food groups in the right portions, ensure your little one will be more than ready to take on the 2018 back to school season!
 This year, Bentology is proud to unveil their 2018 product line extension with colorful, lunchbox sleeves, dual compartments and tote prints that will bring quality, style and fun to any lunchtime meal!
WHAT'S IN THE LUNCHBOX?
I feel that nutrition – specifically what the kids eat during the school day – is as important as what they learn.  I say that because if your child is consuming food that will only fuel him or her for a short period of time, and then their sugar drops…their attention span and learning drops with it.
I ask the boys what they want to eat during the day, taking into consideration wholesomeness and sugar levels.  A few years ago, I met the inventor or Veg'd Organics Ketchup.  She was about to launch and I couldn't wait to try out this ketchup that:
Is organic and naturally vegan
Contain five vegetables – tomatoes, carrots, beets, butternut squash, and sweet potatoes
Is gluten-free
Contains 50% less sugar and calories than other leading brands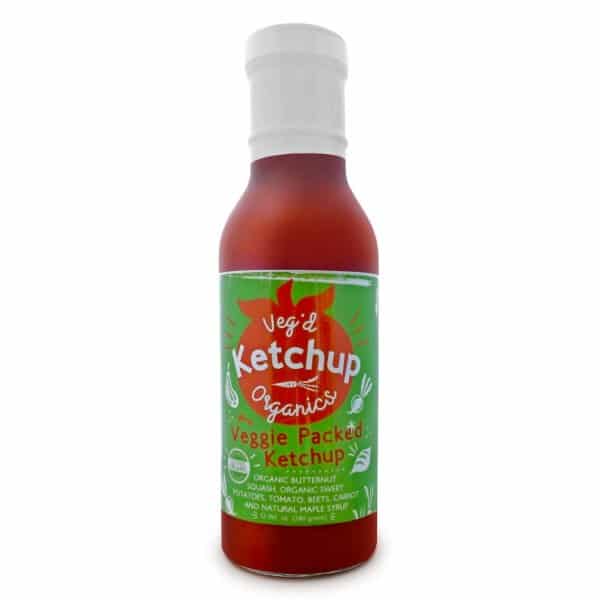 I was skeptical as to the taste, but once I received and swapped it out unbeknownst to my little ones, I was SO happy.  It is delicious – genuinely – and for a mama of kids that love to dip just about everything in ketchup, it is heaven sent.
Right now they are offering BOGO, so be sure to visit Veg'd Organics before they are gone!
SCHOOL SUPPLIES
I used to love to go school supply shopping.  Picking out my notebooks, new pens, pencil cases – it all was super exciting.  To this day I still love to go school supply shopping – and even more so since Avery came out with their new collections!
This year Avery is introducing brand-new essentials to help fans of Minions, Trolls, and Amy Tangerine. "find their happy" from the hallways to the classroom!
Avery Products Corporation has rolled out their first brand collaboration EVER.  Featuring super bright and fun colors and slogans, these binders, dividers, folders and glue sticks will help keep your kiddos organized and inspired.
The Minions and Trolls lines are perfect for elementary school students, where the Amy Tangerine collection is GREAT for teens (and moms like me!).
Go to Amazon for 15% off or more on the Avery(R) Despicable Me Collection, all through the month of August.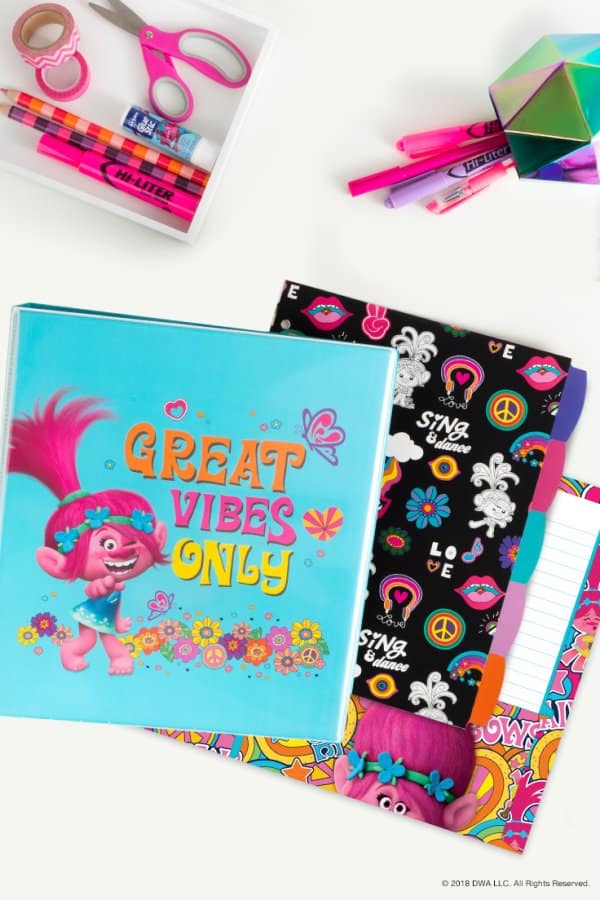 Go to Amazon for 15% off or more on the Avery(R) DreamWorks Trolls Collection, all through the month of August.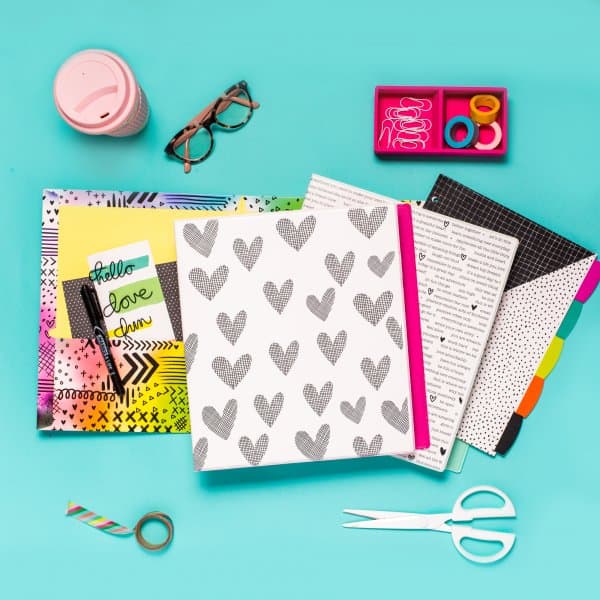 use promo code 15AveryNAmy for 15% off at checkout!
THERE'S AN APP FOR THAT
Of course, there is!  I have been using Cozi for about 5 years now and love it!  From assigning each family member (even Sadie, our dog) to the calendar, to do lists, and shopping lists that are updated in real-time – I know that everyone knows where each person is (or needs to be).
I don't get the random calls or text messages asking if we need milk because all my hubby needs to do is check the app.  Once I notice we are low on something, I add it to the appropriate Cozi shopping list (and you can create multiple lists for each place to shop).
There is a nicely robust free version of the app for both iOS and Android, as well as a paid version that has some nice bells and whistles like tracking birthdays, extra calendar reminders and more!
OUTFIT ANGST SQUASHED!
Our school day mornings have run that much smoother ever since I found this little hack on Pinterest.  Purchase a simple hanging shoe organizer – one that hangs from your clothing rods.  Assign each section a day of the week and insert into each one:
One bottom
One top
Undergarments
Socks
and anything else that your child needs on a daily basis as part of their dress code/wardrobe.
Some moms add hair bows or headbands for their daughters to each bin; some add notes of encouragement that fall out as their little one grabs their outfit for the day.
I organize each bin on Sunday evenings, knowing that I have one less thing to scramble for with the boys during the week.  Unnecessary stress is gone, they know what they need to do, and the morning runs that much smoother!
CHECK OUT MY LATEST SEGMENT IN WPTV, SHOWCASING ALL OFF THESE AMAZING IDEAS AND ITEMS!