I get A LOT of catalogs on a daily basis…almost to the point of where I feel my mail lady is going to one day knock on my door and be like, "Um…this is a bit ridiculous."  I wouldn't disagree with her and actually have been weeding through them in an attempt to cancel some.
I have come to terms that my boys have graduated from Pottery Barn Baby and Kids and are full-fledged immersed in the PB Teen set.  I've parted ways with the Land of Nod catalogs as well, although you can find some cool pieces that are not necessarily "baby-ish" but I have to cut ties somewhere, right?  (And I do get their emails still…heehee.)
Ever since we've moved into our current home, I have been hypersensitive to furnishing magazines and catalogs.  Hence this post about CB2 and their newest catalog that has gotten me in a tizzy.  I have always liked their wares but a lot of the pieces in this addition really caught my eye.  Below are some of my faves.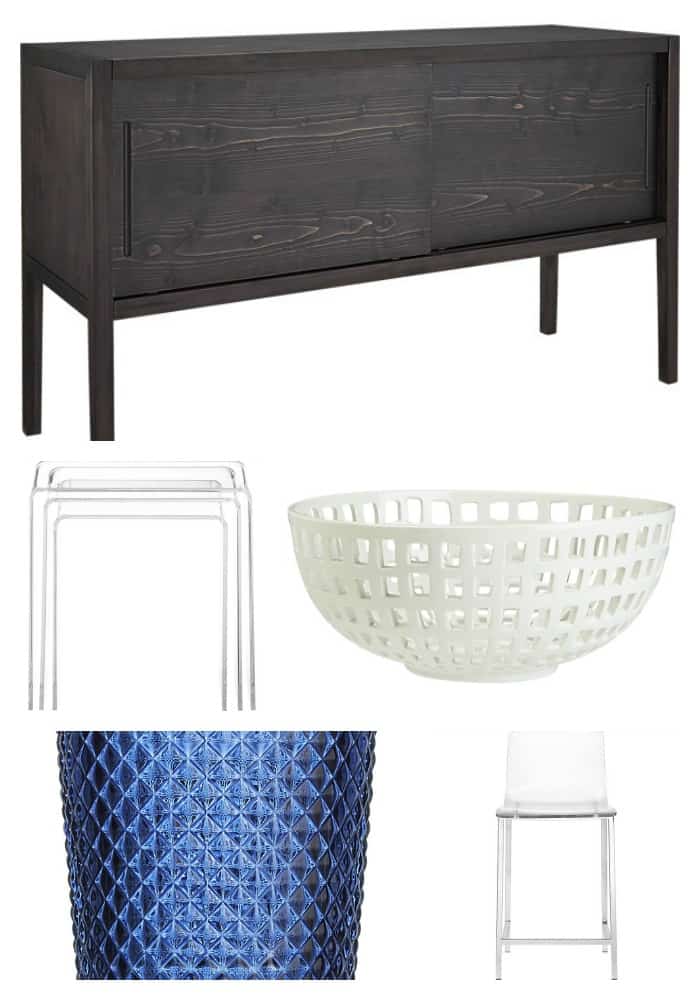 Let's start from the top and work our way clockwise.
How much do you love that Oxford Credenza?  I do and am going to drag the hubby to CB2 in hopes that it matches what is currently in our dining room.
I have a thing for accessories – and not just the type I can wear!  I really like this basket bowl – I can see it on my kitchen table with some fresh fruit to add a pop of color….we are loving clementines and they would look so great in that bowl.
Our current counter stools are really pissing me off  (sorry if I offend, but that is how mad I am at them!).  My husband HAD TO HAVE stools with arms, "because they are so much more comfy…blah blah blah".  I wanted to make sure that we got a stool with brushed nickel to match the rest of the kitchen hardware.  In comes the stools we have.  Oh wait, did I mention he said we needed 3 stools.  So, we get the three armed, brushed nickel-based stools.  You can't get into sit on the stools themselves because three is too many for the kitchen island section.  Soooooo, we take the arms off and it helps a bit.  BUT they swivel even more so now that they are armless.  I was vacuuming this afternoon, pulling the stools out to get under the island area and noticed that those stinking stools as they swivel are making INSANE marks on the cabinet doors underneath.  So aggravated.  I want these stools like now.  I'll even ask for them for my birthday.  There.
I have a thing for blue glass and double old-fashions and this gorgeous glass melds my two loves.
We do need nesting tables in the family room and these definitely would do the trick.  They are noncommittal in terms of coloring and everyone could have their own table.  Love them!
Oh wait, there was one more piece that I loved but truly have no spot for it.  It seems super functional though and I want someone to have it.  Especially someone that is short on space, this would be great when you need extra seating.
 One more and I promise I'm done…the tonic bar cart is a space-saving, eye-appealing piece for any home.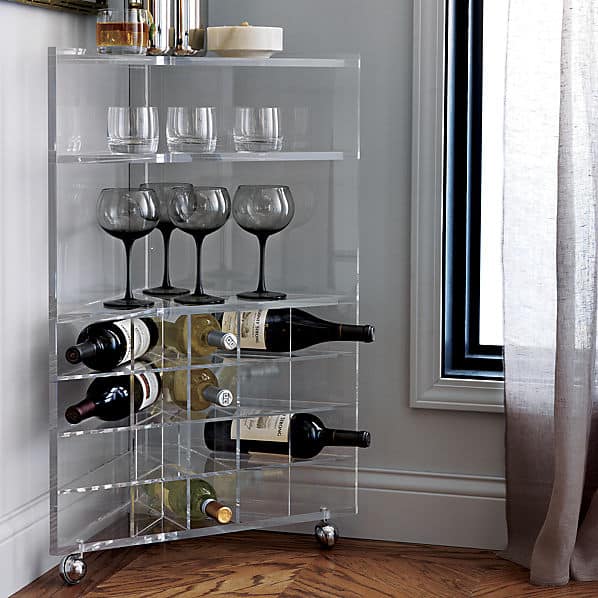 As you have probably noticed, I am a CB2 fan.  Check out all they have to offer at www.CB2.com.  Please note that I have no affiliation with them whatsoever…I admire their design and innovative use of space.