Worth Avenue in Palm Beach, Florida is one of the most iconic streets when it comes to fashion and luxury.
Although only three blocks long, it is truly a destination and not just a street with high-end boutiques.
Located between the Atlantic Ocean and the Intracoastal Waterway, Worth Avenue houses some of the most exquisite brands as well as a magnificent hotel and delicious dining options.
I recently toured Worth Ave and learned so much about the history of the area as well as the stores.
100 Block – Worth Avenue
The Colony Hotel
Opened in 1947, the Colony Hotel has hosted U.S. presidents and European royalty.  This boutique hotel is undergoing a five-year $18 million renovation including the rooms, suites, and villas.
Next summer the courtyard area will undergo a full renovation, filling the pool, adding a super cool restaurant with a 360-degree bar and so much more!
Looking for a fun evening out with your love and/or friends?  They have some great nights lined up at the CPB Lounge.
'Think and Drink Trivia' on Monday nights offers cocktails and bar bites.
'Flash Back Fridays' are super fun.  BYOV – bring your own vinyl.
'Boozy BBQ' on Sundays is a cool pool party with live music, games, specialty sips, and family-style food – grilled food, local produce, and seafood.
I hope to see you there one of these super fun nights!
Let's Go Shopping!
The first stop was the Esplanade at 150 Worth.  I stepped into Akris, Chanel, and Edward Beiner during the tour but the Esplanade also houses other renowned brands such as Gucci, Akris, Louis Vuitton, Panerai, Saks Fifth Avenue, and Neiman Marcus.
Akris
Known for its understated luxury, Akris has been around since 1922.  You won't find logos or the brand's name splattered across the garments, but rather a house is known for the amazing fabrics and embroidery.
Chanel
Next up, I popped into Chanel (and honestly didn't want to "pop-out" of it).  I learned how Chanel No. 5 came to be, as well as the fact that Madamoiselle Chanel picked No. 19 as her personal scent, keeping it to herself until shortly before she passed away.
I loved learning about why the Classic handbag was constructed the way it was (and most of the features still hold true today).  The pocket in the back was for tickets to a play or the opera (now perfect for our cell phones).  The interior has a small vertical pocket – made for Madamoiselle Chanel's lipstick.
Did you know that Chanel invented the bullet case for lipstick?
Edward Beiner
I have been wearing eyeglasses since 5th grade and although I now mainly wear contacts, I appreciate eyeglasses as an accessory as well.  I met Edward Beiner himself and learned that they are using 3D printing to create some very cool and lightweight frames!
One common thread that stuck with me was their commitment to customer care.  Clients become friends, and they are in sync with Lexus dealerships in that they offer complimentary repairs regardless of brand.
200 Block
The first stop on the second block was to Linda Gary Real Estate.  Linda Gary has been in its amazing location for over a decade.  Linda complimented on how Worth Avenue and the surrounding areas have been kept so well maintained.
Jewelmer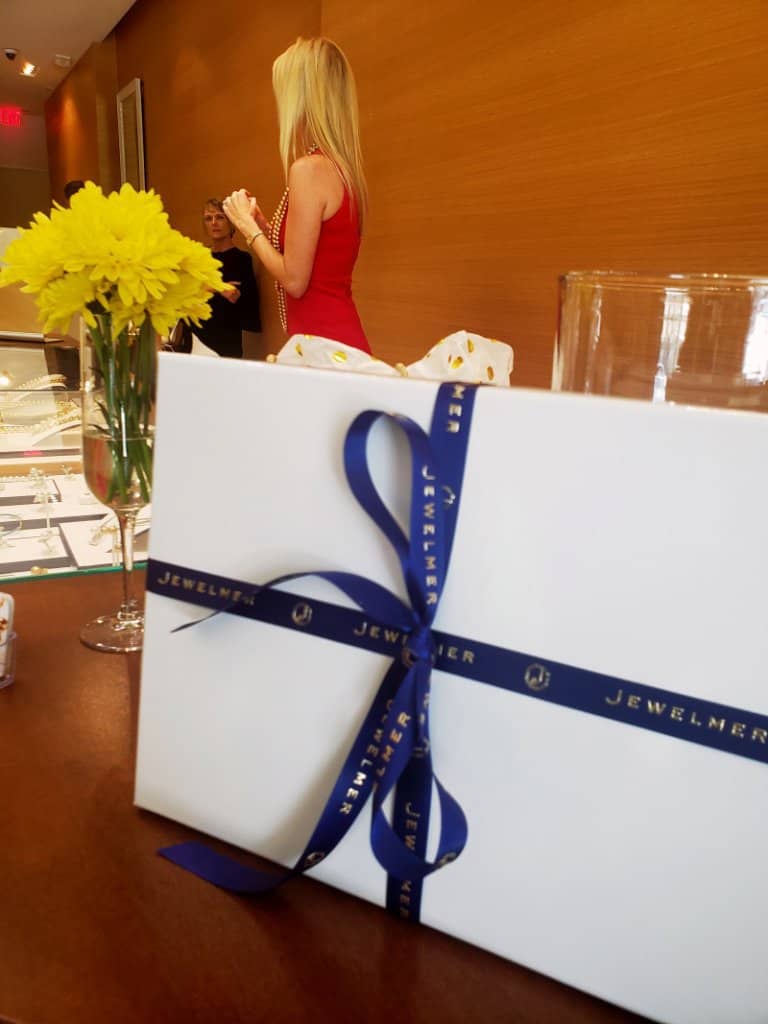 I don't think I've ever seen so many beautiful pearls – especially the golden ones – in one place! Aside from the stunning South Seas pearls, I am enamored by the company's commitment to sustainability and protecting the environment where the pearls are cultured.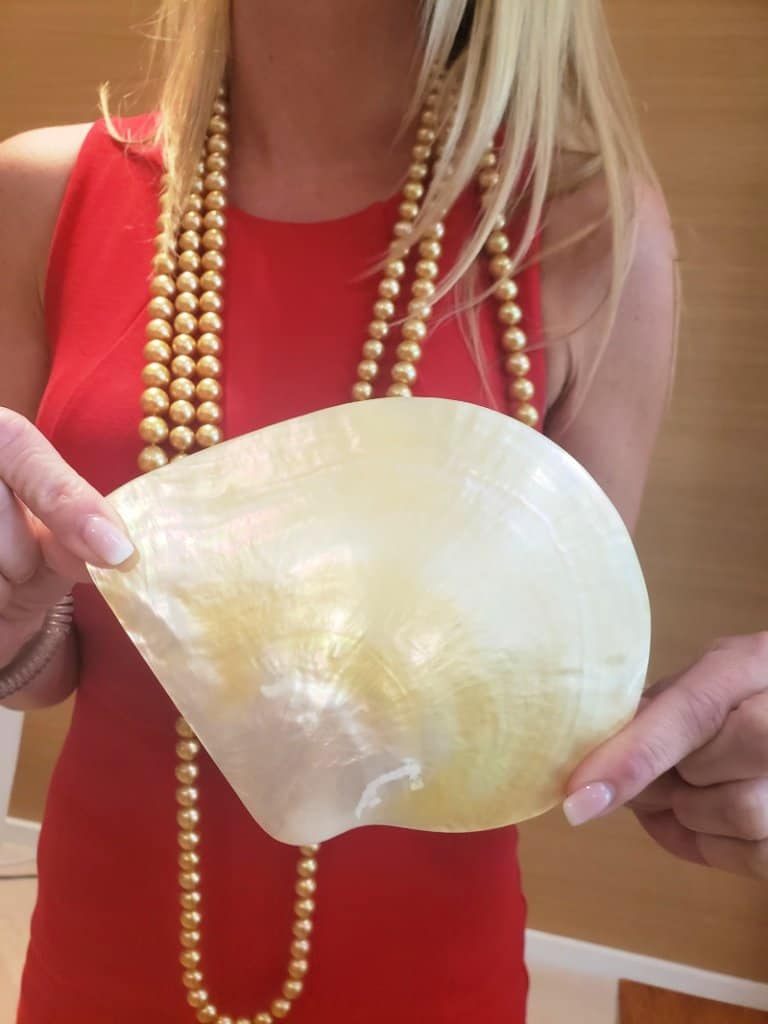 The Worth Avenue storefront is their first location in the United States.
Bottega Veneta
You see a beautifully woven leather bag and what is the first name that comes to mind?  Bottega Veneta – well, in my mind for sure!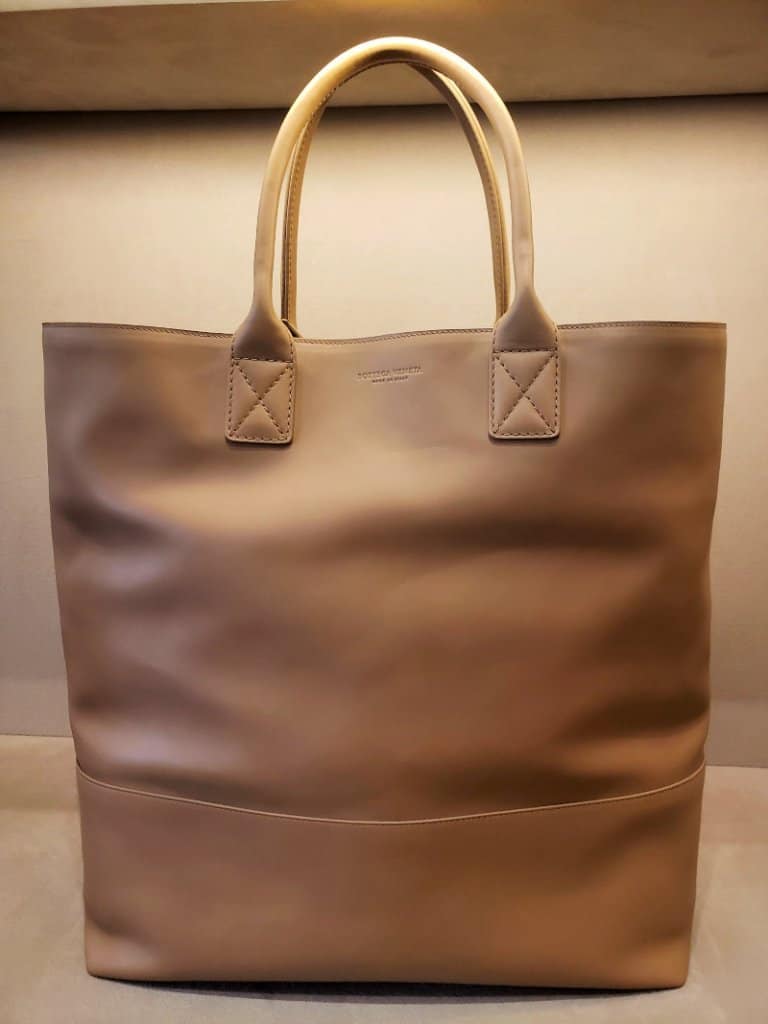 The signature Veneta bag can be spotted a mile away – and it is a true classic.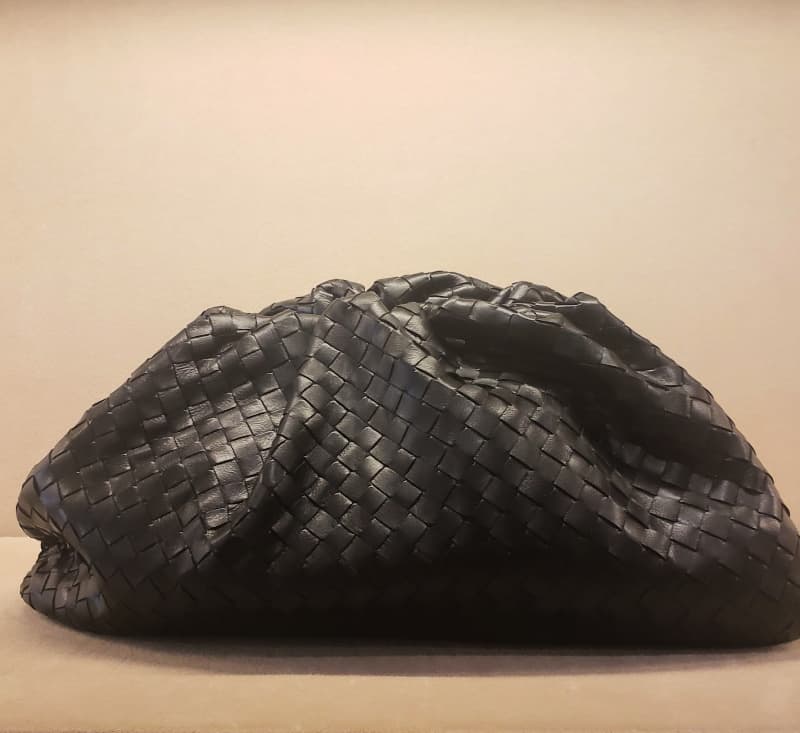 My eyes immediately went to one of their most popular, and recently restocked Pouch.  I'm a bit obsessed and hoping my birthday brings one my way.
Jimmy Choo
If you've ever watched a single episode of Sex in the City, then you must have heard of Jimmy Choo.  This coveted show brand is having an amazing summer sale right now (hurry, like FAST to the Palm Beach location and ask to see what's behind the "sale" door).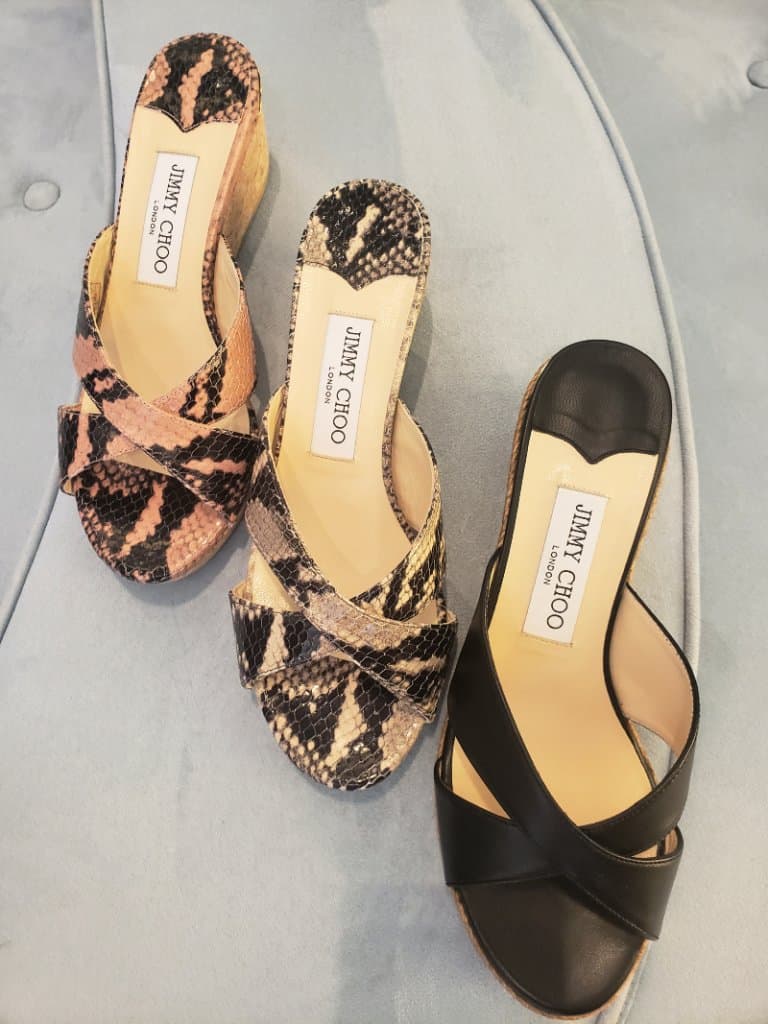 They can custom make almost any shoe in the color, leather/fabric, and heel height of your choice.  The options are endless.
Aside from the many off-site events they hold, you may find a pop-up shop here and there!  10% of all sales go back to charity.
St. John Boutique
Popular with women in their 40 – 60's +, St. John is known for their best-in-class service such as:
A consultation by appointment with one of their wardrobe specialists.
Share your style preferences and they will curate a wardrobe and deliver it to you.  You keep what you'd like and return what you don't.
Tailoring and cleaning are available.
Sherry Frankel's Melangerie
Sherry is awesome, as is her dog Dash.  Her spot is perfect for that different, personalized gift as well as some very funny tongue-in-cheek items!  Just about anything can be made to your specifications.
300 Block
120% Lino
Walking into 120% Lino, you are welcomed by a rainbow of beautiful garments.  Each piece is garment-died, meaning it is made in white linen and then individually dyed in a "color bath".
Linen is the perfect fabric for South Florida's warm temperatures…and you look fabulous at the same time!
DEA Luxury Linens
Walking into DEA is like a breath of fresh air.  I wanted to cuddle up on the freshly made bed.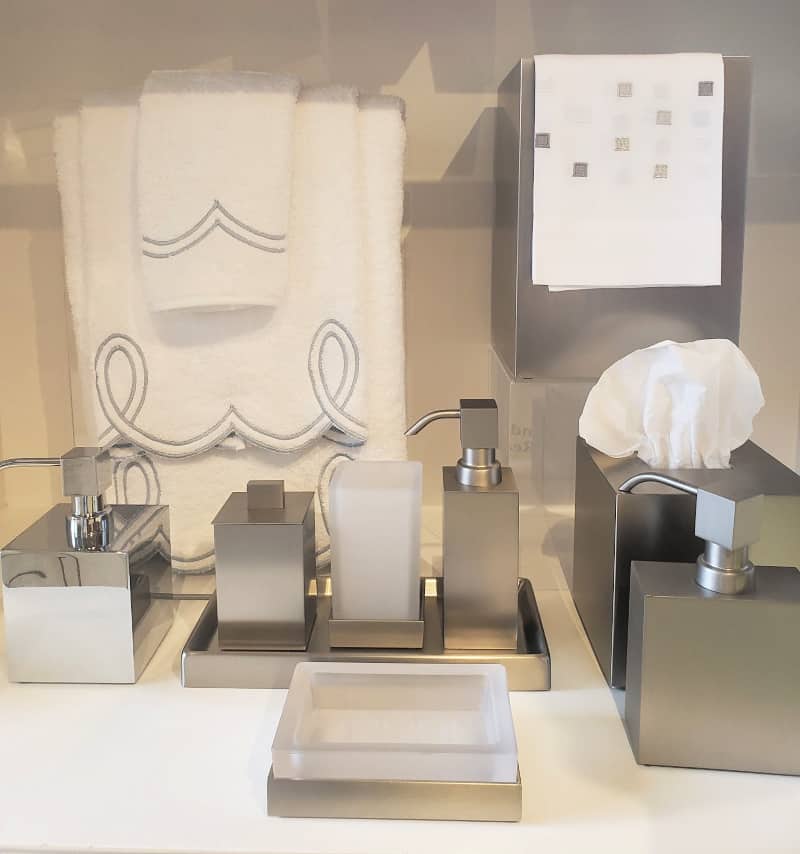 More so found at high-end retailers, DEA has some of the most beautiful bath linens, bed collections, tablecloths, napkins, accessories, and more.  You can choose your fabric, color, style, just about everything.
Stubbs & Wootton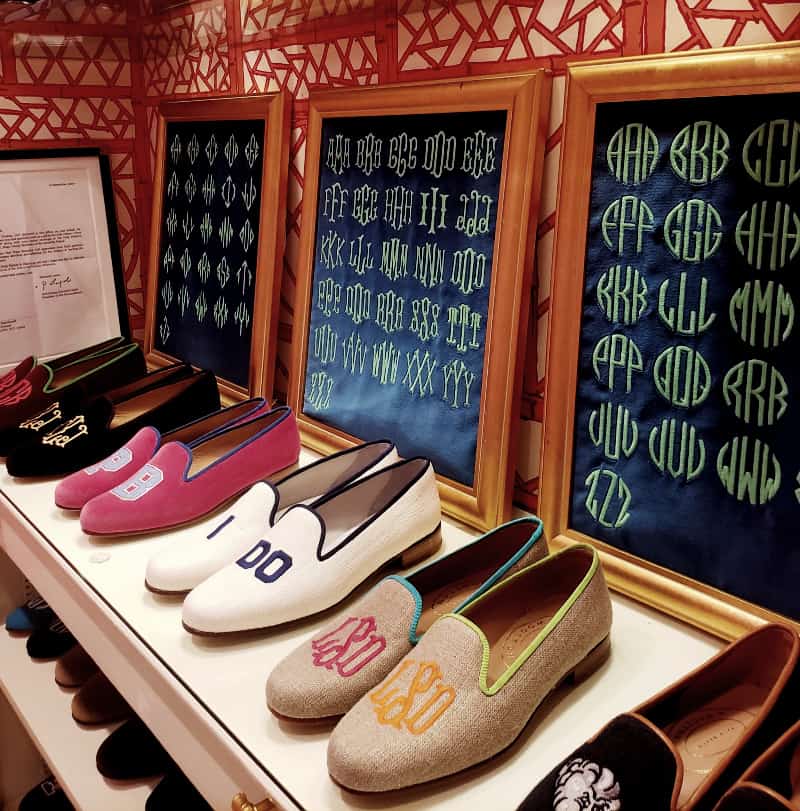 Oh-my-gorgeous shoes.  Stubbs & Wootten was launched right here in Palm Beach in 1993.  Known for making the evening slipper relevant again, their tongue-in-cheek designs are popular with every personality.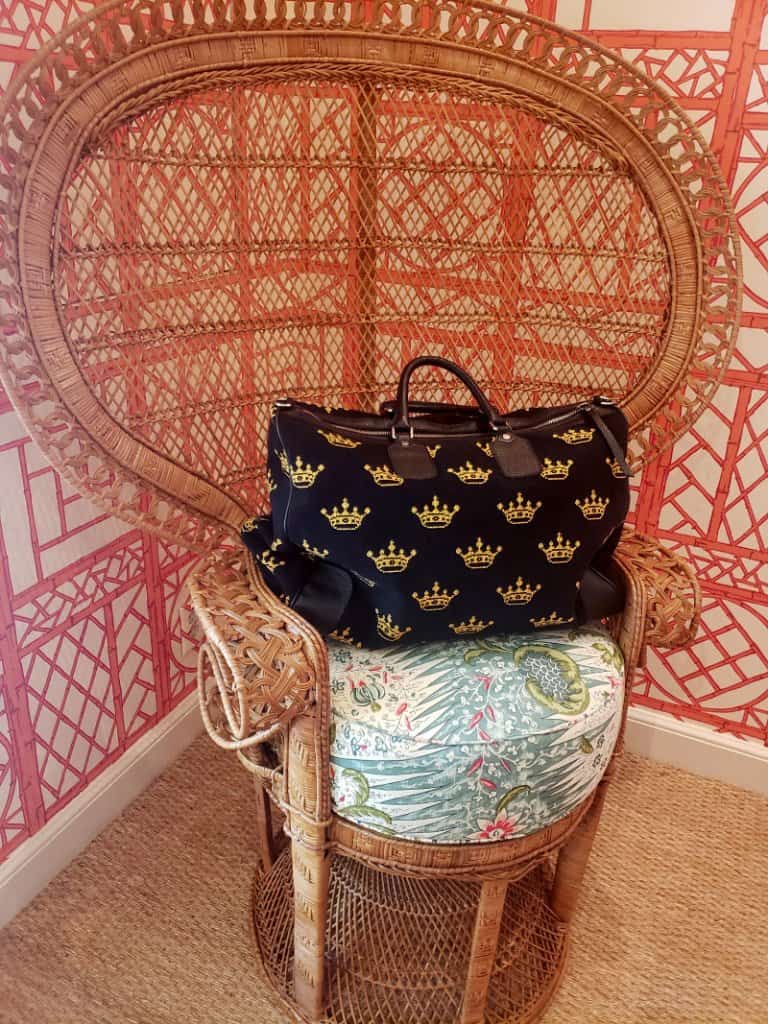 The brand name is derived from two 18th-century English artists.  Each season they collaborate with different artisans – this season being John Derian and Luke Edward Hall.
Il Papiro
I love stationary and to walk into Il Papiro was like walking into a playground.  Il Papiro started out in 1984 in the Upper East Side of Manhattan, NY, and then here in Palm Beach in 1994.
If you love beautiful paper, journals, bookbinding, and desk accessories look no further.  The hand-decorated papers are all inspired by the Tuscan tradition.
Ready to Plan Your Visit to Worth Avenue?
There are so many more stores and dining opportunities for you to discover on Worth Avenue. Peek into the many little courtyards and vine-covered walkways – there are beautiful hidden spots throughout the area!
It is most definitely "Worth the drive!