I change up my skincare routine based on the season.  Winter seems to wreak the most havoc, so I pull out some of the "big guns" to make sure my skin stays hydrated.
Below are my favorite products for this time of year.
Face
My daily routine during the winter months includes a bit more product than the other three seasons, partly due to the drier air.
Morning Routine
Micellar Water
Micellar water, also known as cleansing water, is somewhat of a new product. Each morning I apply it to my face and neck using cotton rounds. My skin has a tendency to get super dried out of traditional cleansers, so the micellar water is much gentler. My go-to is below!
Pixi Glow Tonic
I have first introduced to toner and in particular Pixi Beauty's Glow Tonic a little over a year ago. The toner is applied to my face using the same type of cotton rounds as used with the micellar water.
I couldn't believe that there would still be "stuff" on my face even after cleansing. The Glow Tonic gives me that extra clean feeling and tightens my skin.
My big guy uses wipes every morning – I love it!
Eye cream
The skin around your eyes is very delicate and thin, so it's super important to find a cream that is both sensitive and moisturizing. My all-time favorite is the Full Circle Day Formula by Circadia.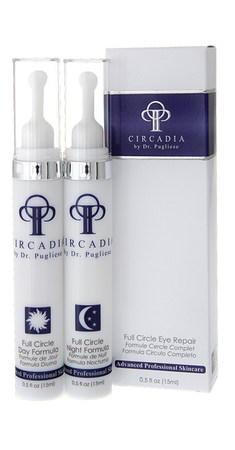 Serum
Before I apply moisturizer, I make sure I apply my Circadia Vitamin C Reversal Serum. You only need a few drops to help tighten your skin and promote collagen creation.
Moisturizer with Sunscreen
I cannot profess enough the importance of sunscreen. It doesn't matter if it is sunny or cloudy out if you're going to be outdoors for ten minutes or ten hours.
You NEED to apply sunscreen.
AND, you need to reapply sunscreen throughout the day.
I visit my dermatologist annually for a thorough skin check. This past time she discussed an interesting fact. Even though when we drive, we have glass windows between us and the sun, the rays still penetrate through. Ever notice that the left side of your face has a bit more color and or/darker spots than the right?
Right now I am switching back and forth between a few moisturizers. My most-used ones are:
Nighttime Routine
Face wash
I am obsessed with the Circadia Micro-Exfoliating Honey cleanser. Aside from the heavenly scent, my skin feels amazing afterward.
I go back and forth between the honey exfoliator and the Cleansing Gel with Salicylic Acid.
Serum
Kiehl's Midnight recovery serum has been my go-to for the past two years.
Eye Cream
I opt for the Circadia Full Circle Night Formula or the Kiehl's Midnight Recovery eye cream as part of my nighttime routine.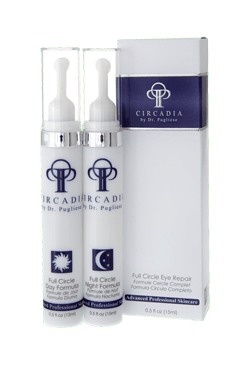 Night Cream
I am officially obsessed with the Circadia Night Time Repair cream. It is heavy enough to quench my skin, but not too heavy as to clog my pores. I also love the scent!
Lash Boost
Rodan & Field's Last Boost is the last step in my nighttime routine. I saw initial results after about four weeks of nightly use, and love it! I only have to apply one coat of mascara in the AM to look bright-eyed and bushy-tailed.
Body
My skin gets DRY. I try to drink a lot of water throughout the day, but the products you use can definitely make a difference.
Body Wash and Scrub
I'm all about the Dove body wash, but also switch off with a body scrub to help exfoliate – removing the dry skin is key! When I use a cream body wash I do use an exfoliating washcloth. Every little bit counts.
Body Lotion
My new favorite body lotions are either the body butter from Trader Joe's or this new one that I received from Anthropologie. I am loving the Coconut scented version, but there is a handful to choose from.
Hair
Shampoo and Conditioner
I read somewhere that you should switch off between shampoo and conditioners, so I keep two different ones each in my shower.
L'Oreal EverStrong has done wonders for my thin hair. My stylist even noticed a difference in strength and thickness. This will forever be in my shower!
I swap between the L'Oreal and Kevin Murphy's RePair series – shampoo, rinse, and leave-in product.
Hair Masks
Yes, there is a product called a hair mask! Your hair, just like your skin, is exposed to the elements and needs a little TLC.
Once a week I use one of the masks below. I shampoo and condition my hair, then slap on the mask and do the rest of my shower-related items.
Your hair will thank you!
What's Next?
I hope these recommendations help during the cold winter months. What products do you swear by? I'd love to know!