Unique holiday gifts are what I aim for whenever I need to purchase a gift.
It is so rewarding to find products that are different than the usual. Practical items, stunning items, outright super cool items. You get the idea.
I am all about practicality and meaning when it comes to shopping for my friends and family. It isn't fulfilling to buy something just to buy it. The gift has to have some form of meaning, be it something the recipient mentioned needing/wanting, something I felt would help them in some way or another to better themselves.
Check out my unique holiday gifts guide – I hope I've helped you with your gift shopping!
I was introduced to the Tracer360 Visibility Vest and immediately thought of three people on my holiday gift list that would love one.
This visibility vest isn't like the traditional ones out there. (I'm not knocking the traditional vests, as I think they are super important to use if you decide to exercise outdoors in the dark.)
This vest, though, is so cool. It is one of the most innovative and effective high visibility safety vests available. The all-season/rain-proof design is ultra-comfortable, incredibly durable and adjustable to be worn over a t-shirt or your favorite cycling or running jacket. Perfect for night running, early morning bike commutes and everything in between. A headlamp or running light can't provide the type of eye-catching, 360° illumination of the Tracer360. Even the best reflectivity, on your running shoes to your high viz jacket, is only effective in the path of headlights.
The Tracer360's unique, multi-color illumination modes are based on visual science and tailored to catch the attention of today's smart phone-distracted drivers. The vest uses two powerful, efficient CREE LEDs. The five dynamic illumination modes are software-controlled and combine flash, strobe and blink modulation across a variety of colors dramatically increasing visibility and safety. Also the Tracer360 includes six solid colors.

Be ready to hit the road for your next nighttime run or evening bike ride in this powerfully illuminated and 3M reflective vest.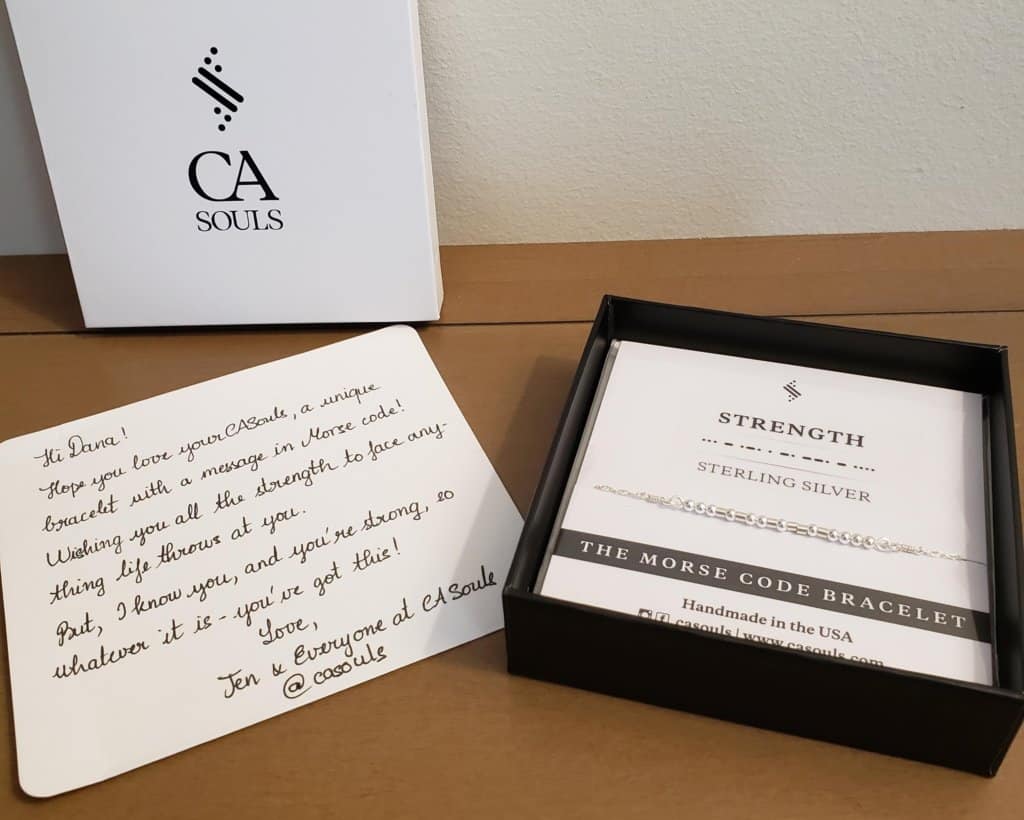 A friend introduced me to the CA Souls jewelry line and I happily checked a few gifts off my list! The line of handmade morse code necklaces, bracelets, and earrings are such a creative way to express what the recipient means to you.
All you have to do is choose the style of necklace, bracelet, or earrings and then enter your custom message. It immediately is translated into morse code, which I think is really cool.
You can also choose from their already-designed morse code messages. Shipping is FREE, and if you submit your email address to them, you will receive 10% off your first order.
This idea is perfect for the eco-conscious gift recipient on your list! Lotus Trolley Bags are very cool. They are great for just about anyone that shops (which is just about everyone). The supermarket is not my most favorite place to shop, but when I go, I like to be as organized as possible.
The Lotus shopping cart bags are GREAT! I velcro the bags to the cart handle, do my shopping and once I am checking out, I start the organization process.
Each bag is allocated for a specific type of food. Fruit and veggies go in the blue bag, frozen food go in the insulated turquoise bag, and eggs and wine go in the purple bag.
The poles are removable, allowing for me to pop them in the washing machine when they get yucky. At $39.99, the trolley bags are the gift that keeps giving.
I also love the produce bags! No more plastic bags floating around the house. (YAY!) The reusable produce bags are great for stocking stuffers (and are on sale for $16.95 and free shipping if you are an Amazon PRIME member!). They are washable and reusable.
I love to snack, and my favorite snack is popcorn. When I saw that there was a way to make popcorn in the microwave without worrying about the harmful chemicals that are in the commercial microwavable bags, I had to spread the word! Popping popcorn super fast, and in a healthy way is definitely on my list as a unique gift idea!
The Popper is dishwasher safe, BPA free and FDA/LFGB approved. You don't need oil – just add 5 tablespoons of kernels in the popper, cover and microwave for 2-4 minutes. I found this at The Grand Tour, a boutique filled with vintage and contemporary finds right here in Palm Beach!
You can find a gift for just about everyone on your list at The Grand Tour. Visit the boutique or shop online from the comfort of your couch. Stay tuned to Pellerini for some more fun gift ideas from The Grand Tour!
Address: 340 Royal Poinciana Way, Palm Beach, FL 33480
Phone: 561.660.7885 and follow along on Instagram!
This next gift idea is unique, yet practical for just about anyone on your gift list. I was first introduced to Aura Frames via my favorite podcast, Mob Queens. The concept piqued my interest so I headed to the interwebs to learn more.
The inventors behind Aura Frames believe in the power of memories to help us connect with the people who matter most. There are two ways you can share memories with someone you love
Purchase one of the Aura super stylish frames and have the ability to change the photos at a moment's notice. All you need is the easy-to-use app! There is no limit to the number of photos you can upload to the frame.
Each state-of-the-art frame automatically corrects the photo color and light balance. Resolution is amazing as well.
Aura Analog is the traditional version of the digital gift that keeps on giving. All you need to do is gift a frame, and then choose 5 photos to send to the recipient each month for only $7.99/month.
First he or she will receive the frame with a note along with five photos. Each month they will receive five 5″ x 7″ photos to add to their frame.
I think both options are perfect for parents and grandparents! (Don't tell my parents that this may be under the tree for them.)
Don't forget to check out my Holiday Gift Guide for Kids for some great gift options.
Stay tuned as I am going to update this gift guide as I find fitting items to share with you!