* We were hosted for this event, but all opinions are 100% my own!
I have been to Orlando more times than I can count.  A short 2.5 hour car ride brings us to a magical place, none other than Disney World's four amazing parks.  The days and nights are filled with thrilling rides, Mickey ice cream bars, super cool shows, popcorn (I collect the buckets from the parks), and dozens upon dozens of memories.  I become a child again when I walk through the park entrances.
BUT – what about the nights that you aren't at the park?  You're on vacation and looking for somewhere different – somewhere you can find amazing food, craft cocktails, and entertainment.  Enter Disney Springs!
Disney Springs By Day
I've been to Disney Springs during the day a lot.  It's so much fun to browse (and shop) in the themed store, jump on the carousel for a quick swing around, and grab a delicious lunch.
The first time I visited we went for lunch at Morimoto after a conference and then strolled around checking out all of the stores.  I am a big Zara fan, and that two-story store is gorgeous!
This last time I visited, I went at night.  Why did I wait so long to do this?!
Maria & Enzo's
The dining options are endless.  We were invited to dine at Maria and Enzo's – what a treat!  I have to say I fell in love with the story of Maria and Enzo – two Italian immigrants who met briefly at a party in Rome, fell in love, but didn't meet again until they both were in Florida.  Maria, a baker, and Enzo, a pilot, decided to open a trio of restaurants over time:
Pizza Ponte – serving pizza, pasta, and pastries
Maria and Enzo's Ristorante – a bit more formal restaurant serving dishes from Southern Italy and Sicily
Enzo's Hideaway – a secret hideaway serving unique Roman-influenced cuisine and amazing libations
Our dinner was nothing but delicious!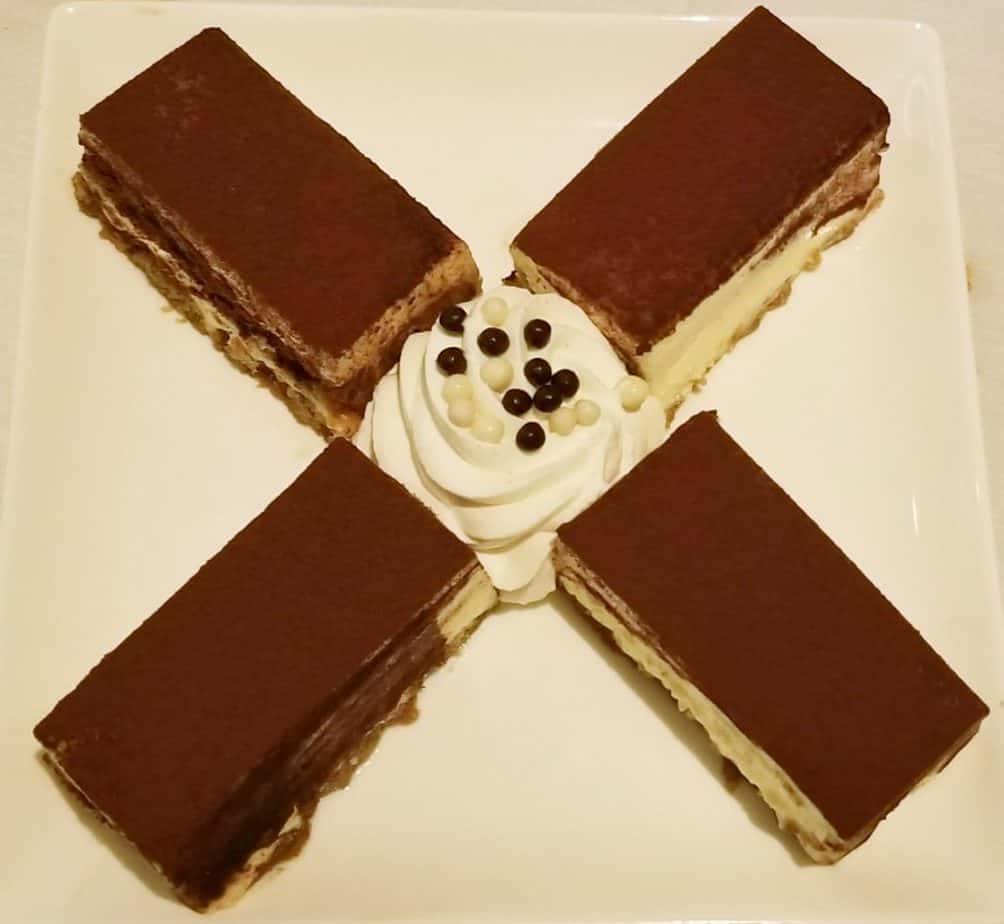 Late Night Disney Springs
After dinner, we headed out to check out some of the hotspots that are part of Late Night Disney Springs.  It was hard to choose which one to visit first!  Every Thursday, Friday, and Saturday the venues below stay open until 2 am, offering special late night menus filled with crafty beverages and delicious bites.
The Edison
The newest addition to Late Night, The Edison, was our first stop.  I didn't want to leave.  I could see myself here every weekend between the super cool atmosphere paired with the fabulous craft cocktails and entertainment.  I felt as if it was a mix between a speakeasy with the flapper girls and a modern nightclub with the aerialists and DJ.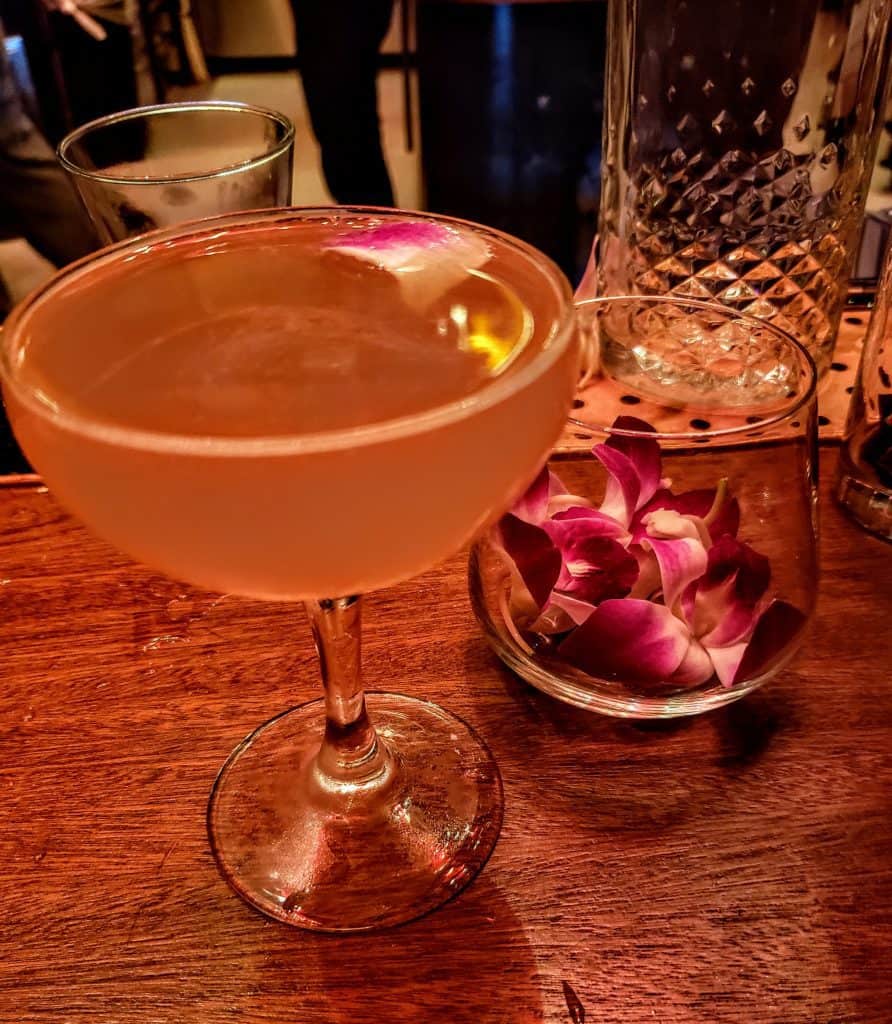 STK
We've dined at STK in Las Vegas so we were familiar with their modern steakhouse feel and high-end cuisine.  It was recommended that I try the Cucumber Stiletto cocktail (very thankful of that!) and was then given a tour of the rooftop patio.  What a view!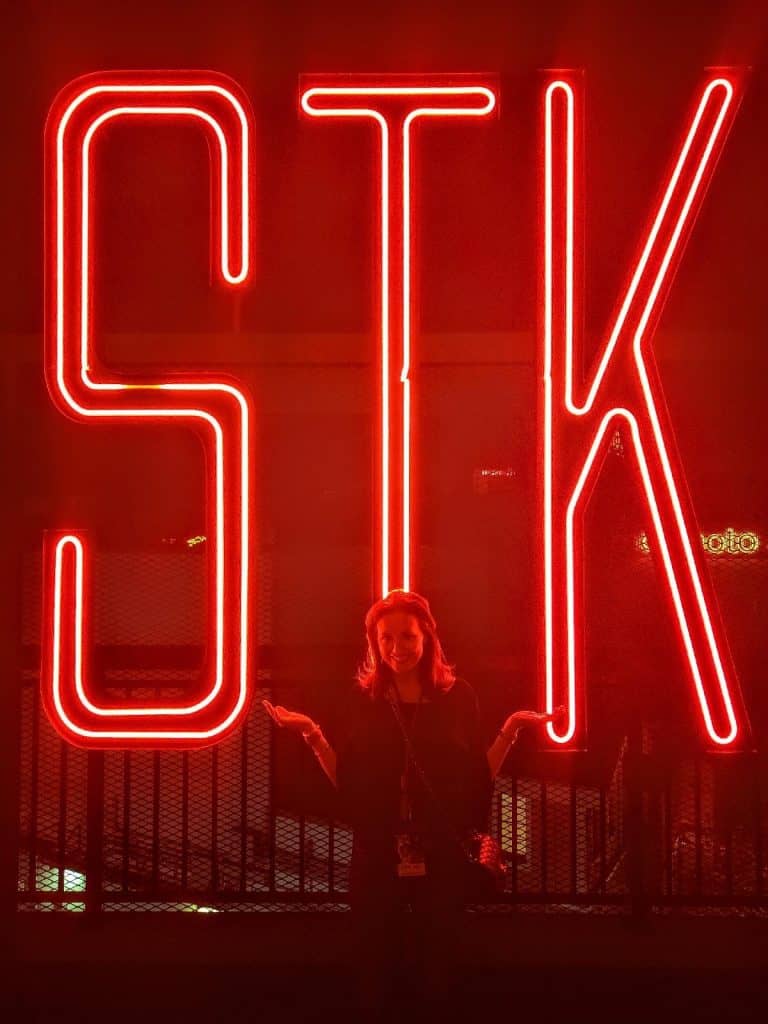 Enzo's Hideaway
You feel as if you are walking into a secret hideaway when you enter Enzo's Hideaway.  The decor is of a speakeasy, the live music was amazing (the sound of the electric violin/fiddle was so cool) and the drinks were on point!
Jock Lindsey's Hanger Bar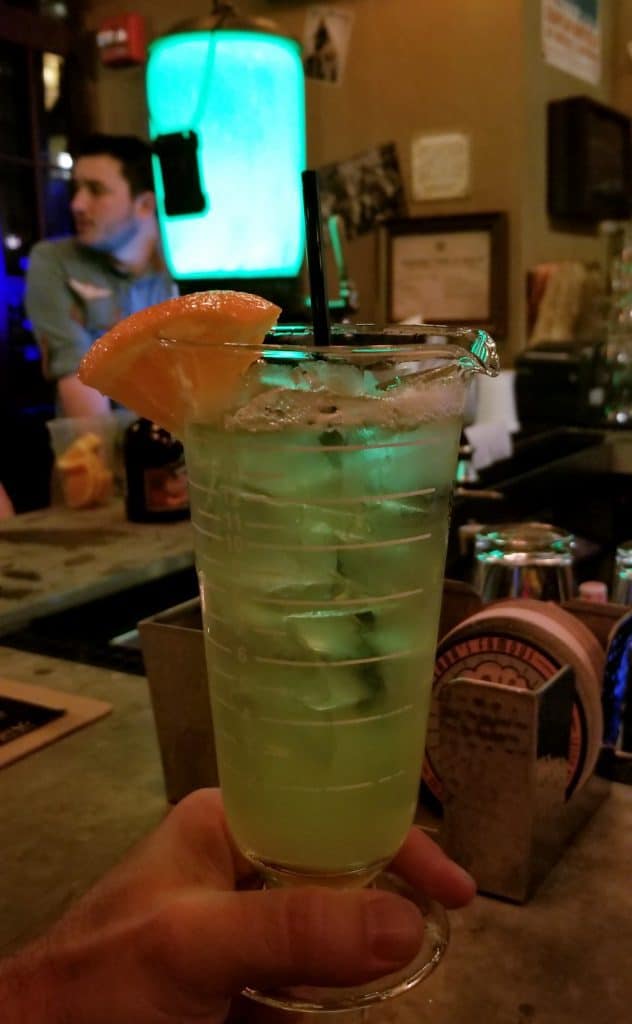 Of all of the venues we visited that night, Jock Lindsey's had the most interesting bartenders.  They were filled with cool facts about the history behind the bar as well as drink options.  I stuck with a glass of Meomi (one of my favorite pinot noirs) while the hubby tested the waters with Reggie's Revenge.
Morimoto's Forbidden Lounge
Our last stop was to Morimoto Asia's Forbidden Lounge – and what a way to end the night!  We opted for the spicy tuna roll, crispy wontons, shrimp tempura roll, AND their amazing ribs.  Everything was delicious, but those ribs stand out above the rest!
After Pleasure Island closed, I didn't think of Downtown Disney – now Disney Springs – as a nighttime hotspot.  This past weekend has most definitely proven me wrong.  Since I've been home, I don't think I've stopped telling family and friends about how cool Late Night Disney Springs is!
I can't wait to plan my next Orlando vacation, making sure that Disney Springs is on the itinerary!