I can't believe it is September already – Labor Day is this weekend!  Where has Summer gone?!  You know what also flies by?  My boys' birthdays.  I can't believe that my youngest, my baby, turned 8 years old 2 weeks ago.
Pregnancy Memories
I loved being pregnant.  With my oldest son, weeks 8 through 11 weren't "ideal" as I was super tired and slightly nauseous, but once 2nd trimester came around, I was good as gold!  I started to show a bit more at this point so I didn't just look like this person who could be pregnant, or possibly was just a bit round.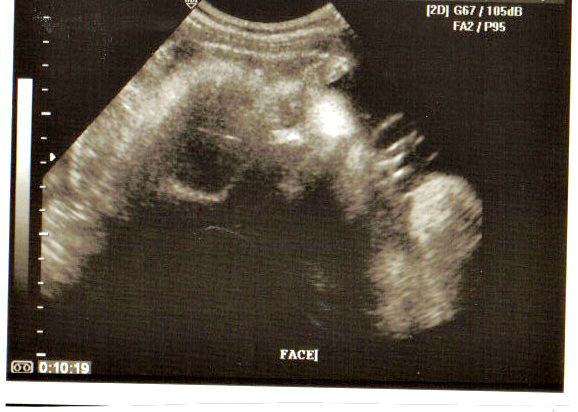 3rd semester was textbook, aside from the diagnosis of gestational diabetes.  Thankfully I was able to maintain my sugar levels by watching my food intake.  The doctor was concerned that the baby may grow to be too big, so my doctor appointments increased and I had to check my sugar 3x a day.  Being the Type A person that I am, I even graphed my sugar levels to make it easier to see my levels (and if I spiked after cheating with some white rice or cookies).
Progression
At 37 weeks, I went to the doctor for my usual check up and ultrasound to make sure everything was moving along as expected.  Well, it seemed that my little peanut decided to flip from being head first to breech – something we found interesting especially because there was hardly any room left in there.  Aside from this change, my amniotic fluid was super low.  I had to call my husband and tell him to please pack a bag for me as I was going to spend the night in the hospital on IV to hopefully replenish the fluids, and if that didn't work I was going to have a baby the next day.
My pregnancy plans changed drastically.  The probability that the baby would turn back around was slim to none, especially considering he was in such an odd breech position.  Picture a baby sitting down, head up with his knees bent, just hanging out. That was my baby. I was scared but knew I was in good hands at the hospital.
My night nurse had mentioned that she had just taught a birthing class and one person didn't attend.  Coincidentally that was me.  I had a good excuse!  She kept coming in throughout the night asking if I felt the contractions that registered. I didn't feel a thing.  Thankfully in the AM I was cleared to go home, with a side comment from her that she wouldn't be surprised if she saw me within the week.
The Big Day
Fast forward exactly one week.  I am at work, wearing a pair of my favorite Liz Lange seersucker pants and white cotton 3/4 sleeve top (look at me remembering that!).  The day went along as usual and at about 4:5oish as I was getting ready to go home, I felt a swoosh.  Did I just pee in my pants?! I went to the bathroom, and confirmed – I either peed in my pants or my water just broke.
After returning to my desk rather quickly,  I wrapped a cardigan around my waist, packed up my laptop and said good night to my boss.  I got into my car and immediately called the doctor, explaining what happened.  I was told to meet him at the hospital and confirm what actually occurred.  I mentioned that I was at the office and asked if it was OK for me to drive myself to the hospital.  He said it shouldn't be a problem, so I hung up with him and called my husband and parents.  My husband left work right away and my mom, since she and my dad were nearby, decided that she would drive with me to the hospital.  On the way to meet my parents, my coworker called me just to tell me that she happened to be driving home in front of me, so I told her what was going on.  At a red light, she jumped out of her car and gave me a towel to sit on while driving – if I laughed or the baby moved, I "swooshed".
The caravan worked its way up to the hospital.  I was in the lead, with my dad's and then my husband's car, right behind each other.  At the hospital, we worked our way up to the Labor and Delivery ward where I signed in and they assigned me a room.  My doctor was waiting, wondering what took me so long.  Um, my office was 40 minutes from the hospital.  Apparently he didn't know that!
Once I was in the fabulous hospital gown and strapped to beeping machines, the doctor did an ultrasound to see if the baby might have moved, but that wasn't the case.  The C-section was scheduled for 8:00 pm.  I couldn't believe that about 3 hours before I was working quietly in my office and now I am going to have a baby. A BABY!
When it was time for me to go into the Operating Room, the nurse told me to hop on off the bed and walk with her.  I really thought that was odd…I have to walk myself into the operating room?  Yep, and I had to hoist my pregnant butt up onto the OR table once I got there.  (I made sure to close the back flap of my hospital gown so as not to flash people on the way.)
The whole delivery was surreal.  The epidural wasn't my favorite part but once that was taken care of, they laid me down and my  husband came in.
I couldn't believe it.  In a few short minutes, I was going to be holding my baby – the being that grew inside my belly.  I remember the doctors talking about the latest books they read while working on bringing my son into the world.
I heard, "8-13" and asked what that meant.  That apparently was the time he was born! Weighing in at 6 lb. 9 oz, my beautiful baby boy arrived.  My husband left the OR along with the baby while the nurses got me ready to go back into my room.
I remember laying there listening to the latest hospital gossip – what doctor is a jerk, what they were doing that week, etc. – when I saw a leg in the air.  That was my leg!  I started cracking up because of course I didn't feel my leg go on the air.  Epidurals can do that to you.
Back in the room, I was greeted by my husband, parents, mother-in-law, and the most amazing, adorable little man I could ever meet!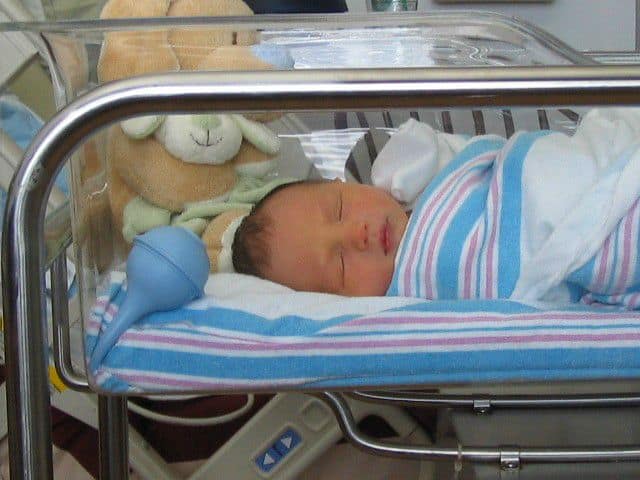 The nurse from the week prior was right – I did deliver within the week.  As I sat there that night, holding this tiny being that was housed inside me for 9 months, all I could do was smile and be eternally thankful for my Labor Day.