May has come and gone, as has the 2016-2017 school year!  I can't believe summer break is here and am so excited to make some fun memories with the family in the next few months.  In the meantime, check out my May product review roundup!
RIMMEL LONDON
When the Rimmel box o' goodies arrived, I didn't know which product to try first!  They packed it with:
Colour Precise Eyeliner – the black is a staple, the blue is a beautiful shade and the white I have yet to try (but will!)
Scandaleyes Mascara – my new fave!  Who needs to spend a fortune when you can purchase this mascara for a fraction of the price and it does the same as the department store brands?!
Moisture Renew Lipstick – the color goes on smooth and even has a little glimmer to them!  I didn't find them super pigmented.
Brow This Way Gel – Another new favorite, this gel is great to tint and keep my eyebrows in line!
#Insta Fix & Matte Setting Powder – I actually used this as a primer and noticed the difference in the longevity of my face makeup!
SOAP & GLORY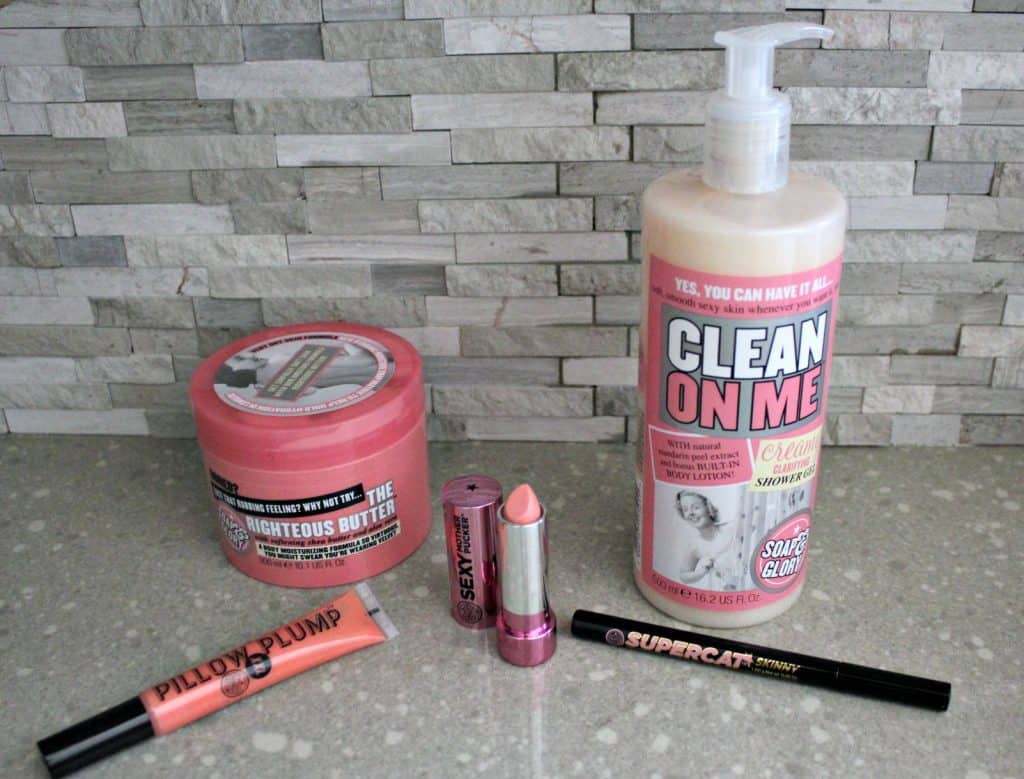 I'd see this brand while perusing Target and was super excited when they were kind enough to send me a box of goodies to try out!  Clean on Me is now my go-to shower gel because it's super moisturizing and smells yummy!  The Supercat Skinny eyeliner has helped me to create flawless cat eyes.  If I had to pick a favorite from the bunch, it has to be the Sexy Mother Pucker Pillow Plump lipgloss.  A few seconds after applied, you feel a tingle and it's almost as if your lips are plumping right before your eyes.  It has a nice shimmer to it too!
IT COSMETICS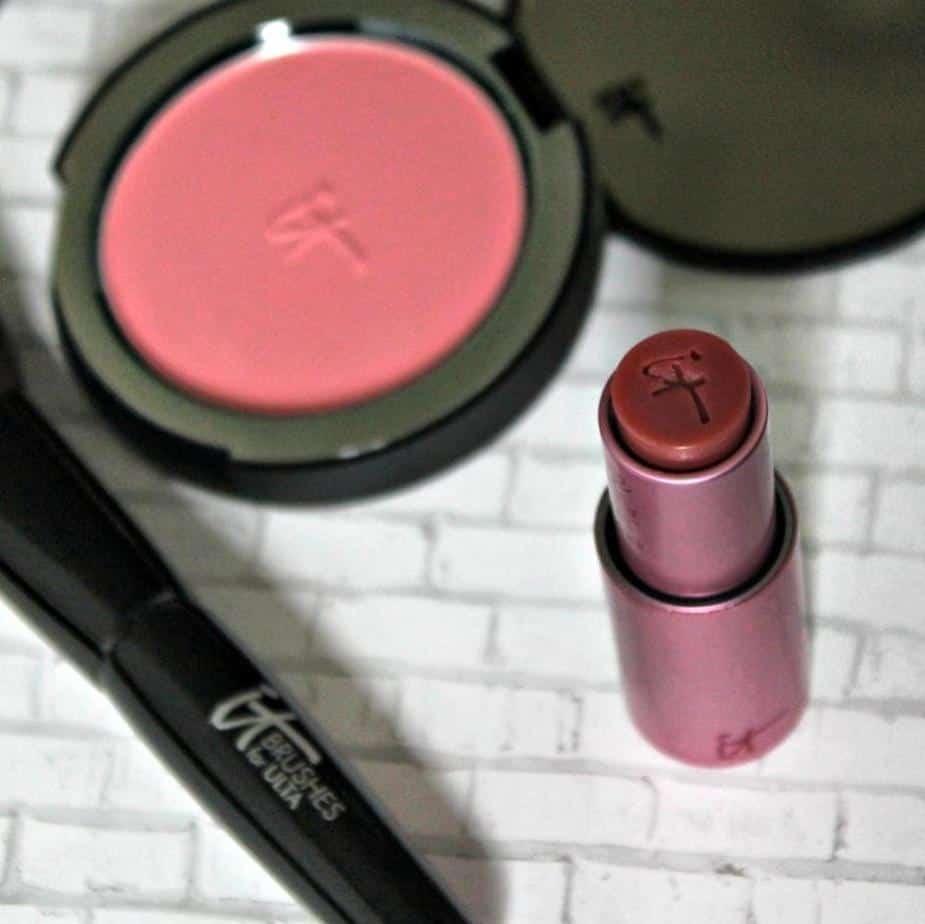 I've been a huge fan of it Cosmetics for a few years now.  Their Bye Bye Undereye has been a staple in my makeup drawer – it's creamy and light, yet thick enough to cover really well!  I've heard a lot about the quality of their brushes and was happy to have the opportunity to try them out, along with their Bye Bye Pores blush which garnered compliments on how well my skin looked!
The brushes are very soft and seem to hold the product and help apply a smooth layer, whether it is eyeshadow or blush.  The je ne sais quoi lip treatment made my lips super soft with a hint of color.
MY MAKEUP BRUSH SET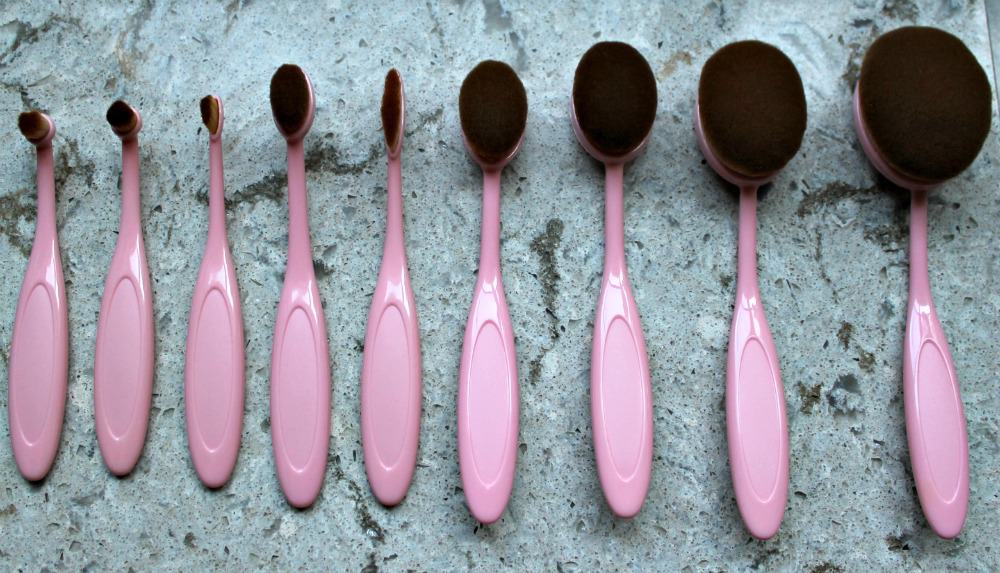 I was very intrigued by these brushes.  I've never seen makeup brushes in this shape – and as soft!  Each brush, believe it or not, has a different utility.  They are on sale now for $29.99 – and there are many other styles if you check out the site!
Get yours at mymakeupbrushset.com.
VEG'D ORGANICS KETCHUP
Looking for a creative way to get some veggies into your kids' meals?  I was sent a bottle of Veg'd Organics Veggie Ketchup which is loaded with sweet potatoes, tomatoes, butternut squash, carrots and beets.  To be honest, I was a bit hesitant to have my kids try it out.  Would they know that it wasn't their usual Heinz?
I put it to the test with a turkey burger and tater tot lunch and…they loved it!  I tried it as well and it tastes so similar to their beloved Heinz but with half the sugar and calories.  Highly recommended and easy to purchase too! At only $4.50 per bottle (less if you buy more than one bottle), it is so worth it as well!
May Product Review Roundup
I love receiving new products to review and spread the word – good or bad.  If you have any recommendations for products you'd think I would like, please feel free to comment below!
Check out last month's product review roundup to see some April faves!