'Tis the season for giving and thinking of others.  
The quintessential holiday image that comes to mind is of a family gathered together, celebrating with food and gifts, reminiscing of holidays gone past and of ones in the future.  But what if your child or young family member finds themselves hospitalized during this customarily cheerful time?
It's not necessarily something that immediately comes to mind, but unfortunately happens.  The Child Life program at the Palm Beach Children's Hospital at St. Mary's Medical Center in West Palm Beach makes sure that each and every child spending their holidays at the medical center has the opportunity to feel and partake in the holiday joy, even if they are not at home with their families.  
I was thankful to interview Lisa Barron, Pediatric Office Supervisor at Palm Beach Children's Hospital at St. Mary's Medical Center to learn more about what the wonderful souls of the Child Life program do to make the holidays extra special.  
Meet Lisa Barron!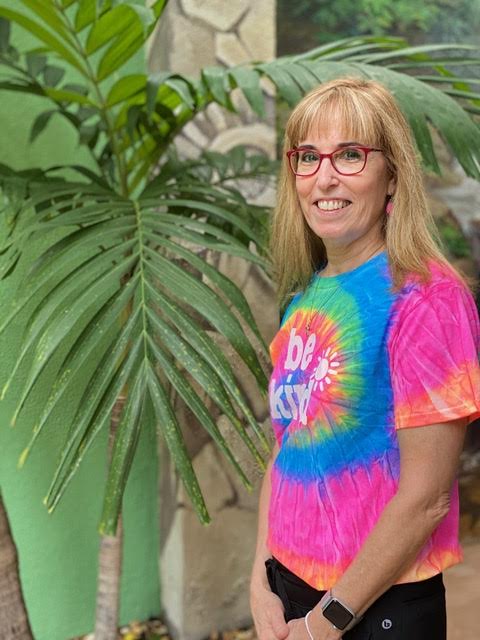 Tell us a little bit about yourself and how you landed at The Palm Beach Children's Hospital at St. Mary's Medical Center?
Many different life experiences have foreshadowed my role as Pediatric Office Supervisor in the Child Life Dept at PBCH. By education I am a Medical Technologist with 2 National Certifications, but I left that field when my children were born. I was a part-time preschool teacher for 10 yrs here in Florida and then worked as a substitute teacher in middle & high school classrooms in Texas. When I returned to Florida, I managed a Real Estate office. So, working in a hospital, working with children, working in Management all came together for my amazing job here at the hospital. My husband and I have been together many, many years and we have 2 adult children.
What is your favorite part of your job?
Since most people will agree with me that I have the best job in the hospital, I will just have to relay all of my favorite parts, and they are all related to connecting with people.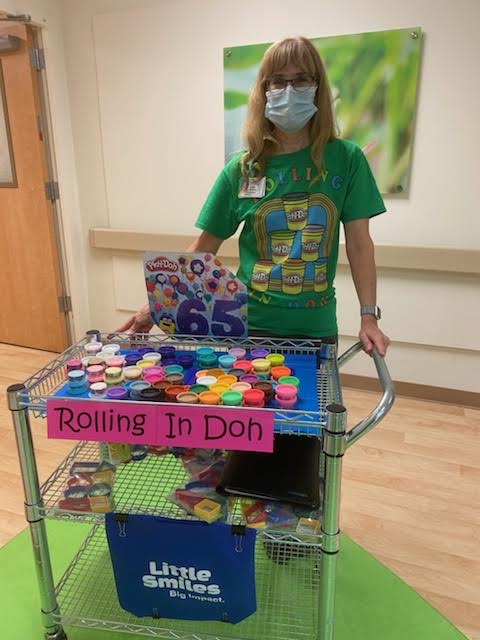 Our community is very generous when it comes to supporting children, so I get to interact with donors on a daily basis to provide gifts, toys, and financial support to help create a positive hospital experience for our children, from newborn to teens and families. I love having the opportunity to brainstorm with donors on how their donation ideas will work best for hospitalized children and make the best use of their resources. Especially during the Covid pandemic experience I have had donors that are making a difference by providing financial support for many needs but also food – when only 1 parent could be at the bedside, they didn't want to leave to go and get food. So I have been able to deliver pizza, subs, Chick Fil'A, Wendy's, etc, room to room for everybody, staff included! Bringing the community into the hospital to provide activities and spend time with patients; delivering gifts room to room; and volunteering for the many parties I plan & execute are tops on my list for rewarding workdays. I really get to see the best of the "givers" in our community and the kindness and thoughtfulness for our children. (And of course, smiling children and grateful parents.)
What is the Child Life program?
Our Child Life department is dedicated to helping children and families master life's challenges and reduce the amount of trauma associated with a hospital stay.
Our Certified Child Life Specialists are experts in Child Development with Bachelor's and/or Master's degrees and use their education as advocates, educators, emotional supporters: to meet our patients at their developmental and age appropriate levels. They focus on fostering an environment within the interdisciplinary team that incorporates emotional, social and psychological support. Listening to patients and families to advocate needs and identify and encourage strengths within the child. A calming presence in a whirlwind of information and experiences accompanying a hospitalization. 
What services do you continually provide throughout the year to your patients and their families?
On a daily basis, the Child Life Specialists provide education about a new diagnosis, and explanations about procedures & surgeries that help reduce misunderstanding and anxiety. Creating stress management techniques and coping strategies and reducing boredom (with all those donations we receive!)
And of course, with the Xbox One gaming systems we have in every patient room). They do all of this with compassion and understanding and using that all important concept of play – the language of children. There can be baby cuddling, bubble blowing, board games or visits to our DinoSoar Garden on any given day. Additionally, we have a grant supported Certified Music Therapist and will once again oversee the pediatric volunteers that help staff our 3 playrooms and spend one on one activity time with kids.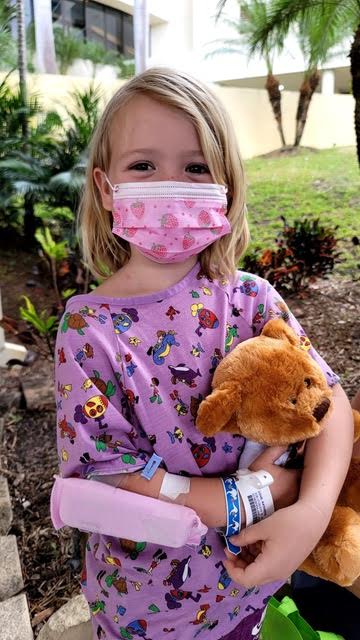 We are a busy little department working to meet the challenges all of our children and families could face while with us at Palm Beach Children's Hospital.
Being in the hospital during the holiday season is hard for anyone, even more so for children. What does your program and team do to make the children and their families smile a bit during this time of year?
Our four big events each December include the Holiday party, a visit with Santa and the Firefighters, Santa's Workshop and Christmas Eve gift packing. Our Holiday party is all about decorations, games, crafts, prizes, food, photos, gifts and a visit with Santa from the Believe in Santa Foundation; all IV poles, hospital gown and wheel-chair friendly and safe. The firetrucks, bagpipers, and firefighters bring Santa again later in the month, providing another gift receiving opportunity.
The Santa's Workshop is designed to provide parents with children in the hospital a free shopping experience to pick out gifts for not only their hospitalized child but siblings as well, and have volunteers wrap the gifts while parents take a snack and mental break. This is another way that gift donations are used. On Christmas Eve our department "shops" for all of the children that will be here Christmas morning and creates giant gift bags for the night nurses to sneak into rooms for the surprised patients to see when they wake up in the morning. Hopefully next year we will be back to room to room toy donations with donors, sometimes 2 times/day. So many gifts that some patients don't want to leave!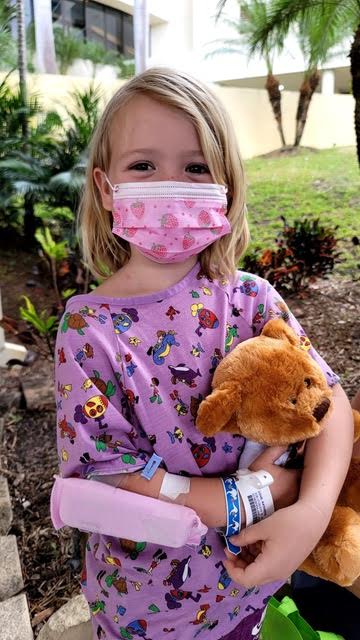 Are there any upcoming events that the public can partake in to help bring smiles to your patients during the holidays?
If anyone is interested in providing financial support, gift cards, toys or gifts as a donation through the Palm Beach Children's Hospital Foundation they can contact me at (561) 882-9182 or they can check out our Wish List. I have been asking donors for a drop-off deadline of Friday, December 17. Donations can be dropped off at the main entrance of St. Mary's Medical Center, 7 days/week, 24 hrs/day. 
It makes my heart so warm thinking that year after year Lisa and the wonderful people within the Child Life department create a warm, loving, and happy environment for their patients.  I encourage you to assist in any way to impact these children's holidays in a positive way.  Any contribution, be it big or small, will be so much appreciated.  
Reach out to Lisa at (561) 882-9182 or message me for more details.