When I think of Easter, I think of Easter baskets with jellybeans, sugary Peeps and chocolate bunnies, but I personally opt to limit my kids' sugar intake – for both health reasons, and for the fact that they tend to bounce off the walls when they've consumed too much. I think every parent can relate to wanting to avoid that side-effect at any cost!
With that said, I typically limit candy to one or two items and I fill the rest of it with fun goodies…
PERFECT FOR BABIES AND TODDLERS!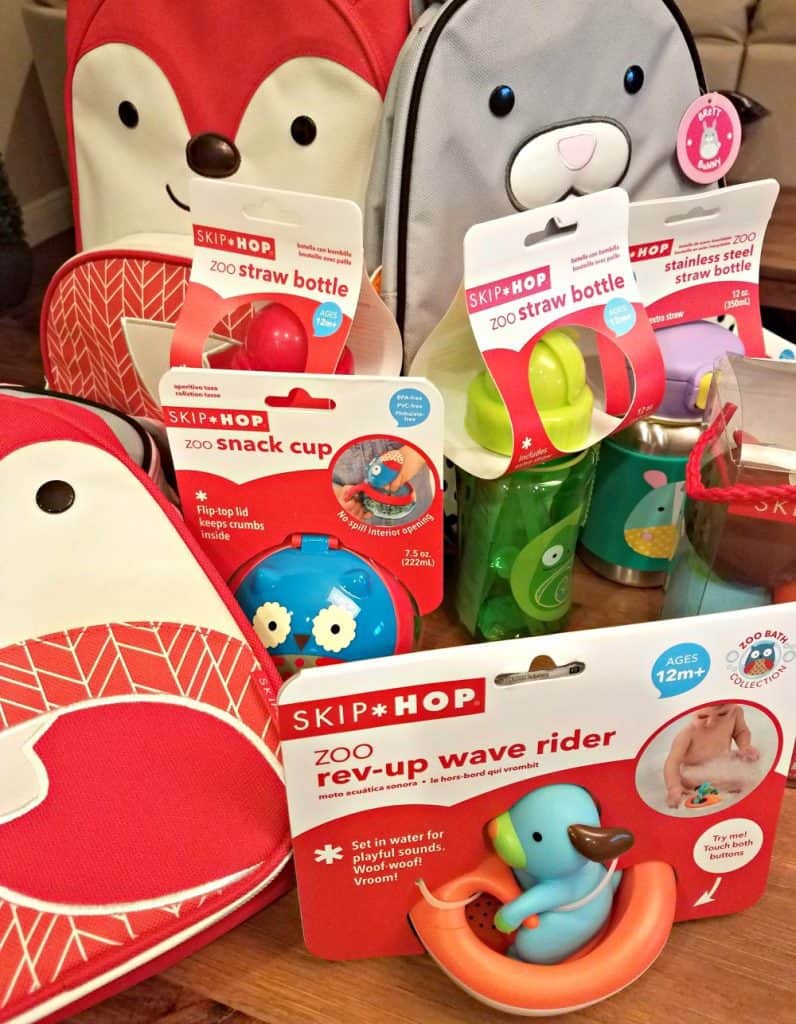 I like to use non-traditional "Easter Baskets" – something that can be useful after the holiday is over. Skip Hop's Zoo collection backpacks and insulated lunch bags are perfect. The different animal characters are super cute – check out my news segment to meet the newest Zoo collection character, but I think Brett the Bunny would be perfect! After the holiday is over, the back packs and lunchies are perfect for preschool, playdates and sleepovers.
Skip Hop's products are all designed with their core philosophy in mind – Must Haves, Made better. Every cleverly designed product considers the functionality, form & design of products for parents, babies & toddlers.
The Zoo collection also features tons of adorable, functional, and durable essentials for kids – stainless steel straw cups, snack cups, bath toys and more! This brand is a favorite of celebrity kids like North West, Blue Ivy, and many more!
LIPSMACKING EASTER BASKETS
Another goodie that I always tuck in their baskets (and even their Christmas stockings) are lip balms. Kids lips get chapped and dry between playing for hours outside, swimming and the Florida weather in general. Lip balm is functional and Lipsmacker has made it a fun item to include in your Easter basket!
Lipsmacker introduced Bunny and Chick Trio Canes that are super cute. If your kids are getting a bit older like my 2 boys are, you cannot go wrong with gifting them a Lip Smacker's Guardians of the Galaxy set, or one of their Marvel Egg sets featuring Spiderman, Ironman and Capt. America! You can find them on the website or at your local Kmart.
Keep an eye on their Instagram account (@lipsmackerbrand) – on May 1st you can vote to help choose their next big flavor! I wonder which one will win!
FOR THE LITTLE LADIES
My boys' Easter baskets are also filled with fun gadgets and accessories they can use for their favorite sport. My little one loves baseball, so I usually add in some extra practice balls, a batter's glove, and an arm sleeve. My older guy loves basketball and is all about the latest Under Armor basketball socks and sweatbands.
As a "girly-girl" myself, I know if I had a little princess, I would be including a fun nail set like the MUAH ones from KISS Products which you can find at Walmart, Bed Bath Beyond, and other major retailers. Whether it's their "nail art," or "instant mani" kits, your daughters and granddaughters will love them and all the fun designs they can create with them!
A LITTLE SWEETNESS ISN'T TERRIBLE…
I try so hard to limit sweets, but let's face it, every kid will expect SOME KIND of candy in their Easter basket, including mine! I value the healthy, antioxidant powers of dark chocolate (as opposed to white or milk chocolate), so I tuck a bag of barkTHINS into each of their baskets. I love that barkTHINS use Fair-Trade ingredient certified dark chocolate along with almonds, mint, pumpkin seeds, and more. Real and simple non-GMO project verified ingredients make all the difference.
Out of all their assortments, my boys personally love their dark chocolate almond with sea salt and their dark chocolate pretzel with sea salt versions. It truly is a mindful snacking chocolate, which makes all the difference to me as a parent – and I love that the bags are resealable!
A BEAUTIFUL TOKEN OF EASTER
While egg hunts and baskets make Easter amazingly fun for kids, at the heart of it, Easter IS a religious holiday. The Indi Token Cross pendant by former fashion model, India Hicks, is the perfect gift for your tween or teen.
Cool fact – did you know that India Hicks was one of Princess Diana's bridesmaids and is Prince Charles' God Daughter?
The Indi Token Cross pendant is available in different metals and looks beautiful on the waxed cotton cords (Mr. & Mrs. Chord). Perfect for everyday wear, it adds a special "remember what this holiday is about," Easter basket addition. India's designs are usually only sold by her ambassadors in the United States, but you can purchase this week via this LINK.
Check out my latest news segment on WPTV, where I discuss all of these super cute ideas!
What do you like to put in your Easter baskets? I'd love to know!